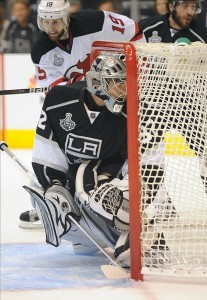 I remember the first time I saw Jonathan Quick play: It was at the 2004 New England Prep School Championships. He was already being touted by many as one of the best North American goalie prospects, and he showed it that weekend, as he backboned Avon Old Farms to the first of two straight NEPSAC championships.
Watching him that weekend, there was little doubt Quick would play somewhere at the collegiate level and help his team do well. And he did, leading UMass-Amherst to its first NCAA postseason bid. The talk about him being one of the top-rated goalies in the draft was also accurate, as he was drafted in the third round of the 2004 draft by the Los Angeles Kings.
However, there was no indication of the type of performance Quick has turned in this postseason, or that he would be the leading contender to be the starting goalie for the 2014 US Olympic Team.
I looked back through my notes to see what Quick said over the course of those two days, seeing if there was anything that stood out about the then 17-year-old's demeanor that may have hinted at his future greatness. Here are a few that stood out:
On his performance in the NEPSAC postseason: "I just try to go out and give my team the chance to win. The better I play, the better chance we have to win."
On his draft position: "I don't really think about that because I can't control it. I just want to go out and play my best. Whatever happens, happens."
On what he needs to do to play at the next level: "Work hard, every day. I canot be lazy or just think it's going to happen because I want it to happen. I will happen because I work my butt off."
Even as a 16-year-old, it was apparent Quick had the mental make-up to be a good goalie. He also possessed the follow-though, commitment, dedication, and skill to take him to places most never reach.