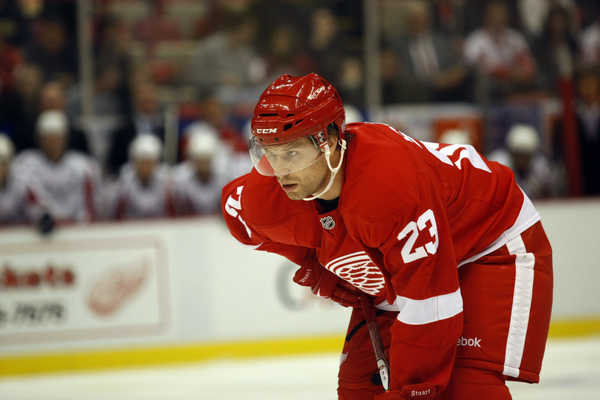 The Detroit Red Wings traded soon-to-be UFA Brad Stuart's rights to the San Jose Sharks on Sunday in exchange for a conditional 7th round pick in the 2014 draft and forward Andrew Murray (also an UFA).
The move put an end to months of speculation about the veteran defender's future with the Wings, and confirmed the prevailing theory that the 32-year old would attempt to sign with a Californian team this offseason.
"Stuart was expected to leave the Red Wings in order to sign with a team based in California, where his family has lived since Stuart was traded from Los Angeles to Detroit on Feb. 26, 2008.

Stuart's family remained in California because of a custody issue involving his step-daughter.

San Jose was believed to be the front-runner to acquire Stuart's services when he hits the free-agent market."
His family's position squarely on the other side of the country meant only rare visits during the season, and as Stuart told DetroitRedWings.com's Bill Roose back in April, the situation was emotionally taxing (and I would imagine physically too) for both he and his family.
"There were times if we had a Sunday off and didn't play again until Wednesday, they'd let me take Sunday and Monday off so I'd go home Sunday, come back Monday night, miss a practice. Now flying in for a day is some times worse than not coming at all because they get all emotional. I made it through the last few years. It'll be a decision we have to make whether we can do it again."
When Stuart was made an offer by Detroit in the last couple of days he declined, appearing to have his heart set on being closer to his family.
Stuart simply had his heart set on going to San Jose to be with his family, which is unable to relocate.

— Ansar Khan (@AnsarKhanMLive) June 10, 2012
While family was a draw for Stuart to move westward, hockey certainly wasn't. He made that fact very clear earlier in the year, and while he wasn't too sure about the team when he first arrived, he grew to love playing for the Wings over his 4 seasons with the club.
"I love it here. Yeah, If it was a purely hockey decision, I would stay. But I've got other things to consider and factors other than just hockey."

"Obviously, when I was traded here, I didn't really know anything about the Red Wings other than they were a good team, have always been a good team since I've been in the league. When I got here, I figured out what that is."

"It's a great organization from the top to the bottom and everybody enjoys playing here and they've got a great core of players and some of the best players I've ever played with. It's pretty easy to figure out why it's such a good team."
The Red Wings grew to love Stuart just as much, and at a time when the team is looking to add defenseman and not lose them, they'll miss him greatly. Yet perhaps no one will miss Stuart more than his most frequent defensive partner, Niklas Kronwall, even if he understands and supports Stuart's decision fully.
"We see the game pretty much the same, We're both pretty low-key guys, just get along really well for some reason. What he brings to the table night in and night out, it's tough to replace."

"Family comes first. That's just the way it has to be. Everyone knows his family has been in California for a few years and it's got to be tough on him. His kids are growing up and as much as I hate to see him leave, he needs to do what's right for him and his family."
Kronwall isn't the only one who recognizes what Stuart brings to the table. The Sharks are excited by the opportunity to bring him on board. As GM Doug Wilson told CSN Bay Area, they like the way he plays, and the mentality he brings to the game.
"We are very happy to acquire Brad's rights prior to July 1 and are hopeful that we come to an agreement on a new contract. Brad is a player we are very familiar with – a physical, team-first defenseman who is tough to play against, which is exactly the kind of mentality we want our team to possess."
Stuart appears to feel the same way about the Sharks, citing a change in the team's focus as a significant difference since he was traded to Boston in 2005.
https://twitter.com/brodiebrazilCSN/status/211921577804173315
And he'd like to finish his career with the Sharks if at all possible.
Stuart: "It would be nice if this (San Jose) is the final destination" #sjsharks

— Brodie Brazil (@BrodieNBCS) June 10, 2012
But if a deal doesn't get done, and Stuart can't find a home on the West coast, Red Wings' GM Ken Holland let him know that the team would still love to have him.
Stuart on Holland: "To make this move speaks volumes for the Wings. If it doesn't work out, Ken indicated they'd still like to have me."

— Freep Red Wings (@freepwings) June 10, 2012
Why wouldn't they? Even if his play dropped off slightly at the end of this year (likely thanks to being distracted) he served the Wings well for 4 seasons, and his departure coupled with the retirement of Nicklas Lidstrom leaves them in a bit of a lurch.
He's the 3rd top-4 defender the team has lost in the last 2 seasons, and with 2 more Detroit UFA's expected to be on their way out, the Red Wings are looking at needing a potential 5 acquisitions to once again become a Cup contender.
This deal came about because the Wings knew Stuart wasn't coming back. The team has no interest in signing Murray, who was apparently traded out of necessity , and the conditional 7th round pick (the condition of course being that Stuart signs with San Jose) will likely turn into a player that we never see in the NHL, but at least it's something.
George Malik sums it up best:
This is the WIngs repaying Stuart for his loyalty by sending him to his preferred destination, and getting SOMEthing out of it to boot.

— George Malik (@georgemalik) June 10, 2012
Maybe that something eventually turns into something valuable, but the 2014 draft is a couple of seasons away.
For now the Wings will focus on this year's draft and getting better through free agency; 2 necessities in what will be a future-defining summer.