Most hockey fans have heard about Toronto Maple Leafs' top prospect Mitch Marner – and rightfully so. This season Marner accomplished great things, and many have questioned whether or not he could play for the Leafs next season. We all know about his point production, spectacular skill set and leadership qualities, but let's take a look at just how good Marner was this season.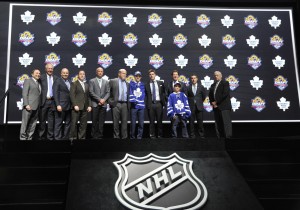 2015-16 OHL Regular Season
This season was Marner's third playing for the London Knights in the Ontario Hockey League. He co-captained the team with line-mate Christian Dvorak to yet another winning season. Marner put up 116 points in the regular season, just five points shy of his previous career-high of the 126 points he put up during the 2014/15 season. Mostly known for his pass-first mentality, Marner still potted 39 goals, which was third-best on a stacked Knights team. Since being selected 4th overall by the Leafs in the 2015 NHL Entry Draft, it seems like Marner's game gets better and better. More than a lot of people expected. With Marner at the helm, London finished third in the OHL's Western Conference.
OHL Playoffs
After his remarkable season, the 19-year-old took another huge step in his development by leading his team to a J. Ross Robertson Cup championship (OHL Cup) for the first time since the Knight's won it back in 2012. The Knights' OHL playoff run wasn't just remarkable for the team, but Marner led the team in playoff scoring with 44 points in just 18 postseason games. Marner has arguably been the best player on the ice this season for the Knights, but he was well-surrounded by some tremendous young hockey players in Dvorak and Matthew Tkachuk. The three of them were pretty much inseparable all season, and really made a name for themselves when they combined for 119 points in just 18 playoff games. To top things off for Marner, he went on to win OHL Playoff MVP as London's most valuable player in the postseason.
Here's a look at every goal and assist Marner had over the course of the OHL Playoffs.

Memorial Cup
More recently the Knights made it to the MasterCard Memorial Cup, as they were one of the Canadian Hockey League's best teams, and fresh off of OHL Cup win. They came into the tournament having won 13 straight games, dating back to April 1st when they lost 4-3 in overtime to the Owen Sound Attack.
The Memorial Cup tournament works like this: a round-robin tournament between the host team and the champions of the CHL's three leagues (OHL, QMJHL and WHL). And to no surprise, the Knights dominated the tournament. London went on to sweep the tournament with four straight wins against the Red Deer Rebels, Brandon Wheat Kings and Rouyn-Noranda Huskies. During their Memorial Cup run, Marner put up a whopping 14 points through four games. In the tournament Marner had three really impressive performances, including a five point game against Red Deer, and two four points games against the Wheat Kings. During Sunday's championship game against the Huskies, Marner had a helper on the game's opening goal scored by Tkachuk. London ended up winning the game 3-2 in overtime, and Marner left the ENMAX Centrium a Memorial Cup Champion and the tournament MVP.
Awards
So like I mentioned earlier, Marner has his name on a couple of prestigious trophies thanks to his dominant play this season. Here are the awards the Thornhill, ON native captured.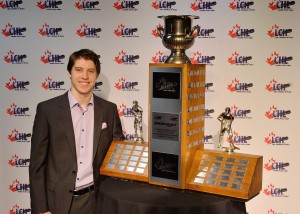 CHL Memorial Cup (Team championship)
Stafford Smythe Trophy (CHL Memorial Cup Most Valuable Player award)
CHL Player of the Year
J. Ross Robertson Cup (OHL Cup – Team Championship)
Red Tilson Trophy (OHL Most Outstanding Player)
OHL Playoffs most assist (He had 28 helpers)
OHL playoffs most points (He had 44 playoff points)
Wayne Gretzky 99 Award (OHL playoffs MVP)
OHL Second All-Star team
Not bad right?
NHL Ready?
Now the real question is, was his play this season enough for him to get serious consideration for the Leafs to keep him in the NHL next season? The answer is yes.
Although Marner will be 19-years-old when the 2016/17 NHL season starts in October, Toronto will have to make their decision on him awfully quick, seeing as he could still be returned to junior. If he does make the Leafs out of training camp, they could opt to keep him for 10-games, so that the first year of  his entry-level contract doesn't burn off. As a player with a CHL contract, he won't be able to be sent down to their affiliate Toronto Marlies in the American Hockey League.
But is it worth sending him back to London only for him to dominate the OHL for a third straight year? In my opinion, I don't believe it's a good idea to rush a young player into the league, especially an undersized player such as Marner – but he does look ready. If he can have the summer Mike Babcock wants him to, by eating right and adding some size, followed up by a solid outing at Leafs camp in the fall, there is no reason Marner shouldn't be a part of their team next season.
I am a recent grad of the Journalism: Online, Print and Broadcast program at Loyalist College. Currently living in a small rural town in Quebec, but I will soon be relocating to London, ON where I will cover the London Knights and Ontario Hockey League prospects.