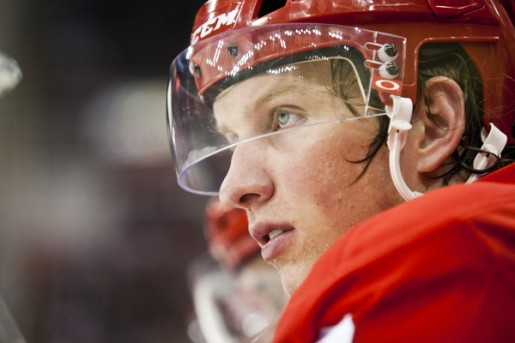 Detroit Red Wings fans have been waiting for this news all summer and they weren't the only ones.
UPDATE: The Wings have signed Justin Abdelkader to a four-year deal. pic.twitter.com/6jeEQOVg

— Detroit Red Wings (@DetroitRedWings) September 14, 2012
The deal, worth a reported $1.8 million a year, sees the Michigan native receiving a significant raise over the $825,000 he made last season.
That raise comes on the heels of a career year for the 25-year-old, who topped 20 points for the first time in his three NHL seasons.  Yet more important than point accumulation, Abdelkader is capable of bringing a gritty dimension to the Reg Wings lineup.
Expected to be tasked with the fourth line center role, Abdelkader won't receive multitudes of ice time, nor will he be called on to produce goals night in and night out. Instead it's his contribution of physical and defensively responsible play that makes him so valuable to the Wings.
Detroit placed special emphasis on what coach Mike Babcock likes to call a "sandpaper" style of game this offseason, it was something they felt they lacked down the stretch and in the playoffs. It's why they signed UFA Jordin Tootoo to a three-year deal with a similar $1.9 million price tag this summer, and why keeping Abdelkader around was never in question.
Expected to receive time on a line together, Abby and Tootoo could become one of the most infuriating duos in the league. They play an abrasive, in your face and under your skin style of hockey. They agitate and instigate their way into opponents' heads and they're not afraid to drop the gloves or face consequences for their pesky behavior. It's an element the Red Wings have been in short supply of since the days of the Grind Line and one that they feel returning to will help bring them success.
Abdelkader also brings the team significant value off the ice. He's homegrown talent. Born and raised in Muskegon, Abdelkader spent three seasons playing for Michigan State University before making the jump to the AHL's Grand Rapids Griffins and finally to the Wings. He's the product of hard work in a state that values hard work and hockey more than perhaps any other, making him a fan favorite despite his 3rd and 4th line role. The grit, passion, and effort he exerts on the ice are easy to identify with, and his Michigan roots mean many have seen him playing for years.
Abdelkader readily helps that positive public image by giving back to the fans every chance he gets, spending time teaching youth at three hockey camps this summer (Detroit, Grand Rapids, Adrian).
"The thing for me is that I enjoy it, and I enjoy the looks on the kids' faces. I remember how excited I was when I was a kid whenever I got a chance to meet someone, so it's something I want to make sure I remember when I'm working with them and the impact I have."
Later he participated in the Mejier Charity Classic, an LPGA charity event which saw its proceeds go to Gilda's Club Grand Rapids, and it was his second consecutive year participating.
"There's only so much down time in summer, but I do what I can."
He has a positive impact on the team, and on the community. He's a valuable component to have both on and off the ice, and Red Wings fans should be glad to have him for another four seasons.