Vancouver Canucks winger Jannick Hansen was suspended one game for his unintentional shot to the back of head belonging to Chicago Blackhawks winger Marian Hossa. This is Hossa's latest setback in a series of setbacks, going back to the 2012 Western Conference Semi Final when former Canuck grinder Raffi Torres slammed Hossa onto the same patch of ice that Hansen knocked him down. While many Canucks fans and GM Mike Gillis were upset at the suspension, it was a relief that Hossa is recovering and practicing again.
Karma doesn't appear to be on Marian Hossa's side, again. Here's a look back.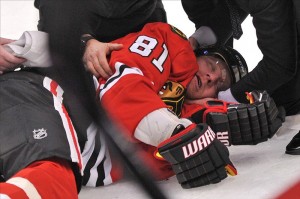 Hossa was part of the Portland Winter Hawks team that won the 1998 Memorial Cup, but he wasn't a key contributor. In fact, he was wheeled around in a chair after he suffered a serious knee injury during the Final Round. His injury carried over into his shortened rookie season with the Ottawa Senators but was able to finish second in voting behind Chris Drury of the Colorado Avalanche.
Hossa carries the burden of shortening Bryan Berard's career. His errant stick clipped Berard's eye so badly that doctors were immediately forced to operate on him, at one point considered removing the damaged eye. Berard kept it after several operations but this limited his effectiveness on the ice. (Berard retired in 2009.)
Who can forget Hossa's one-year tenures with the Pittsburgh Penguins in 2007-08 and the Detroit Red Wings the following year? As a professional hockey player, how does one cope with losing the first Final to a team that he would sign with, and then lose in the second straight Final to the team that he had left? There are no words to explain this series of unfortunate events. Only Karma knows.
But Karma was on Hossa's side in 2010 when he won the Stanley Cup with Chicago. After Torres' and Hansen's hits, opposing fans have accused him of being "soft," and that he brought those injuries upon himself. That may be but despite all this bad luck, he's found a way to bounce back and has become a proven winner. And with the Blackhawks running out of the gate in this shortened 2013 season, Hossa appears to be in the right place and at the right time, poised for another long playoff run.
Karma or the Canucks will have something to say about that.