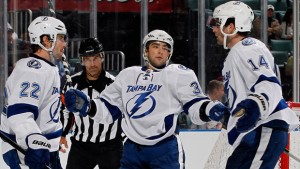 In Tampa Bay's previous five games before heading into Thursday night's tilt against the Boston Bruins at home, the Lightning had surrendered 19 goals in regulation over that span. You don't have to be a mathematician to realize that they are giving up just under four goals per game in that span, a total that isn't going to win you a lot of hockey games in the National Hockey League. The Lightning's struggles continued Thursday night, dropping a 4-2 decision to the conference-rival Boston Bruins at the Tampa Bay Times Forum.
It was all Bruins early on. Just 1:11 into the first period, Boston got on the board, when Nathan Horton (5th) buried a rebound by Anders Lindback after a bomb from the point by Dougie Hamilton. The Bruins increased their lead to 2-0 just under three minutes later, when Patrice Bergeron (3rd) sniped a one-timer past Lindback blocker side following a great individual effort from Brad Marchand to win the puck behind the Lightning net. However, Tampa Bay didn't roll over. Just before the midway point of the period, Steven Stamkos (11th) found himself all alone in the slot and released a missile that beat Tuukka Rask over his left shoulder, cutting the Lightning deficit to 2-1.
The Lightning struck back to tie the game at 2-2 nine minutes into the second period, when rookie sensation Cory Conacher (6th) carried the puck into the attacking zone on the left side and released a snap shot that trickled through Rask. The Bruins answered right back. Brad Marchand (9th) gave the Bruins the lead once again on a quick wrist shot from the slot less than five minutes after Tampa Bay tied it, after Boston's Tyler Seguin had a shot blocked by a Lightning defenseman out in front of Lindback. The Bruins outshot the Lightning 20-17 through two periods. Both goaltenders looked shaky at times, with both goals in the period coming on shots that could have easily been stopped.
The lightning's defensive struggles continued in the third period, as they weren't able to stop the bleeding. The Bruins struck first in the final period of regulation on a gorgeous redirection by Horton (6th), notching his second goal of the game, and giving the Bruins a 4-2 lead at 2:33 of the third period. The Bruins fought off a Lightning surge late, including a power play opportunity with less than five minutes left. Tampa Bay outshot the Bruins 9-6 in the final period to even the shots 26-26, but couldn't cut into their deficit.
Follow me on Twitter: @Matt_Metcalf