The Pittsburgh Penguins are what they are; a top-heavy team that annually spends to the salary cap. However, if the last seven years have shown anything, it's that this strategy doesn't work like it does in other sports. The problem has never been the core of Kris Letang, Sidney Crosby, Evgeni Malkin and Marc-Andre Fleury and their salaries are manageable.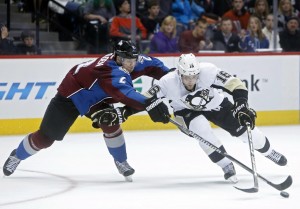 That isn't to say that it's a good thing the Penguins committed almost 44% of the total salary cap in those four, but it isn't crippling. What has been the problem is the other contracts like Chris Kunitz, Pascal Dupuis and the beloved Brandon Sutter.
Brandon Sutter As A Hockey Player
Why did I bold Sutter's name? It's because he's been the Penguins' biggest problem annually, but the fanbase completely overlooks it for one reason, 21 goals. Down the stretch, Pittsburgh had trouble scoring goals and Sutter was one of the few who was consistently burying the puck. However, there's a problem with this, he only has a wrist shot and that's about all he brings to the ice.
A man who goes by the username jfkst1, over at Pensburgh, has a beautiful line in his signature and he accurately describes what Sutter is. Just take a look:

There is no better way to describe Sutter and his $3.3 million dollar salary cap hit. He comes from a well respected and powerful hockey family, but he's never lived up to expectations. Advanced statistics aren't kind to Sutter, regular statistics don't show anything special and the "eye-test" isn't in his favor either. Not everyone believes in the merit of advanced statistics in hockey, but here's a list of players that Sutter has a positive (>50%) Corsi for alongside in his three years with the Penguins: Beau Bennett, James Neal and Jussi Jokinen. That's it, three players that he plays well with.
The usual defense of Sutter is that his wings were the issue and not him, but this could not be farther from the truth. During his tenure in Pittsburgh, Sutter has a total Corsi for percentage of 45.5%. He's weak along the boards, isn't a physical player and only has an effective wrist shot.
If you don't have time to watch the entire video here's a summary, wrist shot after wrist shot after wrist shot.
What Do The Penguins Do With Sutter?
It doesn't happen often, but Sutter's perceived value is greater than his actual value. Teams around the league look at Sutter as a player who is a number two center, but is trapped behind Evgeni Malkin and Sidney Crosby in Pittsburgh. He is also just one season from unrestricted free agency and the Penguins do not want to lose him for no return.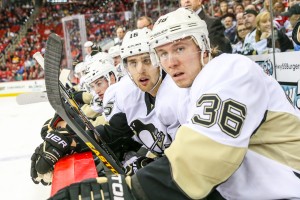 Penguins general manager Jim Rutherford did an interview with CBS Pittsburgh's 93.7 the Fan and has some interesting comments about Sutter's future. He said that multiple teams have called and asked about Sutter. However, he confirmed that the Pens were not actively shopping Sutter, but they know the reality of the situation they are in. Rutherford was very strong in his words, he likes Sutter and he actually traded him to Pittsburgh a few years ago in the deal for Jordan Staal.
It does not matter how much Rutherford "likes" Sutter as a hockey player, they will lose him as an unrestricted free agent if they keep him through the playoffs due to the salary cap. The time is now to trade Sutter and replace him with a free agent. The Penguins would be better served by getting acclimated to a new third line center now, rather than waiting until the trade deadline to address this need. Removing Sutter's $3.3 million from the payroll also allows for a better and more complete fourth line. Because right now the fourth line will be Beau Bennett with Beau Bennett and Beau Bennett, and he is not even signed to a new contract yet.
The Penguins need cap space, they need a better third line center and they need to send a fourth line to the ice. It's time to trade Sutter while his value is still relatively high.