Don Sweeney's tenure as the new General Manager of the Boston Bruins got off to a slow start.
The former defenseman was appointed to his post on May 20, following in the footsteps of former GM Peter Chiarelli. Bad contracts, salary cap restrictions and a season without postseason hockey earned the now Edmonton Oilers GM a one-way ticket out of Boston. It had been a long time coming for a guy who had worn out his welcome since being hired in 2006.
Sweeney had a lot on his plate after being promoted from his previous post. He had the unenviable job of creating cap flexibility while looking for routes to improve his club for the 2015-16 season. Little did Bruins Nation know he would make a series of moves that would send them on a wild rollercoaster ride in the short span of just a few weeks.
Keeping Claude Julien
Sweeney's first major decision was to decide the fate of head coach Claude Julien. Boston's bench boss since 2007 faced a bit of criticism down the stretch for relying too much on his fourth line in close situations instead of the players that kept the Bruins alive in the postseason race down the stretch.
The "defense-first" system he employs is often criticized when it comes to a lack of offense, which was a great concern last season after the club ranked 22nd in goals scored with 209.
There was some speculation, but Sweeney confirmed that Julien would return for a ninth season behind the bench on Causeway Street next season. It was a slight surprise given the general manager's comments about the desire for a more "aggressive" team when the coach's system is anything but.
So Don Sweeney thinks Claude Julien will lead a team full of young players? That's going to go reeeaal well. #Bruins

— Mike (@mpeetros) June 26, 2015
The influx of younger players on the roster will test Julien's trust in Boston's youth. Then again, after the performances of Ryan Spooner and David Pastrnak down the stretch last season, they have earned the right for extended playing time.
Julien will be coaching for his job starting on opening night, but Sweeney will also be feeling some heat too. If the team struggles out of the gate, the General Manager will have some explaining to do.
Grade: C
Trading Dougie Hamilton
The debate surrounding restricted free agent Dougie Hamilton raged on for weeks. Was he or was he not worth the reported $6-7 million he was seeking per season?
In the end, it really never mattered.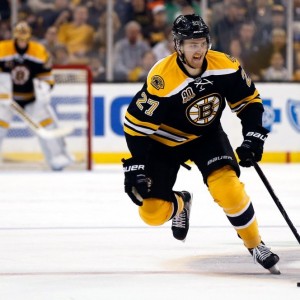 Sweeney pulled off a shocking draft day trade sending the ninth-overall pick in 2011 to Calgary in exchange for a first-round pick (15), and two second-round picks (45 and 52). It was incomprehensible to believe that a franchise defenseman was traded for nothing that could help the team this season.
In an attempt to defend the deal, Sweeney admitted there was doubt on Hamilton's part that he would be a great fit in Boston.
Regardless, this may go down as one of the worst trades in recent franchise history. In a decade that has seen the likes of Phil Kessel, Tyler Seguin, and Johnny Boychuk shipped off to have success on a new team, Hamilton joins this illustrious group. Maybe he did not want to be here but that is a poor excuse to get the return Sweeney did.
It leaves the Bruins with a glaring weakness on the blue line that has yet to be filled.
Grade: D
Trading Milan Lucic
Sweeney was not done with his draft day business. A few hours after trading Hamilton, the rookie GM then sent power-forward Milan Lucic to the Los Angeles Kings for their first-round pick (13), backup goaltender Martin Jones, and defensive prospect Colin Miller. Lucic is due $6 million in the final year of his current three-year contract.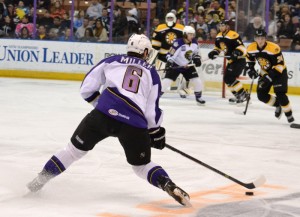 It is amazing to think Sweeney, who made a bad deal hours earlier, could be the mastermind of garnering such a haul for an impending free agent next summer.
Jones (who we cover in part II) was a solid backup behind Jonathan Quick in LA the past two seasons while Miller was regarded as one of the Kings' best prospects.
The 6'1″ blue liner was second among AHL defensemen in scoring with 19 goals and 51 points, won both the hardest shot and fastest skate competitions at the AHL All-Star Game and helped the Manchester Monarchs win the Calder Cup. Not too shabby for a guy that could be in Boston full-time next season.
The only thing that prevents a perfect grade from me is the Bruins retaining $2.7 million of Lucic's salary. The Black and Gold (at the time) were up against the cap and needed to shed the bad contracts of the old regime. Nevertheless, this was the first "thumbs up" deal in the new regime.
Grade: A-
It was a wild draft day for Don Sweeney and the Bruins. Little did anyone know this would be just the appetizer in an off-season of great roster turnover on Causeway Street.
Coming up in part two, we dive into the free agent frenzy and look at Sweeney's contributions on July 1.