With two consecutive shutout victories over teams with massive offensive firepower the likes of the Dallas Stars and Boston Bruins, the New York Islanders' season seems to be changing for the good. Just six points out of the last playoff spot in the Eastern Conference, the Islanders still have an opportunity to make the playoffs. They just need the magic of their past two games to continue.
Secondary Scoring Continues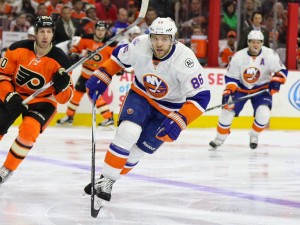 The Islanders haven't necessarily had offensive problems this season, they're just inconsistent. Jason Chimera and Nikolay Kulemin are prime examples of this. Their 15 combined goals this season is less than what the team expected before the season and one of the reasons for the Isles' current place in the standings. Luckily for the Islanders, Kulemin and Chimera have stepped up their play as of late, but in order for the Islanders to make the playoffs, they'll need more.
Ryan Strome, Andrew Ladd, Anthony Beauvillier and Casey Cizikas have to do more. While Beauvillier and Cizikas bring energy and don't necessarily need to score as much as Strome and Ladd to be successful, both need 15 goals this season. Ladd, however, needs to get to 20-25 goals, while Strome needs to become the playmaker he was a few seasons ago.
John Tavares Scores 40 Goals
Is there a hotter goal scorer in the NHL right now? With seven goals in his last four games, Tavares has quickly turned his season around. Sadly, it's not enough, though. Simply put, for the Islanders to make the playoffs in 2016-17, Tavares has to stay this hot. He's got to be on the ice more than any other forward, taking important faceoffs, killing penalties and scoring big goals.
For the first time in his career, he's going to have to score 40 goals. With 39 games left to play, that means he's going to have to light the lamp 22 more times, essentially one every other game, with a few multi-goal games thrown in. That's one of the only ways this team gets to the playoffs for a third consecutive season.
Thomas Greiss Wins 35 games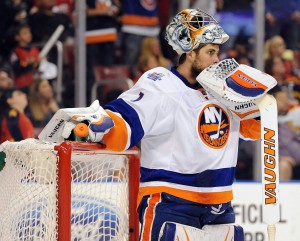 Like Tavares, Greiss is on a roll. Two consecutive shutouts in a row for Greiss is the beginning of his genesis into a legitimate #1 goaltender. In order for the Islanders to make the playoffs, they need Greiss to run the table. For this to become a fact, Greiss needs to start 30-35 games over the last 39. He also has to win at least 22 of them.
If you think it's a stretch, Greiss' 12-7 record, 2.30 goals-against average and .927 save percentage is proof of how good he's been this season. Greiss has already been given the keys to the Islanders crease. Now he just has to continue to be the calming backbone he's been all season.
Islanders Trade for More Offense at Deadline
The Islanders are going to lose a defenseman in the expansion draft; there's no way to ignore it. That's why they should trade one for more offense at the deadline to ensure a playoff birth. With Adam Pelech, Scotty Mayfield, Ryan Pulock and Devon Toews in the system, their defensive depth is a strength. It's definitely something they can exploit to help them get to the playoffs for a third consecutive season.