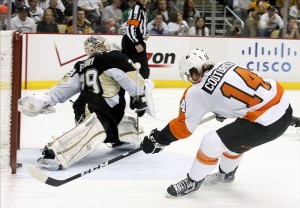 After the first three games of their first-round playoff matchup with the Pittsburgh Penguins, the Philadelphia Flyers find themselves up 3-0 with a chance to complete the sweep tonight at the Wells Fargo Center.
In Game 3, the Flyers were the more disciplined and prepared team, and skated off the ice with an 8-4 victory.
Craig Adams and James Neal are both suspended for Game 4, and Arron Asham was handed a 4-game suspension by Brendan Shanahan after his crosscheck up high to Flyers' rookie Brayden Schenn.
This leaves the Penguins without one of their best goal scorers (40 goals this season for Neal), their fourth-line winger in Asham, and a solid penalty killer in Adams.
If they were struggling to tread water before the suspensions, they're near-drowning after them.
Keys to the game
1.) Keep Sidney Crosby and Evgeni Malkin off of their game
Through the first three games of this series, the Penguins have scored a total of 12 goals. Evgeni Malkin has none of them. Malkin has managed 4 assists so far in this series, and Flyers' rookie Sean Couturier has done an excellent job in keeping the league's scoring leader in check so far this postseason.
Crosby's actions this series make it pretty obvious that the Flyers have gotten him off of his game. Sure, the superstar has 5 points in 3 games, but he's gone out of his way to vent his frustrations both on and off the ice in this series.
He pushed Jakub Voracek's glove away. He dropped his own gloves to fight Claude Giroux. He's even opened up to the media about his hatred towards the Flyers.
If the Flyers can continue to frustrate Crosby to the point where he's taking penalties, worrying about getting and throwing hits, and started scrums after every whistle, they have a much better chance of sweeping this series.
2.) Stay Disciplined
In Game 3, I think the Flyers did a great job of staying disciplined and not letting the Penguins rattle them. A couple of Pittsburgh players, including Crosby and Kris Letang, tried to fire up the team by getting into scrums and trying to get into the heads of the Flyers. It didn't work for them, but it certainly could have if the Flyers didn't stay composed. They'll need to do more of the same tonight if they don't plan on heading back to Pittsburgh for a Game 5.
3.) Score on Marc-Andre Fluery Early
Seems like a simple enough plan, correct? It's obvious that the Flyers want to score early and often on any goaltender, but there's something to be said specifically about Fluery and this series. If he was playing anything close to the way he's capable of, Fleury and the Penguins would not be down 3-0 right now.
If he makes some big saves early and starts to build his confidence, the Penguins 27-year-old goaltender may find his groove and make it difficult for the Flyers to take Game 4. Scoring early is the best way to prevent the return of the real Marc-Andre Fleury.