There have already been seven suspensions in this season's NHL playoffs, with an eighth on the way to Raffi Torres. But look past the suspensions (or lack thereof), the dirty play and an all-time bad performance and there has been some very good hockey this spring. Here are some of the bright sport so far in the playoffs.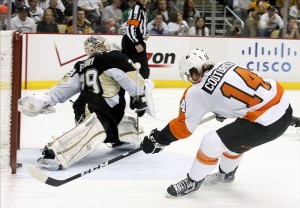 The kids are all right: A lot has been written about the Philadelphia Flyers' rookies all season and they have been even better in the playoffs. There was speculation their lack of experience may catch up with them in the post season, but they have played major parts so far. Brayden Schenn assisted on both Danny Briere goals and scored the trying marker with 7:37 remaining. Sean Couturier twice even the score in Game 2 and had a hat trick and four points and has been a thorn in the side of Evgeni Malkin this whole series. Then it was Matt Read's turn in Game 3 as he had two goals, including the game winner.
Kings' captain comes through: Dustin Brown has erased any notions he may be traded in the first three games against Vancouver. He has been a beast and leads the Kings with four goals, five points, a plus-3, two shorthanded goals, 19 shots and his 21:02 played per game is top among forwards. Rory Boylen of The Hockey News picked Brown for his Conn Smythe front-runner saying "If he keeps up what he's been doing for Los Angeles, it's hard to imagine the team going back down the trade route with him this off-season. He's been everything you want your captain to be."
Big Cats have bite: The Panthers limped badly into the playoffs with a 2-3-5 record in their final 10 regular season games and after the first period of the series, in which they were outscored 3-0 and outshot 26-9, it looked as though they'd be an easy out for the New Jersey Devils. Well they weren't content with just making the playoffs for the first time since 1999-2000 and now have a 2-1 series lead, including a 4-3 Game 3 victory in which they were down 3-0. Stephen Weiss has played well after waiting 637 regular season game for his first playoff matchup, Sean Bergenheim is once again a post season force and Kevin Dinen is drastically outcoaching Peter DeBoer.
Preds on the prowl: After finally winning their first playoff series last year in six tries, Nashville looks to go even further this season. They are using their size to their advantage against a quick and skilled Red Wings team and it's clear the Predators won't be easily eliminated by anybody. Shea Weber's hit on Zetterberg aside, they have been getting positive contributions from everyone in the lineup, notably from rookie Gabriel Bourque (three goals), defenseman Kevin Klein (two goals, three points including this beauty) and recently returned Alexander Radulov (three assists). Coach Barry Trotz has this team brimming with confidence and goalie Pekka Rinne has been all but impenetrable.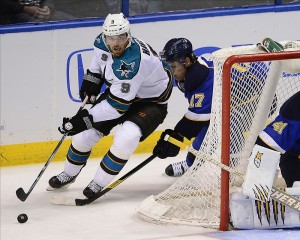 Nail biters: If you're a fan of close games, these playoff are for you. Of the 21 games played through Tuesday, 17 (80.95%) of the games have been decided by one goal, eight (38.09%) in overtime. The Coyotes-Blackhawks series has been especially responsible for this all three games have gone past 60 minutes, with a total of 33:20 extra hockey played so far and going back to last season, the Hawks have played in five consecutive overtime games. The Blues and Sharks have played the longest game in these playoffs so far in Game 1 of their series with Martin Havlat giving the Sharks a win after 23:34 of overtime. Surprisingly, the home team is just 2-6 (.25 win percentage) in overtime and an even worse 4-13 (.235 win percentage) in total one-goal games.