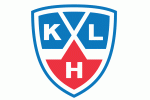 Each week, the Kontinental Hockey League (KHL) salutes their Players of the Week.  The top forward, defenseman, goaltender, and rookie are selected based on their statistics and performance, as determined by the KHL Statistics and Information Bureau.  This week, the league recognizes:
Forward of the Week
Evgeny Malkin of Metallurg Magnitogorsk
Malkin scored nine points – three goals and six assists –  in just three games last week.   His offensive push now has him leading the league in assists with 20.
For the season, Malkin has tallied 27 points in 17 games, good enough for second in scoring in the KHL, only two points behind league-leading Alex Radulov, who has played five extra games. He's also  firing a league-high 5.6 shots per game.  The way Malkin's playing, it's only a matter of time until he's atop the league in scoring.
Malkin put up three assists in a 5-2 win over Severstal. Here he is with the helper on the go-ahead goal for Magnitogorsk.
Defenseman of the Week
Alexander Osipov of Amur Khabarovsk
The 23-year-old scored three goals and was a +2 in two games.
On the season, he has a career-high ten goals and three assists for 13 points in 24 games, along with a -1 rating. Eight of his ten goals have come with the man advantage, putting him second in the league in power play goal scoring.  He leads all defensemen in goals scored and is fourth in overall scoring from the blue line. Osipov averages more ice time than any other player in the league, clocking in with a massive 25:29 per game.
His next point will tie a career high of 14 for the native of Nizhni Tagil – a hometown he shares with KHL scoring leader Alex Radulov.
Goaltender of the Week
Vitaly Koval of Torpedo Nizhny Novgorod
Koval went 2-0 last week with one shutout, posting a save percentage of .969.  His hot streak improves him to 9-7 on the season with a .920 save percentage and a 2.65 goals against average.  He's posted three shutouts this year.   Koval also leads all goaltenders in penalty minutes with six.
Rookie of the Week
Nail Yakupov of Neftekhimik Nizhnekamsk
The number one draft pick in the 2012 NHL Entry Draft is tearing it up in the KHL.  The Oilers' prospect picked up three goals in two games last week.  On the season, Yakupov has 14 points – ten goals, four assists – in 13 games played for Neftekhimik.  His ten goals puts him in a tie for sixth in goal scoring in the league.  Watch Yakupov net two in a wild 6-5 Neftekhimik win over Atlant.