In a move that confirms the swirling rumors preceding it, the Los Angeles Kings have followed through and fired head coach Terry Murray.  Taking Murray's place on an interim basis, will be Kings' assistant coach John Stevens.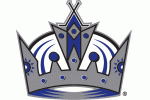 As mentioned in a previous piece, Murray's Kings have been sputtering of late.  Having dropped four straight and with a losing record on home ice, the Kings also have the lowest goals per game in the league at an anemic 2.24.  Perhaps General Manager Dean Lombardi was sparring him from what could be a brutal four-game road trip.
Murray had been coaching the Kings since the 2008-09 season.  Over that time Murray put together a record of 139-106-30, good for a winning percentage of .560 or tops in Kings franchise history.  Murray also took the L.A. to the playoffs in each of the past two years.  However, expectations were far too high for Murray to survive.
Meanwhile Stevens in his time with the Philadelphia Flyers, boasted a record of 120-109-34.  Stevens took the Flyers to an Eastern Conference Final in 2008.  Additionally, Stevens guided the then Philadelphia Phantoms to a Calder Cup championship in the AHL during the 2005 campaign.
This marks the fifth coaching dismissal of the NHL season.  Davis Payne, Bruce Boudreau, Paul Maurice and Randy Carlyle were all shown la porte.