We have survived many calamities this early fantasy hockey season but now comes the next December edition of "Chutes And Ladders". Riding the fortunes of a fantasy hockey team can be a lot like the original Milton Bradley game.  There are enough twists and turns to drive any normal person crazy. So imagine what it is like for the average hockey fan who takes on a fantasy hockey league.
As Week 10 rolls on, we can look into everything from expanded injuries to a first half recap around the week of Christmas.  First up, we do have our Player Of The Week.
Player Of The Week……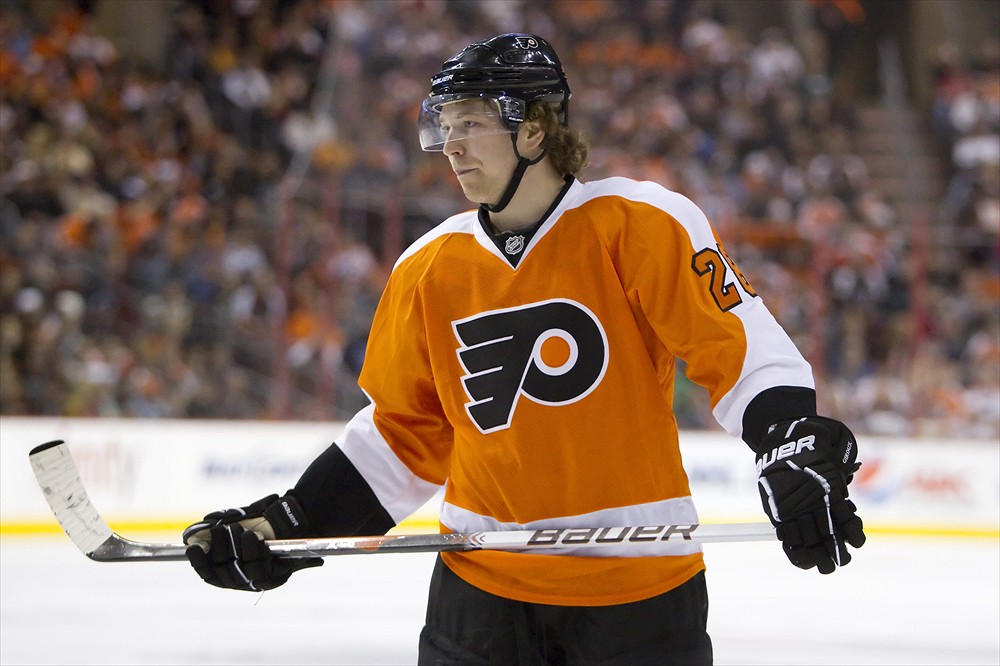 Congratulations to Claude Giroux of the Philadelphia Flyers on being this week's fantasy player of the week.  This was part of a five game stretch where Giroux has torched opponents to the tune of ten points.  The odd thing is Giroux is battling concussion like symptoms from this hit over the weekend (out Tuesday Vs. Washington).  Will he play at all this week?  Honestly, stay tuned on that via our Twitter feed and timeline.  With this out of the way….
Now it is time to take a look at a few new injuries that seem to be popping up in fantasy circles……
Beware the injuries……..
The situation has now gone to a level where people can almost panic.  Sadly I wish I was joking at this juncture but the reality is when you see teams with double digit injury counts, the fantasy GM in me just cringes in horror.  Yes this is only a game but literally with so many crippling injuries, treading water is the best medicine.  Here is the latest from the injury front….
Sidney Crosby (Pittsburgh Penguins) — Yes Crosby is back once again, this time with concussion like symptoms and a potentially troublesome right knee.  The Penguins say it is from contact with David Krejci of the Boston Bruins.  Whatever the reason and/or the fact that Crosby also has a right knee issue that has not gone away.  The timetable is unclear but right now it pretty much seems that if you see Crosby playing by Christmas, it would be a miracle of sorts for Pittsburgh.  Please stash and bench accordingly.
Travis Zajac (New Jersey Devils) — Zajac is a 60-65 point guy when healthy and his return is getting closer and closer.  The center could play potentially as soon as Friday against Dallas.  If not, Zajac will play early next week.  Either way the Achilles has healed sufficiently enough, but how will his hockey acumen be?  That is anyone's guess right now.  We saw what happened with Zach Parise last year after a long term injury.  Keep your expectations tempered.

Mike Green (Washington Capitals) — Green supposedly is getting closer to returning from the groin injury but until it is actually seen and he can stay healthy, it is best just to steer clear and far away from him for fantasy purposes.  Sit him out another week at least and maybe next week he provides a Christmas surprise for his fantasy owners. 

Kari Lehtonen (Dallas Stars) — Fantasy hockey fans will be happy to know that Lehtonen is progressing fairly nice but still another 2-3 weeks away from returning or that seems to be the Dallas plan.  However, the groin injury does not seem to be any more serious.  It is much the same as last week but with one caveat.  Lehtonen will be held out until after Christmas to give him more time to recover.  Dallas will play more of Andrew Raycroft and hopefully newcomer Richard Bachman can hold down the fort.  Bachman is likely to start a few games because his play is a little more solid right now compared to Raycroft.
The Pittsburgh Injury Brigade — What to make of the Pittsburgh Penguins, you may ask?  My answers will anger most of you.  Yes they continue to win but wow they have an awful time staying healthy.  There were 11 injuries as of Monday evening ladies and gentlemen with the biggest injury being Sidney Crosby but there is so much more than just Crosby.  With Kris Letang, Zbynek Michalek, and Jordan Staal all out, the Pens are going to lose some games but Dan Bylsma motivates like few I have ever seen in the coaching ranks.  They play hard.  Staal may play as soon as Tuesday so keep an eye out.  Letang and Michalek both have concussion like symptoms and were not exactly taken care of in the best way.

Andrei Markov (Montreal Canadiens) — Markov honestly will just be window dressing for fantasy owners at this point.  There really is talk that Markov was signed just as sort of an "attaboy".  Either way he is out until at least late January and potentially the season so search elsewhere if you have not already.  Markov is not going to be putting up points anytime soon.  If you have an LTIR slot in dynasty, then use it.
There are other injuries but these are ones that impact fantasy rosters the most  at the moment.
Here are the ladders…….
These are for the players who have seen their values shoot up in Week 9.  Some are waiver wire pickups but most are not. December is a strategic month because of how games are bunched around the holidays so paying attention is key to fantasy success here.  Some players are picked this week on merit and schedule.
Adam Henrique (New Jersey Devils) — At this point Henrique is a Calder Trophy Nominee but more importantly he is killing it for your fantasy team.  He is at nearly a point a game now and just think the first few weeks he saw fourth line or time at Albany.  Now, he is practically leading this team and just continues to work harder and harder a lot like Zach Parise did before his knee injury.  It would be hard to imagine what this team would be like without him and with a four game week (three after Monday), this is a player everyone should pay attention to every time he touches the puck.
Filppula-Zetterberg-Hudler (Detroit Red Wings) — It sounds a bit crazy but this was the hot line of the week last week in the NHL.  Val Filppula and Henrik Zetterberg had five points as Jiri Hudler just tends to find ways to create space for an incumbent star and the guy many in Detroit feel could be just as good.  By the way, Hudler netted four goals and two assists in the three games mentioned last week.  Their Week 10 is favorable because of the schedule as they play at Nashville and at Pittsburgh then home to Los Angeles.  Yes all three teams can display defensive fortitude but Nashville has been bad at home, Pittsburgh is banged up, and LA right now is searching for an identity and this line beat up LA (4-1) the last time in Hollywood.
Jarome Iginla (Calgary Flames) — All Iginla did last week was turn back the clock and have one of those weeks that he is usually accustomed to (now these spurts usually last almost a month for him).  One may want to just ride his hot hand till Christmas at this rate.  A four goal, two assist week has Calgary fans hoping again and we think it will continue in Week 10.  Will the wins come for Calgary?  That part does not matter but fantasy points do.  He can still produce at an elite fantasy level but only for short controlled bursts like the movie "Aliens"

Honorable Mention:  Ryan Kesler (VAN), Zach Parise (NJD)
==============================================
Let's slide down a few chutes……
Jamie Benn (Dallas Stars) — The injuries have really taken their toll on the mental resiliency of the left winger.  Finally he scored a goal against LA on the power play nonetheless.  Before that, Benn had been virtually nonexistent with no points in his previous five games.  As Dallas begins to get some players back, Benn could start riding the wave in Week 10 but remember the first line has struggled mightily in the last couple weeks.  It may take some time to return a bit to fantasy normalcy for them anyway.

Marc-Andre Bergeron (Tampa Bay Lightning) — Yes reality may have hit Bergeron at least defensively.  Though he has two points in his last five games, he was a -5 and has just made some deathly defensive lapses.   He only has three goals on the season but that shot should probably lead to a few more.  Bergeron has to start piling up points because the worse he plays defensively, the less his ice time is.  He is still worth a start in Week 10 for now.

Anze Kopitar (Los Angeles) — Rarely do you blame one guy for a coach getting fired but Kopitar surely has frustrated fantasy owners a bit as of late.  Now four points in five games is not so bad but goals have been few and far between for a team who needs their main guy to put some behind the goalie and in the net.  With the coaching change to John Stevens (Terry Murray fired today), it will be intriguing to see if this jump starts the scoring touch.  Week 10 is a wait and see at this point.  Be cautious as a Kopitar owner. 

Well that wraps it up for this week.  Good luck and hopefully December keeps rolling for everyone out there.  Do not forget to follow us @TheProgramBTR for all your fantasy hockey questions and more.  Also, our Christmas Edition is less than two weeks away.  Seasons Greetings!
Simply a hockey writer who is a jack of all trades. No question is too big or too small and in fantasy hockey there is no such thing as a stupid question. Now a proud, accredited member of the FSWA. I am also a New Jersey Devils lead writer, prospects writer, humorist, and so much more. You can find me on Twitter at @ChrisWasselDFS