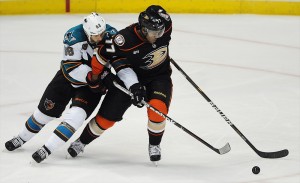 The third day of Hockey Canada selection camp featured the second Red vs. White game, pitting potential teammates against each other. Anticipating the cuts expected after the game, this contest was a higher-tempo, more physical affair than the previous night's. There weren't a lot of goals, but the night featured a lot of special teams time for both squads.
The first period wasn't particularly exciting. However, it featured a parade to the penalty box, largely initiated by Team Red pressuring the net…for interference calls. Team Red's Brendan Gallagher got tagged twice for goalie interference, once for whacking the stick out of Scott Wedgewood's hands. Team Red's Boone Jenner got another late in the period out of a scrum with three Team White players that ended with Wedgewood knocked to the ice. It looked like one of his defenders knocked into him, but Jenner got the two minutes. Despite the penalty parade, Team Red out-shot Team White 7-6 over the first period.
The second period was considerably more chippy than the first, with a great deal of hitting and, consequently, a good deal of penalties. However, while Team Red paraded to the box in the first, it was Team White's turn. Devante Smith-Pelly (boarding), Mark Pysyk (boarding) and Brett Connolly (boarding) in sequence for White, giving Red two separate five-on-three chances. (Connolly's penalty came as a result of him slamming into Quinton Howden as Howden was stretching to stay onside. Howden left the game and seemed to be favouring his shoulder.) White's penalty kill was strong and their goalies (Scott Wedgewood prior to the ten minute mark, Tyler Bunz after) were up for the challenge. Near the end of the period, in a testament to the tension in the game, Red's Boone Jenner and White's Dougie Hamilton took minors for "roughing after the whistle." Bolstered by a lot of power-play time, Red out-shot White 16-9 in the second. The period also featured a four-on-four shootout halfway through, which helpfully broke up Red's five-on-three power-play; White's Mark McNeill and Freddie Hamilton beat Louis Domingue to win the shootout for their team.
The third period was a bit more eventful than the preceding 40 minutes, including some goals! Team Red's Mark Stone potted the game's first goal a few minutes into the third, with assists going to Philip Danault and Phil di Giuseppe. The penalty parade continued and was once again one-sided, with Team Red getting called three times: Tanner Pearson going off for interference, Boone Jenner for roughing and Zack Phillips for boarding. Phillips' penalty late set the stage for six-on-four play, as White pulled goalie Tyler Bunz in an attempt to tie the game. However, that was not to pass, as Red's Brandon Gormley broke up a play and sent the puck into the open Team White net from his own blueline, making the final score 2-0 for Red. Team Red out-shot Team White 32-25 overall, but White had more shots in the third by a 10-9 margin. The post-game shootout ended in a 1-1 tie, with White's Christian Thomas and Red's Mark Stone scoring.
NOTES: The story of the night was the goalies. While none of them had any real amazing saves (save for a Tyler Bunz glove stop in the second that was quite excellent), coach Don Hay called them the four best players on the ice. Outside of the nets, Mark McNeill, Brandon Gormley, Mark Scheifele, Mark Stone and Dougie Hamilton stood out, to me at least. It'll be very hard for Hay and his coaching staff to cut seven or eight bodies, as they said they'll try to do, without sending some talented players home. Jonathan Huberdeau did not play and is expected to begin skating this week, with the hope of playing in one of the pre-tournament games before Christmas. Hay noted that Quinton Howden's upper-body injury will be re-evaluated tomorrow.
—
In the meantime, two of the five Team Canada hopefuls eligible for the 2012 Entry Draft mulled over their performance at camp over the first three days.
At just seventeen years old, Mathew Dumba is the youngest player in camp. He may also be the player who traveled the least distance to get there – he's from Calgary and before he suited up for the Red Deer Rebels, he plied his trade in the city's minor hockey system. He noted that a World Junior selection camp is a long way from where he started his hockey journey.
"My dad was making a rink in the backyard all the time and [I was] always getting out there," reflected Dumba. "I was always working hard on the ice and I guess all the hard work and growing the love for the game paid off."
Dumba explained that his backyard experiences and attitude have influenced how he played the game, and definitely bled into his preparation for the high-pressure environment of Team Canada's camp.
"I kinda told myself 'it's just like in the backyard,'" said Dumba. "You're competing against your buddies and saying next goal wins, you're battling as hard as you can out there and just have fun."
Meanwhile, Phil di Giuseppe headed to selection camp in the middle of another journey – college. The Ontario-born forward is also plying his trade as a freshman at the University of Michigan, studying sports management. He's been one of the bright lights of the camp, with a goal and two assists over the first two games. He explained that his experience playing in American college hockey helped him be ready for this camp.
"Obviously there's more skilled guys here, but I thought the fact that I was playing against older guys really helped me," said di Giuseppe. "I enjoy playing against the older guys. They're a lot stronger, a lot of them are more physical and better-built. I think playing against them makes you more tenacious, more aggressive."
Di Giuseppe noted that between Hockey Canada and school, contingency plans are in place for how he'll cover his exams should he qualify to represent his country at the World Juniors. At the very least, he'll have a better winter break than all of his classmates – even those that spend the weeks between semesters at a beach destination.
Ryan Pike has covered the Calgary Flames and the NHL Draft extensively since 2010 as a Senior Writer for The Hockey Writers and Senior Contributing Editor of FlamesNation.ca. A member of the Professional Hockey Writers Association, he lives in Calgary.