Once upon a time Wayne Gretzky skated for both the Los Angeles Kings and St. Louis Blues.  Fast forward though to Game One of their Western Conference Semifinal Series and its goaltenders who reign supreme.  Of course the similarities don't end with Jonathan Quick and Brian Elliott.  Both clubs have flourished since changing coaches this season.  On one hand St. Louis has already knocked off a California team this post-season (San Jose) and Los Angeles already has one major upset in these playoffs.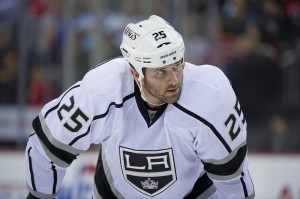 Hence push would collide with shove, as the club with the best regular season home record faced off with a squad that has yet to fall on the road this post-season.
For the Kings, it was an infusion of the same ingredients they used to knock off Vancouver.  Spectacular goaltending and superb special teams.  This one honestly could have been three or four to zip early, if not for the theatrics of Quick.  In the first there were consecutive pad stops by Quick on Andy McDonald out front.  St. Louis had another opportunity with B.J. Crombeen getting denied on a backhand shot.  Then a wrap by Patrick Berglund would also be sent back by Quick.
Although it would be the Blues with the initial strike.  St. Louis was able to setup more screens than a Regal Cinema, to thread one by Quick.  David Perron deflected an Alex Pietrangelo shot past Quick for the lead.  Also helping block out Quick, was Captain David Backes.
Later in the frame though the Kings would respond.  After the Blues overloaded to the right, Dustin Penner was able to find a streaking Slava Voynov for the Kings first marker.  It was a case of the Kings catching the Blues napping and Voynov, who has stepped up for the since traded Jack Johnson, was able to cash in to beat Elliott.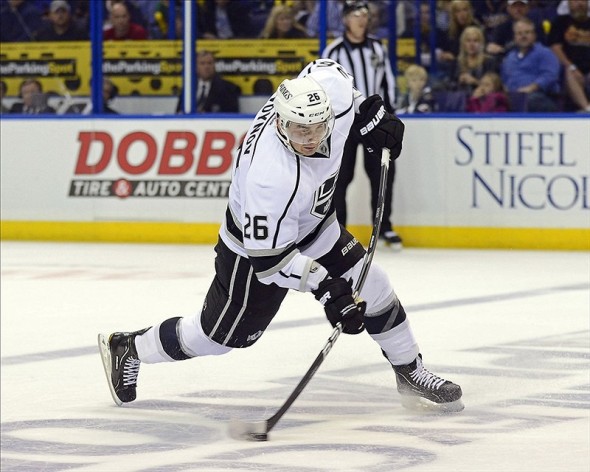 Then late in the second period, the Kings were up to their old tricks from round one.  After a Dwight King boarding penalty, L.A. and Captain Dustin Brown worked their magic.  Brown, who netted a pair of shorties against the Canucks, went rushing into the Blues' end, shooting one off the pad of Elliott.  It was enough to freeze the Blues netminder and defenceman Matt Greene swooped in to bury the loose rebound to the back of the net.  It was the first Kings lead of the evening and one they wouldn't relinquish.
Finishing it off would be Penner with an empty netter and the Kings skated off with a 3-1 victory over the Blues in Game One.
***
With the win, L.A. improves to 4-0 on the road this post-season and has won six-straight road playoff games, dating back to last season.  In three contests this season, Quick (who made 28 saves) allowed just one goal to the Blues and yielded as many in Game One.  Each club has a lot to work on with regard to the power-play, going a combined 0-for-8 with the extra attacker.  Both clubs were even in shots with 29 apiece.  Meanwhile, L.A. won the hits battle (26-24) and St. Louis blocked more vulcanized rubber (23-12).
Game Two takes place in St. Louis on Monday night.