Coda Gordon THW Close-Up:
Date of birth: 4 August 1994
Place of birth: Cochrane, AB
Ht:6'1  Wt: 182
Shoots: Left
Position: Left Wing
NHL Entry Draft Eligibility: 1st time eligible 2012
*Click Here  for "Notes Up Front" and the "Legend" for various topics covered below in the "Live Updated" THW's NHL 2012 Entry Draft Guide – The Next Ones home page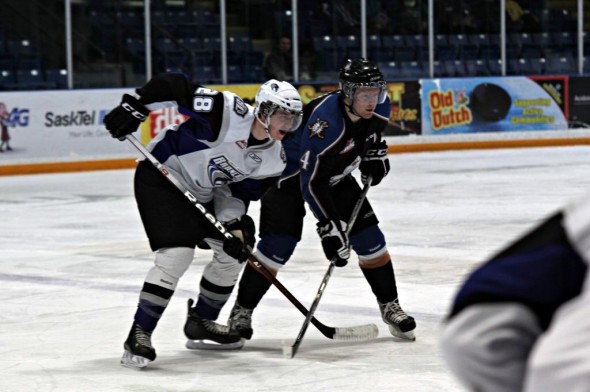 In 2011 Coda Gordon wrapped up his hockey career with the Edge School Mountaineers having helped win titles in both the Midwest Prep Hockey League and the Canadian Sport School Hockey League. He put up big numbers in the process, but having been passed over in the 2009 WHL bantam draft, his future was uncertain. Ahead of him was his only hope, an invite to training camp with the Swift Current Broncos.
"I didn't expect to make the team," he told Kelly Friesen.
And yet thanks to "some puck luck and to scoring a lot in exhibition" Coda earned a spot on the Broncos roster. As the season got underway, other teams didn't know who he was and didn't key in on him. He made the most of his anonymity, scoring 10-10-20 in the first 16 games of the season. Almost immediately, scouts began talking about him and by December his name began to appear on rankings, earning him an invitation to the CHL Top Prospects game in Kelowna in February.
He was unable to maintain his initial scoring pace but he still finished his rookie season with an impressive 30-23-53 in 66 games, including a pair of game-winning goals and 15 power play goals, good enough for twelfth overall in the WHL. He finished eighth among WHL rookies in points, and fourth in goals.
To borrow a line from Dino Ciccarelli, you won't find many of Coda Gordon's goals on the highlight films. His is a no-frills game that gets results. He faces a challenge next season with the departure of linemate Taylor Vause, who assisted on 19 of his 30 goals.
The downside most often mentioned about Coda is his skating. He will not be mistaken for a young Paul Coffey. Yet given the right amount of commitment, it's something he can improve, and in fact his skating has come a long way from where it was at the start of the season. Another downside with some wiggle room is his physicality: He needs to add weight, muscle, and a chip on his shoulder, enough to make him mean when necessary.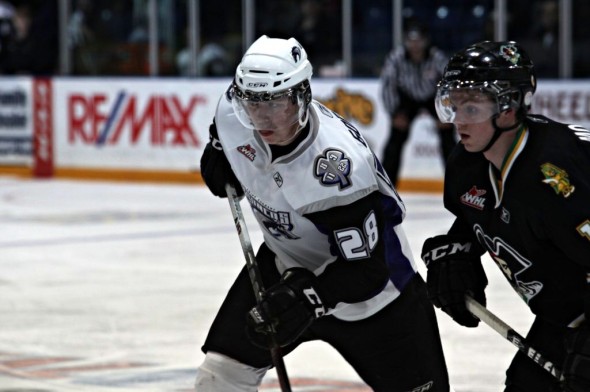 Scout's Honour: 
The NHL's Final Rankings for North American Skaters rank him at  #61, while TSN's Craig Button's April 16 list ranks him at #58.
"Coda is a great teammate on and off the ice, and is very easy to play with. He's got good vision and is calm with the puck. He battles hard in the corners and in front of the net, and knows how to finish when in tight. Coda has great discipline and has a bright future a head of him." — Former Swift Current Captain and teammate Taylor Vause.
"I haven't seen too many players in the WHL this year that are as dangerous as Gordon is right around the front of the net. He's got good reach in puck battles and has above average finishing skills … He's a strong player in all three zones and his hockey sense is at a very high level. There's lots to like for NHL teams looking to add a scorer with some size." — Cody Nickolet, WHL from Above
"Coda Gordon has the skill you can't teach: hockey sense. The puck follows him and he makes his opportunities count. He forced Swift Current's hand because every time they put him on a line with skilled players he put up points. If the puck was anywhere near him in front of the net he found a way to turn it into a goal … A player doesn't have to make it look pretty for his play to be effective." — Swift Current Broncos play-by-play broadcaster Shawn Mullin.
"He scored 30 goals for us as a rookie. He's got outstanding hockey sense and a nose for the net." — Swift Current Broncos coach Mark Lamb.
"[Gordon is a] solid wing with great strength and some abilities to generate and also score. Reads the ice well, finds the open spots, and has scoring prowess and size." — Bill Placzek, Draftsite.
"Gordon has an accurate shot that shows plus velocity and has the ability to finish from way out … He doesn't make a ton of plays, but he's certainly a smart player who makes all the right, simple distributions and will flash something beyond. He has decent hands, not a tick above, but he isn't a liability with the puck and will show fine coordination. — Corey Pronman, Hockey Prospectus.
Statistics:
Bio/Interview(s)/Link(s):
ETA = 3 yrs
Risk-Reward Analysis:
Risk = 3/5   Reward = 4/5
Strengths:
*See "THW Close-Up" section above.
Hockey sense
Uncanny scoring touch
He just gets it done.  Also this profile's title, it comes from Shawn Mullin's description of Gordon as "not breathtakingly flashy", but a guy who does the dirty work down low and "just gets it done."
Flaws/Aspects He Needs To Work On:
Skating. Described by one scout as "awkward looking", it almost never succeeds in going unnoticed. Still, at 17 it is something he can improve upon.
Physical game. How does a player spend as much time as Gordon did in the slot and only earn 12 PIM? He's solid in front of the net, but added weight and muscle could make him an immoveable object.
Fantasy Hockey Potential:
Offensive = 8/10   Defensive = 5/10
NHL Player(s) Comparison:
Coda himself says he models his game on Jason Spezza. Cody Nickolet sees Matt Moulson. If he can gain 30 pounds and go into full-on beast-mode in the slot, why not imagine another Phil Esposito?
Off The Iron (Interesting Notes):
Gordon is one of 105 NHL draft-eligible players from North America and Europe invited to the 2012 NHL Scouting Combine, being held May 28 – June 2 in Toronto, Ontario.
THW's The Next Ones prospect profile template design architect: Chris Ralph
Ross Bonander is a freelance health writer and book editor. He is the editor of 13 quotation collections– six of them hockey-related, including his most recent, Modern Hockey Quotations. His homepage is RossBonander.com.