Late last week, Los Angeles's "Miracle Mile" experienced a power outage that left approximately 3,000 people sans electricity. Power was restored for most within 24 hours. Around the same time, the Los Angeles Kings also experienced a power outage. The problem is that their power failure, of the on-ice variety, still requires remediation and has millions of Kings fans worldwide left in a state of anguish.
The on-ice futility commenced when the Kings sauntered into Las Vegas for Games 1 and 2 of their first-round playoff series against their newfound rival, the Vegas Golden Knights. Eight periods and a feeble one goal later, the team could not wait to leave "Sin City" in favor of some home cooking. The dilemma is that a home-cooked meal simply does not solve everything.
What Didn't Stay in Vegas
Early in Game 3 on Monday night, the Kings showed a minor surge of power by routinely peppering goalie Marc Andre-Fleury with shots from all angles. They were rewarded for their efforts when rookie Alex Iafallo jolted an Anze Kopitar feed just under the crossbar to put the home side up and temporarily restore some energy within their partisan fanbase. The problem is that the home side was mostly mediocre throughout the remainder of the game. The end result was three straight Golden Knight goals, resulting in a 3-2 defeat and, more importantly, a 3-0 series stranglehold for the boys from Nevada.
Stevens Looking for Answers
Coach John Stevens, who was befuddled following the Game 2 suspension of all-world defender Drew Doughty, was equally frazzled with officiating in Game 3. Things came to a head when Knights winger Erik Haula clearly butt-ended Kopitar in the face with no resulting penalty being called:
When probed by L.A. Kings Insider regarding the hit, Stevens had the following to say:
"Yeah. We get a guy suspended for making a hockey play, and he butt ends one of the best players in the world in the face with the butt end of his stick. So, if I was confused before, I'm bewildered now. That's an intent-to-injure play. I don't like hard hockey – I love hard hockey. Good, honest, hard hockey, I love it, and Kopitar's about as tough of a guy as you can find. You guys make the judgement, because it's a bunch of B.S., to be honest with you."
Yes, the hit definitely should have resulted in Haula being sent to the "sin bin," however, Stevens is clearly grasping at straws looking for answers. The first-year coach of the Kings has been stricken with injuries on the back end and, to his defense, has been creative with both his defensive pairings and forward combinations to try to adjust. One such amendment was the reunion of one of the organization's most storied lines.
"That 70s Line" Reunion Not in Full Accord
Kings fans were clamoring for it, yours truly included, and our wishes were granted; Jeff Carter, Tanner Pearson and Tyler Toffoli, AKA "That 70s Line", were reunited yet again for Game 3. It was time to rekindle the magic that made the trio so successful over the past handful of years. Indeed, the line showed signs of life throughout the evening, accounting for 12 of the Kings' 39 shots. The issue was that a large majority of the attempts were from healthy distances and not overly advantageous angles, so Fleury was easily able to get his diminutive frame in front of them.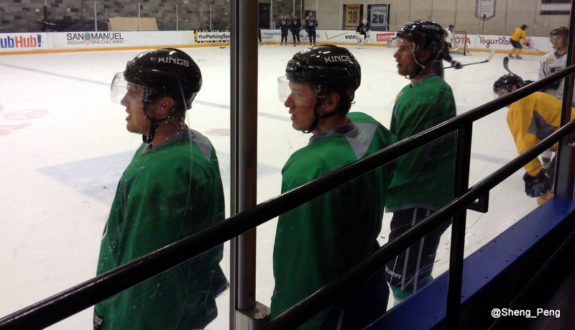 The end result was goose eggs all around for the once prolific line. Alas, their lack of production was not the sole reason for the lights remaining off in L.A.
Where is the Real Dustin Brown?
Remember when star forward Dustin Brown scored four goals, including the overtime winner, in a crucial late-season victory against the Minnesota Wild? Seems like a distant, distant memory. Ever since the postseason commenced, Brown has been a shadow of his former self. Other than an assist in Game 3, the 33-year old has offered his team very little on the ice. Despite the best efforts of linemates Kopitar and Iafallo, the former captain has been unable to step up on a stage on which he is all too familiar thriving.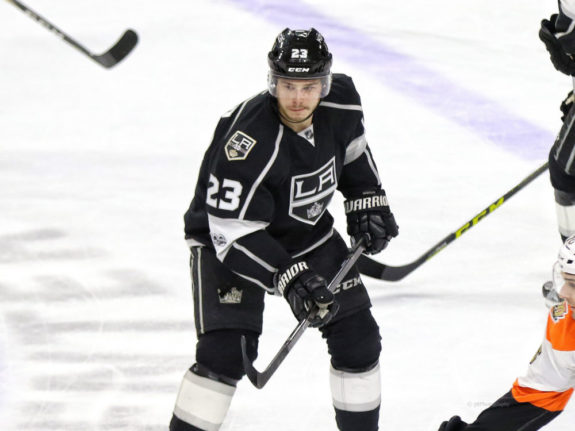 What is equally frustrating for Kings fans is that Brown has been uncharacteristically undisciplined. This lack of discipline was amplified in the first period when Brown took a nonsensical tripping penalty to quickly put an end to his team's short-lived power play. Although the winger has not been the team's only area of concern, he will need to step his game up levels of yesteryear.
Fantenberg Still a Liability
I was very harsh on young defender Oscar Fantenberg following his mediocre performance in Game 1. Truth be told, Fantenberg was significantly better in Game 2 and, as a result, earned a slot in Stevens' top six for Game 3. Although far from an unbridled disaster, the young Swede's deficiencies were amplified at the worst time. Late in the third period, the 26-year old impulsively leaned forward to try to rub out oncoming forward James Neal. Things did not turn out too well:
VEGAS GOLDEN KNIGHTS GOAL by James Neal (1) with assists by Alex Tuch and Nate Schmidt!#VegasBorn 2#GoKingsGo 1#VGKvsLAK pic.twitter.com/BypzJHxLSg

— TRSN Vegas (@TRSNLasVegas) April 16, 2018
Despite registering an assist and showing glimpses of promises in game 3, Fantenberg might be hard-pressed to secure a spot in Stevens' lineup for game 4.
Giving Credit Where It Is Due
The myriad of inadequacies that were highlighted above are not the only reasons why the Kings are within one loss of being swept. The Golden Knights are a darn good team. They have out-coached and outplayed the silver and black by a considerable amount. Their forwards have been defensively responsible and their defense has been physical and no-nonsense. The stars will truly have to align should L.A. have any hopes of making this a series.