James van Riemsdyk wants to remain with the Toronto Maple Leafs.
Ever since the 2016-17 season began, one of the more intriguing factors of the season was going to be what would happen to the six-foot-three left winger. He has one year remaining on his contract after this season with a cap hit of $4.25 million. With his production, that is one of the best bargains in the entire NHL. Let's say this on behalf of the Maple Leafs: Thanks Philadelphia.
However, it's when that contract runs out that problems arise for the Maple Leafs. He is set to be one of the top free agents in the 2018 off-season and will get paid like one. We're talking $6-million a year minimum for seven or eight years. It's this simple reason why JVR has heard his name bandied about in trade rumors. Here's what he said about the rumors.
"There are so many factors that are out of your control you can drive yourself crazy worrying about [trade talk]… Anything can happen … it's a business and there are different things that come into play, but I can't express enough how much I've enjoyed to play in Toronto and how much it has meant to me to play for a team where people care as much as they do here."

"I hope to play here for a long time because I really love playing here… I try not to worry too far ahead in the future, but that's where I stand right now."
Would the Leafs like to re-sign JVR? Of course, but the Leafs will have other issues to deal with. Pretty much all of the Leafs young core will need to be re-signed within the next three seasons. Nikita Zaitsev, Connor Brown and Zach Hyman are up after this season. William Nylander, Connor Carrick and Nikita Soshnikov are up after next season. Auston Matthews and Mitch Marner will be restricted free agents after the 2018-19 season while Jake Gardiner is set become an unrestricted free agent that same off-season.
As you can see, the Leafs have a decision to make. It's not whether or not they trade van Riemsdyk, it's when do they trade him?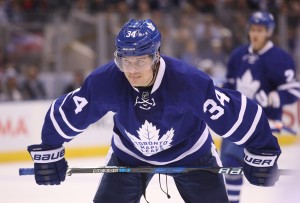 If they trade him at the March 1 deadline, the team that acquires him gets him for the rest of this season as well as a potential playoff run, along with the entirety of next season. That should allow the Leafs to get slightly more in a deal. The thing is, the Leafs might want to keep him for a potential playoff run of their own.
The Leafs could wait then until the draft and trade him there. He would definitely fetch the Leafs a first-round pick along with other pieces, just a bit less than what they would get by trading him at the deadline. The last option is to trade him next season before the trade deadline. This obviously gets the least in terms of return.
JVR has performed admirably for the Leafs over the years while suffering some of the Leafs worst seasons in their history. He might want to stay with the Leafs past the trade deadline and long-term, but it's not in the cards. He is set for too much of a raise and the Leafs will not be able to afford him. Additionally, it's not like the Leafs don't have a lot of depth on the wing in their system.