65 points, 63 points, 30th overall in the NHL.
After plummeting to a 28th overall finish last season, many are expecting the Vancouver Canucks to take it to the next level – by finishing with the worst record in hockey.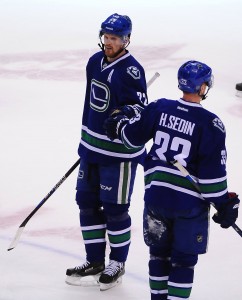 These are some of the consensus predictions from media outlets around the NHL regarding where the Canucks will finish in the standings this season. USA Today predicts that the Canucks will finish with 65 points, which would be worst in the league by six points. The 63 point prediction from EA Sports has the Canucks 11 points clear from 29th place.
There are clear warning signs that these predictions could come true. The Canucks are the only team in the league relying on a pair of 36-year-olds for primary scoring. Secondary scoring is a glaring question mark. They have also watched many of their rivals, including the Edmonton Oilers, Calgary Flames, and Arizona Coyotes, improve in the offseason. The Canucks improved, but did they improve enough to leapfrog some of their division counterparts?
Most believe that the Canucks didn't improve enough to fight for a playoff spot. Hell, most believe that the Canucks didn't improve enough to claw their way out of the NHL basement. There is so much doom and gloom surrounding this team, you would think the Canucks are slapping an Eeyore logo onto their jerseys for the upcoming season.
Despite what many may think, this Canucks team definitely has a chance of competing for the playoffs. It may sound crazy, but there is enough intrigue on this roster to at least envision the Canucks fighting for a playoff berth.
It's Not Over Until the Sedin Twins Regress
Every year, people suggest that the Sedin twins will regress. Henrik Sedin battled injury ailments last year but was among the top 15 scorers in the league up until he was slowed by injuries. Daniel Sedin scored 28 goals last year, his most since he potted 30 during the 2011-12 season. If either of the twins get injured, Jim Benning will be sweating the gel right out of his combover. Until then, the Sedins remain bonafide first-line players who give this team a chance to win on a nightly basis.
Related – Five Surprises From the Canucks Preseason
You could argue that if the Sedins predictably play with Loui Eriksson, they will be lining up beside their most talented linemate during their 15 seasons in the NHL. Eriksson is one of the most underrated players in hockey. He possesses a strong two-way game, and his hockey smarts allow him to score goals from anywhere on the ice. Radim Vrbata may have had a good shot, but his hockey smarts and two-way ability pales in comparison to Eriksson.
Bo and Sven Can Bring Secondary Scoring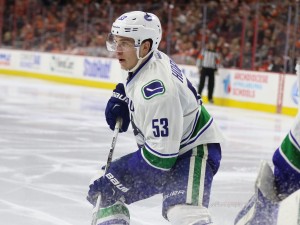 The biggest question regarding the Canucks this season, is where will the goal scoring come from? Secondary scoring remains an issue for a team that finished 29th in scoring last season.
The best answer to that question? Bo Horvat and Sven Baertschi. They might be overlooked by other teams in the NHL, but not for long.
After enduring a 27 game goalless drought last season, Horvat registered 30 points over his final 43 games. Horvat could push the 60 point mark, but regardless he is a good bet for 20 goals and 50 points this season.
Horvat's winger, Sven Baertschi, drastically improved as the season went on. Baertschi also endured a slow start but finished the season with 13 goals and 21 points over his final 41 games. That prorates to 25 goals and 41 points in 82 games. It's not unrealistic to think Baertschi can at least be a 20 goal scorer.
Question marks still surround the likes of Jannik Hansen, Brandon Sutter, Anton Rodin and Jake Virtanen. Both Hansen and Sutter have potential to score 20 goals, while Rodin and Virtanen remain wild cards. Amidst all the uncertainty, Horvat and Baertschi should emerge as viable options for secondary scoring.
Defence is Improved, but By How Much?
One of the cruxes of this team last year was their porous defence, which allowed the second-most high danger scoring chances last season, only behind Colorado. Injuries to Alex Edler, Chris Tanev, Dan Hamhuis, and Luca Sbisa derailed the already average defence. When your defenceman with the most games played is Matt Bartkowski, your success is going to be limited.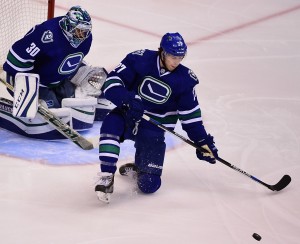 On paper, the addition of Erik Gudbranson should shore up the Canucks defence. He excelled with Brian Campbell as his partner last year, and current partner Ben Hutton comes in a similar mode.
Speaking of Hutton, the sophomore defender was flying in the preseason and should top his impressive point totals from last season if Willie Desjardins gives him the green light.
Alex Edler and Chris Tanev are a legitimate top NHL pairing, but it waits to be seen if Luca Sbisa and Philip Larsen can hold their own. Sbisa has been a subpar defender in his two seasons as a Canuck, although management loves the physical side of his game . Larsen couldn't crack a poor Oilers defence in 2013-14 and didn't show much in the preseason to ease those notions. As a pairing, Sbisa and Larsen had some nervous moments in the preseason and could be on a short leash with other depth options, such as Nikita Tryamkin, Alex Biega, and Troy Stecher available.
Goaltending is a Strength
Ryan Miller and Jacob Markstrom give the Canucks one of the better goaltending tandems in the league. They probably fly under the radar after the Canucks defence left the two goalies out to dry last year. Regardless, both Miller and Markstrom kept the Canucks in most games they didn't belong in.
Both goalies looked good in the preseason, with Miller recording a shutout against the Flames in his final start. Markstrom held down the fort in a 3-2 win over the Edmonton Oilers, where the Canucks were dominated over the first 40 minutes. There may be a few nights like this to come for the Canucks, but these two goalies have the ability to keep this team in games where they aren't playing their best.
NHL Parity Means Health is Imperative
One factor working in the Canucks favour in October is that they are able to ice an almost healthy lineup. Injuries ravaged the Canucks last year, especially on defence and up the middle. Brandon Sutter played 20 games with the Canucks last year, while Henrik Sedin played injured for a good portion of the season. If the Canucks can stay healthy, there's no reason to believe that they won't be able to compete for a playoff spot.
Depth comes into play when injuries occur, and the Canucks didn't have enough depth last season. On defence, they have some depth, but if any injuries occur to their top six forwards, then the Canucks probably don't have the depth to recover.
Canucks Content – Vancouver Canucks 2016-17 Season Preview
Regardless, these doomsday predictions for the Canucks seem a little far-fetched considering the current lineup. Parity within the NHL comes into play, with not much separating fully healthy NHL rosters. The gap between the best teams and the worst teams is rapidly closing, meaning there will be some surprises heading into the season.
There is a chance that the Canucks could be one of those surprises.