Recently, our own Jon Bateman looked into the glut of rugged two-way players under the Flames employ. Of those, Lance Bouma stands out as an interesting case for the team moving forward. Entering his fourth full season as a regular with the Flames, it's hard to figure what the big left winger is capable of contributing given his varied results over past seasons.
Delving deeper into everything, what exactly can we expect from Lance Bouma this year?
THW Archives – Lance Bouma, Flames Agree to Terms (July 2015)
Bouma's Point Production
In his 2014-15 season, Bouma exploded from his earlier mark of five goals and 10 assists to a total of 16 goals and 18 assists. At more than double his point total, the Flames welcomed the additional production from the product of Provost, AB. Hoping for more of the same, the Flames were let down in the 2015-16 season as Bouma's totals regressed back to a paltry two goals and five assists.
In part, the decline was due to a slew of injuries. The injury-riddled season limited Bouma to participating in only 44 games. But based on the last three seasons, the 34 point performance also stands out as the significant outlier.
Looking into the more detailed numbers, the pattern remains constant. Bouma's shooting percentage ballooned to a whopping 15.4% in his 16 goal season. The 15.4% is significantly higher than his career average of 8.9%, (or 4.8% if you exclude 2014-15). The average was high compared to the league average as well (8.98% in 2015 per sportingcharts.com).
Simply put, Bouma was the benefactor of some puck luck that pushed his goal total to a level above what was previously shown as his norm. In relation to league average, Bouma did suffer an unlucky season in 2015-16 by the same metric as well. Regression to the norm should have Bouma bounce back towards the 8.98% from an unlucky 4.1% last year.
Standard NHL career statistics
Scoring
Shots
Ice Time
Season
Age
Tm
Lg
GP
G
A
PTS
+/-
PIM
S%
TSA
TOI
ATOI
FOW
HIT
BLK
TK
2010-11
20
CGY
NHL
16
0
1
1
-1
2
0.0
17
94
5:52
0
15
6
2
2011-12
21
CGY
NHL
27
1
2
3
-5
11
3.8
48
274
10:10
11
45
26
8
2013-14
23
CGY
NHL
78
5
10
15
-4
41
6.1
151
983
12:36
22
181
87
20
2014-15
24
CGY
NHL
78
16
18
34
10
54
15.4
178
1093
14:01
29
264
82
22
2015-16
25
CGY
NHL
44
2
5
7
-6
31
4.1
83
530
12:02
5
110
42
6
Career
NHL
243
24
36
60
-6
139
8.9
477
2974
12:14
67
615
243
58
Possession
Standard point totals aside, Bouma has never been much of an advanced stats sweetheart. Over the past three years, the left winger has put up poor possession numbers, with an average Corsi Relative of -10.30 in 2013-14, -9.40 in 2014-15, and -8.70 in 2015-16. Bouma amassed these weak totals against poor competition. Having said that, up until last year Bouma was the victim of poor zone starts.
The good news here is that Bouma's numbers have trended up over the past three years. As displayed below, in 2015-16 he put up his best numbers when used against lesser competition while benefiting from better zone starts. If the proper usage continues against weaker competition, and Bouma continues to progress, his possession numbers should continue on an upwards trend.

Black and Blue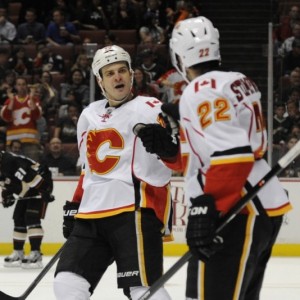 One thing that no one can debate is that Bouma is a player that throws his body on the line. The big-bodied left winger isn't afraid to use all 6'2″, 208 lbs (per hockey-reference.com) of his frame. Aptly dubbed "Booms", over the past three seasons Bouma has amassed team-leading totals in both hits and blocked shots.
Let's take last season for example: Among Flames regular forwards, Bouma was second in hits per game (2.50) and first in blocks per game (0.95).  Even though these items led to the injury plagued season in 2015-16, there is no reason to believe that Bouma's style of play will not continue. Bouma's toughness is a welcome addition to the fourth line, and his knack for shot blocking is an added benefit on the Flames penalty kill.
Related – Calgary Flames 2016-17 Season Preview
Bring It All Together
Bouma has been many things over the past three years for the Flames. Although he will most likely not reach his career highs in points again, he should bounce back a bit from last year's poor totals. With his possession numbers moving in the right direction, along with his "body on the line" style of play, Bouma will fit in with the Flames as a contributing fourth liner and penalty kill specialist.
With a salary of $2.2 million this year (per GeneralFanager), it's more than you could hope to have allocated to a player with that profile. Hopefully, Bouma can rekindle some of the 2014-15 luck and make his contract worthwhile for everyone.