The Lias Andersson tour has come to an end on the East Coast, with the New York Rangers trading him to the Los Angeles Kings for a second-round pick. They would then use that pick to select left winger William Cuylle 60th overall. Andersson was the Rangers' first draft pick from the start of their rebuild, being taken seventh overall in the 2017 Entry Draft, but the controversial young center struggled to make an impact with the Rangers. In 66 NHL games, Andersson has only tallied three goals and six assists.
Lias Andersson as a Ranger
Andersson was drafted as a heart and soul type player and was noted as a hardworking two-way player. The Rangers liked him because he exhibited leadership qualities and they were hoping he could become a player similar to former captain Ryan Callahan. The pick was a little bit of a reach but they saw it could potentially have a good payoff. Unfortunately, it seems they will not get any kind of payoff.
Andersson only played seven games the season after his draft – he scored one goal and assisted on another. He spent most of his time in North America in the AHL with the Hartford Wolf Pack. In his first two seasons there, the Wolf Pack were a dumpster fire, depleted of any good prospect talent from the Rangers coming off several years of being a strong contender for the Cup.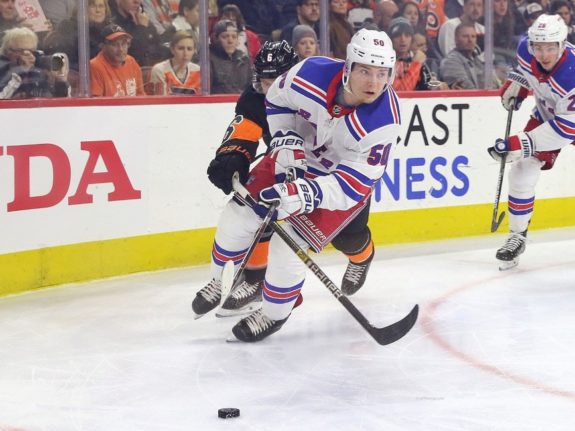 His second season with the Rangers saw him play in 42 games, with two goals and four assists. He had more success with Hartford as he found the back of the net six times and assisted on 14 more in 36 games. This past season, he regressed a bit due to some non-hockey reasons. In 17 games during the 2019-20 season, Andersson only had one assist, a secondary on a goal from Micheal Haley. He was sent back down to the AHL and had four goals and one assist in 13 games.
He then went back to Sweden after some time off from hockey and seemed to have found his game. In 15 games with HV-71 of the SHL, Andersson netted seven of his own goals and had five assists. He seemed to be regaining his confidence playing in a middle-six role. Andersson decided to play this entire season in the SHL and he has been off to a hot start. In four games he has one goal and three assists, but also got in some disciplinary trouble. He was suspended five games for what was deemed an illegal hit to the head. And now the final chapter – the Rangers finally decided to move on from their former top pick.
What Went Wrong for Him?
Andersson was a bust for the Rangers but he went through a lot of struggles off the ice. In an interview after going back to Sweden, the young pivot admitted to going through some homesickness, staying up late playing video games with his friends back in Sweden, and taking sleeping pills. He also said he had gone through a lot of pain in his feet, eventually getting his own fitted skates and feeling much better after.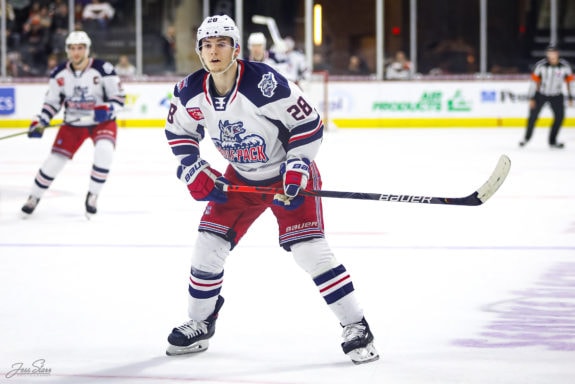 It could be argued he was not exactly set up to succeed in the NHL. His first two seasons with the Rangers saw him play a bottom-line role on a rather depleted team as they went through the early stages of the rebuild. This past season was much the same, he was cemented in a bottom-line role primarily playing alongside Haley, an enforcer, and defenseman turned forward Brendan Smith. He was given some penalty kill time but always saw himself behind Brett Howden in the depth chart, despite Howden's struggles. Andersson had a solid pre-season as well, looking like he turned over a new leaf as he found some chemistry with fellow meat and potatoes player Vladimir Namestnikov. 
Between his injury, poor habits outside the rink and his on-ice struggles, Andersson lost confidence. It was the third consecutive season where he failed to stay on the NHL roster. It is also worth noting he was not the only Rangers prospect to head back to Europe as Vitali Kravtsov went back to Russia after failing to make the Rangers roster out of pre-season.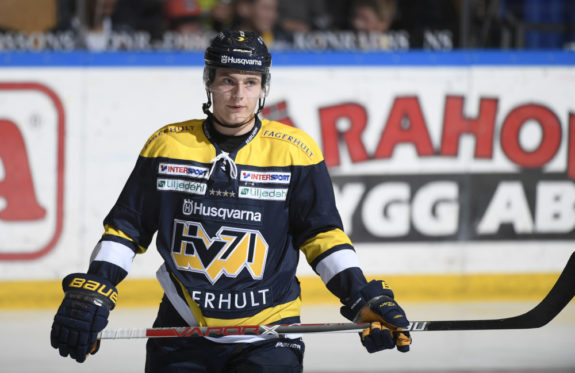 Andersson could not carry that into the regular season as the Rangers carried a burden of a fourth line for the first half of the season, with Andersson's struggles being a contributing factor. The Rangers had finally decided to move on after three seasons of their former seventh overall pick struggling on North American ice. It was not how the Rangers had envisioned their top pick's career to go, but they made a wise choice to trade him rather than risking losing him for nothing down the road.
Andersson is still young at 22 and can carve out an NHL role for himself in the future. He will now have a fresh start with a new team in a new conference. A change of scenery could be exactly what Andersson might need to turn his NHL career around – it was evident he was not going to make much of a splash with the Rangers at this point and it seems the Kings are willing to give him a chance.
---
---
Currently a writer for the New York Rangers, University of New Hampshire alumn