Rumors are just rumors until they become facts. After the Tampa Bay Lightning's colossal collapse to the Columbus Blue Jackets in the first round of the 2019 Stanley Cup Playoffs, it seemed like the entire team was rumored to be on the trading block. However, three players kept rising to the top each season when the salary cap issue was mentioned: Tyler Johnson, Ondrej Palat and Alex Killorn. Two of those players have already been traded away — Killorn is the last man standing. We'll examine what his future could look like with the team and who could possibly replace him.
Killorn's Development From Third-Round Draft Pick
When the Lightning drafted Killorn in the third round of the 2007 NHL Draft, he informed the team that he was committed to Harvard University for four years. After graduating with a 3.5 GPA, he went to the American Hockey League (AHL), playing for his future NHL coach, Jon Cooper.
On Feb. 16, 2013, Killorn scored his first NHL goal for the Lightning. At that time, he probably couldn't imagine that in less than a decade, he would be the longest-serving player on the team, drafted one year before Steven Stamkos. He has seen it all: thrilling wins and heartbreaking loses. He also has two Stanley Cups, accompanied by two boat parades, to cement his legacy.
There is no doubt that Killorn is a major contributor to the Lightning's success. At 6-foot-1 and 199 pounds, he will turn 33 years old before the start of the season. Born in Halifax, Nova Scotia, he is a mainstay along the boards, digging for the puck, making pinpoint passes, blocking shots and scoring timely goals. He is also very durable, having missed only 15 games in his entire career that consists of 723 regular-season games leading to 402 points. Last season he tallied 25 goals and 34 assists in 82 games — ranking among the best of his career.
Normally productive in the postseason, Killorn has scored 34 goals and 38 assists in 134 postseason games and has made his presence known to his opponents, except for this past postseason. During the 2022 Playoffs, he had only four assists in 23 games and was a minus-5. With Brayden Point injured, it would have helped if he was able to supply a few goals. Of course, no one is doubting his dedication, as he does many things that go unnoticed, and he continues to contribute to the success of the team. But is his salary worth four postseason points?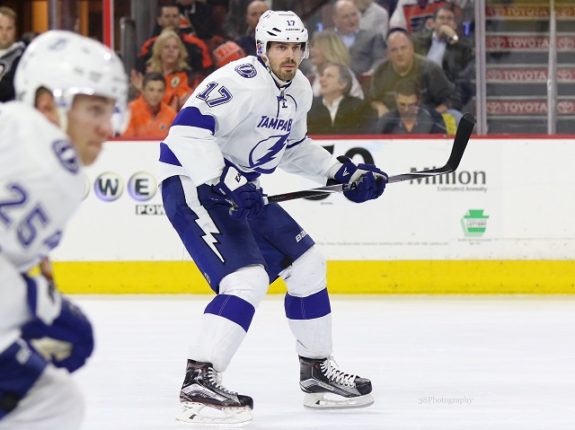 Nearing the end of his seven-year, $4.45 million contract that expires at the end of the 2022-23 season, Killorn could be the next victim of the salary cap. So, the question is: who can replace him in the lineup? The answer could be 27-year-old Nick Paul. The 6-foot-3, 224-pound forward excels at many of the same things that Killorn does.
Nick Paul Secures His Future With Lightning
Signing Paul to a seven-year contract worth $3.15 million per year, could make Killorn's eventual departure a non-factor. Drafted by the Dallas Stars in the fourth round of the 2013 NHL Draft, he was traded to the Ottawa Senators, where he spent seven seasons. Not known as a prolific scorer, he was one of the Senators' best defensive forwards and acquired a reputation for taking the puck away from opponents and rarely giving it up once he gained possession. When the Lightning traded for him, they were expecting a similar style of play.
Related: Lightning's 4 Best Contracts for the 2022-23 Season
Paul found his groove on the penalty kill, scoring a short-handed goal and one assist in his 21 games with the team last regular season. Then, when he scored two goals in Game 7 of the first round of the playoffs against the Toronto Maple Leafs, he endeared himself to his teammates and surprised his coaches. The Lightning traded for Paul to make them tougher to play against. While his offensive production may not match Killorn's at this point in his career, both players can be relied upon to play a two-way game and to be in the right spot on the ice.
With other players stepping up, is this the last season that Killorn will play for the Lightning? During the 2015 Stanley Cup Final against the Chicago Blackhawks, he stated that he was surprised to find himself playing on the same line as Martin St. Louis and Stamkos. He was quoted as saying, "Not that I didn't have belief in myself, I thought I was going to play, but regardless if you have a good career or not, you're still going to be done by 35, 36 or 37. After that what do you do? I was pretty interested in doing some other things also."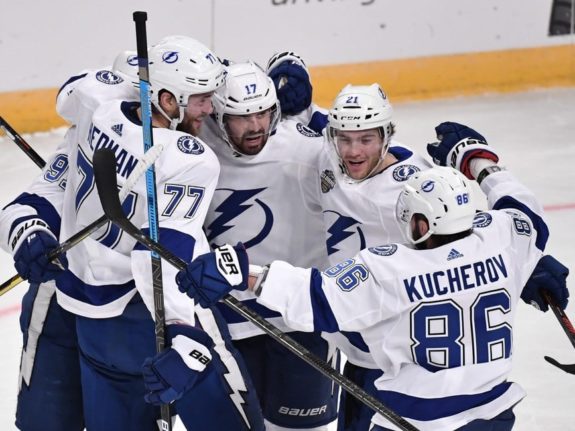 Killorn's desire to retire as a Lightning is well known. Perhaps other interests will entice him to hang up his skates rather than be traded. His name is on the Stanley Cup twice; some of the best hockey players never win one. If the Lightning make a playoff run next season and win another Cup, he will need to produce more than four assists. If he doesn't, the ice tilts in Paul's favor that he can fill the gap.
---
---
---
Latest News & Highlights
---