Welcome to my annual opponent preview series where I will go division-by-division looking at how the Vancouver Canucks match up against the teams they will be facing during the regular season. Think of it as a primer or "battle plan" as we head into October and the drop of the puck on the 2022-23 campaign.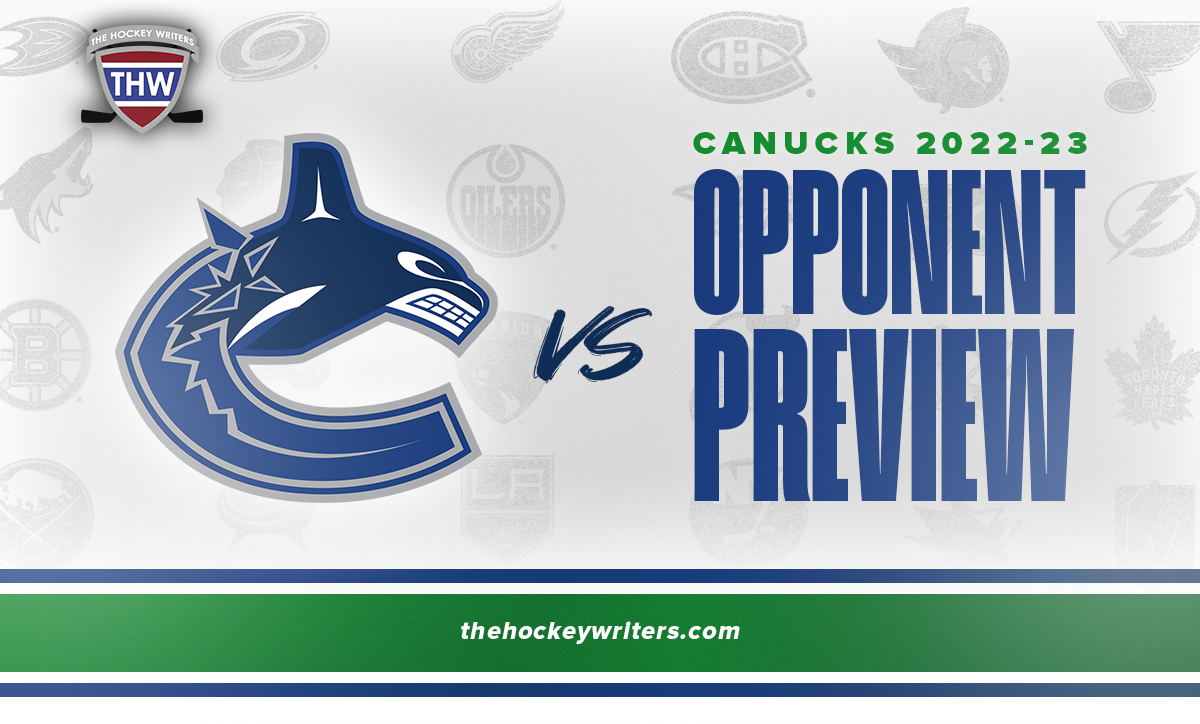 Starting at the bottom of the familiar Pacific Division, the Seattle Kraken are going into their sophomore season in the NHL and will be looking to improve on a last-place finish that saw them go 27-49-6.
Seattle Kraken
2021-22 Record: 27-49-6 (60 points, missed the playoffs)
Notable Additions: Oliver Bjorkstrand, Andre Burakovsky, Michal Kempny, Justin Schultz, Martin Jones, Magnus Hellberg
Notable Losses: Riley Sheahan, Daniel Sprong, Haydn Fleury
2022 Draft: Shane Wright, Jagger Firkus, Jani Nyman, Niklas Kokko, David Goyette, Ty Nelson, Ben MacDonald, Tyson Jugnauth, Tucker Robertson, Barrett Hall and Kyle Jackson
2021-22 Season Series: 4-0 (outscored Kraken 19-8)
To say the Kraken had a disappointing inaugural season would be an understatement. Despite a high-capacity crowd, bustling new venue in Climate Pledge Arena and great fan engagement, they finished 30th in the new 32-team league, along with a brutal minus-69 goal differential. Fortunately for their faithful, they always made it entertaining at home as they won 16 times and created several traditions like the salmon toss which has the three stars of the game throw stuffed salmon into the crowd.
All in all, despite the bad campaign in the standings, the Kraken showed that hockey could potentially survive long-term in Seattle. Furthermore, the moves that general manager Ron Francis made in the offseason, along with the excitement of at least one rookie (maybe two) could have fans buying playoff tickets in April rather than Connor Bedard jerseys.
Kraken Offence Could Include Two Rookie Pivots
Much to the surprise of everyone watching the 2022 Draft at the Bell Centre and on TV, Wright fell to fourth overall and into the tentacles of the Kraken. As a result, Seattle could see two blue-chip rookies grace their roster on opening night in the aforementioned Wright and Matty Beniers – who put up three goals and nine points in 10 games to close out 2021-22. In fact, the alignment could be Jared McCann, Beniers and Wright as their top-three centers.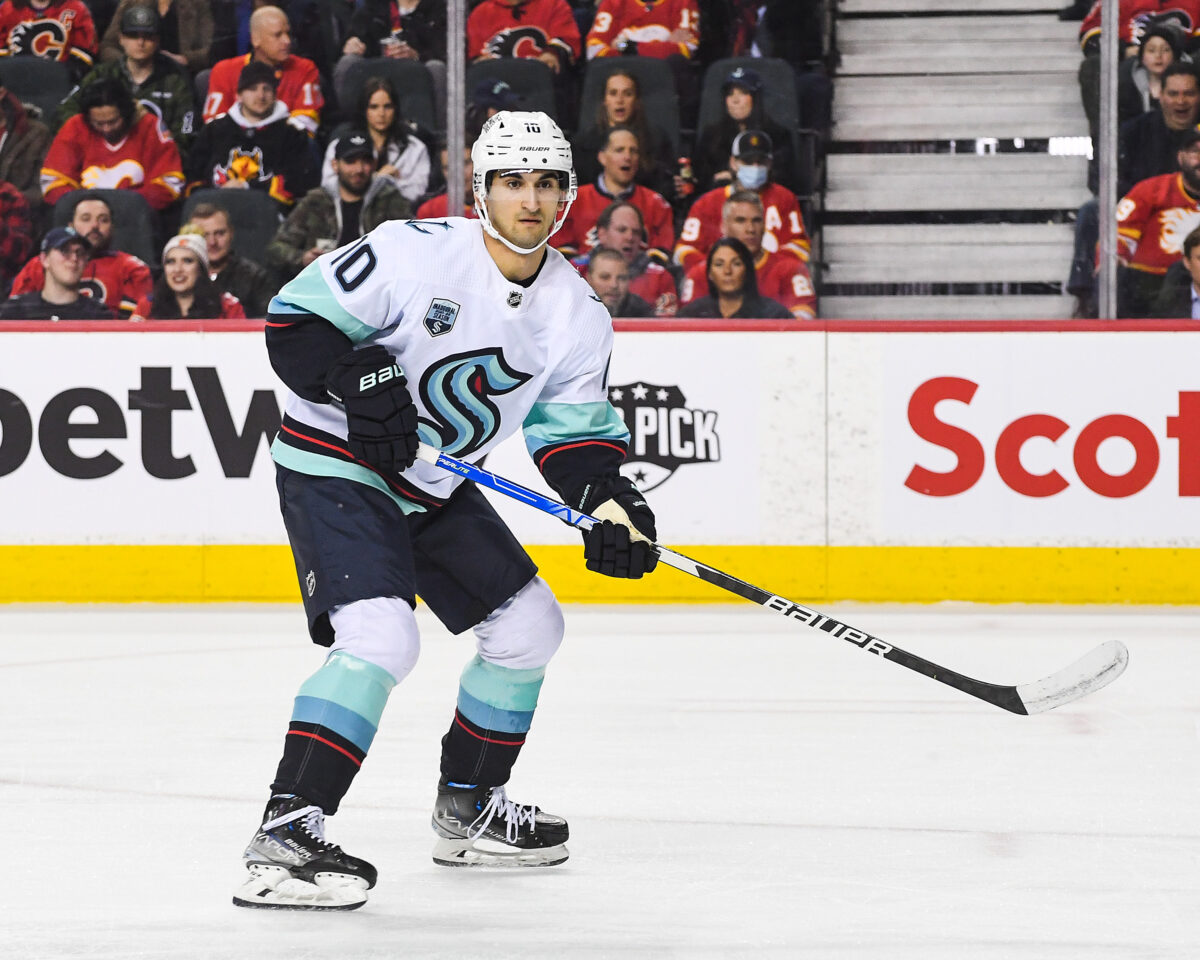 Wright has been touted as a solid two-way center with high hockey IQ and an intense work ethic, three factors that are essential to succeeding in the NHL at a young age. Beniers holds many of the same attributes, yet he decided to forgo a chance at the NHL and return to the Michigan Wolverines in pursuit of an NCAA championship – which unfortunately never came to be. He is definitely better off for it, so Wright could potentially get sent back to the Kingston Frontenacs to do something similar. Having said that, I would still expect him to battle hard and make a case for at least the initial nine games.
Related: Kraken Getting a Seriously Impressive Resume With Beniers Signing
As for the Kraken's remaining offensive arsenal, McCann will likely reprise his top-line center role as he led the team in 2021-22 with a career-high 27 goals and 50 points. Joining him will be veterans Yanni Gourde, Jordan Eberle, and Alex Wennberg, along with newcomers André Burakovsky, who is fresh off a Stanley Cup with the Colorado Avalanche, and Oliver Bjorkstrand, a 28-goal scorer that Ron Francis snagged from the Columbus Blue Jackets.
Kraken Defence Still a Work in Progress
After the Expansion Draft last July, the Kraken's strength was expected to be their defence corps – at least on paper. With a lineup that included Adam Larsson, Mark Giordano, Carson Soucy, Vince Dunn, and Jamie Oleksiak, why wouldn't you expect that? Unfortunately, that didn't end up coming to fruition as they all struggled to not only keep the puck out of the net but also add offence to the mix. Soucy was the only defender to end the campaign with a plus in the plus/minus column and Dunn led the group with a somewhat decent 35 points, which is not enough when you're going up against teams that have multiple guys eclipsing the 30-point mark.
The Kraken will enter the 2022-23 season with roughly the same defence corps, minus Giordano and Jeremy Lauzon. They did add Schultz who could help in the transition game, but he is far removed from being an elite offensive threat seeing that his career year of 51 points is now five seasons in the rearview mirror. He will, however, add another shot-blocking element and some physicality.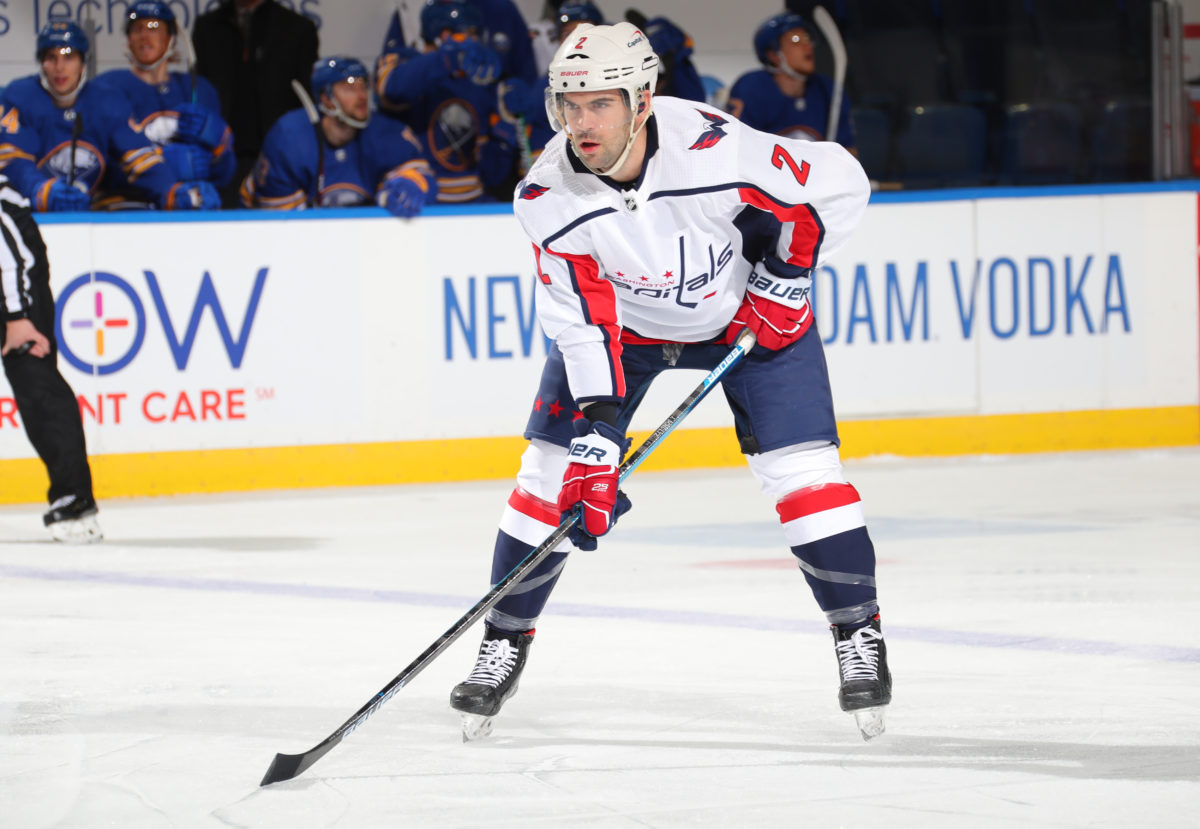 Kempny, who is coming off an injury-riddled season, is the more intriguing addition as he's been a solid two-way defender for the Washington Capitals for parts of the last four seasons. He will help with the Kraken's sub-par penalty kill and overall defensive game, as he is physical and can block shots. He also has Stanley Cup pedigree and a standout playoff under his belt when he recorded two goals and five points en route to a championship in 2018. All in all, Seattle's defence looks good on paper – again – however, time will tell on whether it will be effective when they get deployed on the ice come October.
Grubauer Needs to Bounce Back in 2022-23
Speaking of good on paper, the same could have been said about the goaltending when the Kraken signed 2022 Vezina Trophy finalist Philipp Grubauer in free agency last year. Coming off a superb season with the Avalanche where he posted a sparkling 1.95 goals-against average (GAA) and .922 save percentage (SV%) along with a league-leading seven shutouts, there was legitimate hope that he could be the backbone of the Kraken in 2021-22. Unfortunately, that ended up being far from the case, as he struggled right alongside his team posting a career-worst 3.16 GAA and .889 SV% in a career-high 54 starts. He was also tied for fourth in Really Bad Starts (RBS) with 10, not a stat a goaltender really wants to be ranked top ten in.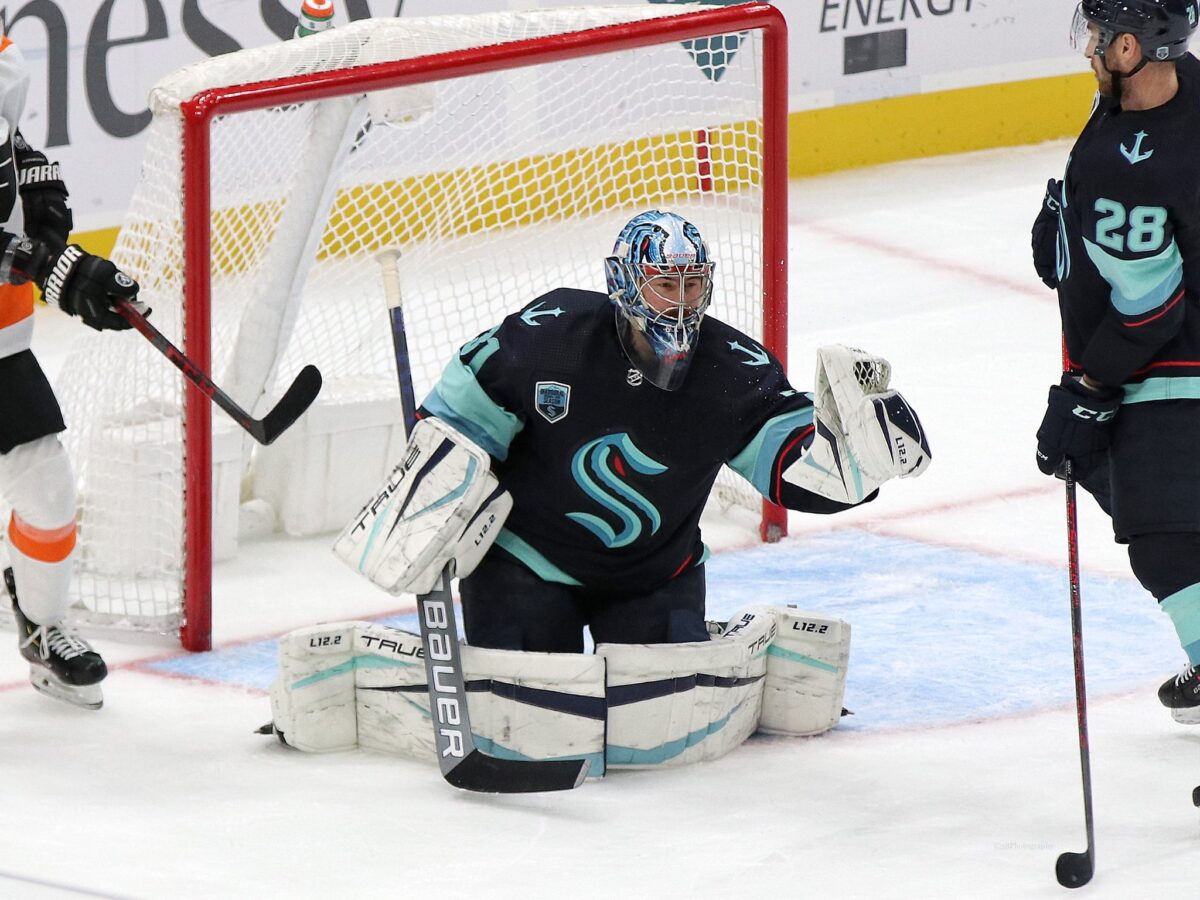 Grubauer's backups Chris Driedger and Joey Daccord didn't do much better, both sporting a GAA around three and a SV% under .900. Going into 2022-23, Grubauer will return as the starter hoping that his first bad season with the Kraken will be his last. He's a talented goaltender, so if the team in front of him can perform better defensively, he should be in line for a bounce-back season.
Jones also joins the fray from the Philadelphia Flyers to replace Driedger as he recovers from offseason surgery. If he can provide solid goaltending from the backup position, Grubauer should be able to get some much-needed rest after being overworked last season. That alone might help the former Vezina finalist return to form.
How Do the Canucks Match Up?
Forwards: Canucks
The Canucks did some tweaking to their roster in the offseason by adding Andrei Kuzmenko, Ilya Mikheyev, Curtis Lazar and Dakota Joshua. Even with the anticipated moves due to the lack of spots on the roster, they are going to be a very deep team up front in 2022-23. At least on paper, they have the stronger group when compared to the Kraken with three returning 30-goal scorers (J.T. Miller, Elias Pettersson and Bo Horvat), and two 20-goal men (Mikheyev and Brock Boeser) along with six others that hit double digits. Throw in the potential of Kuzmenko, and they are set for a big season offensively.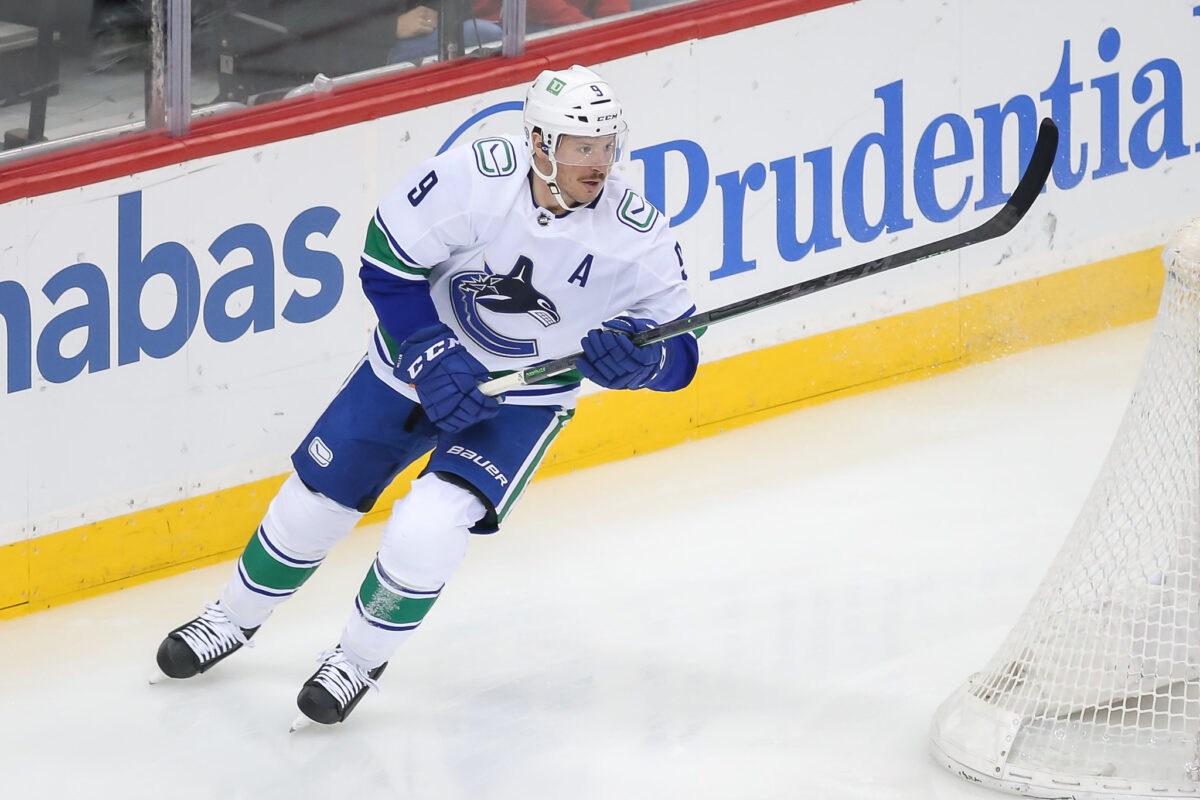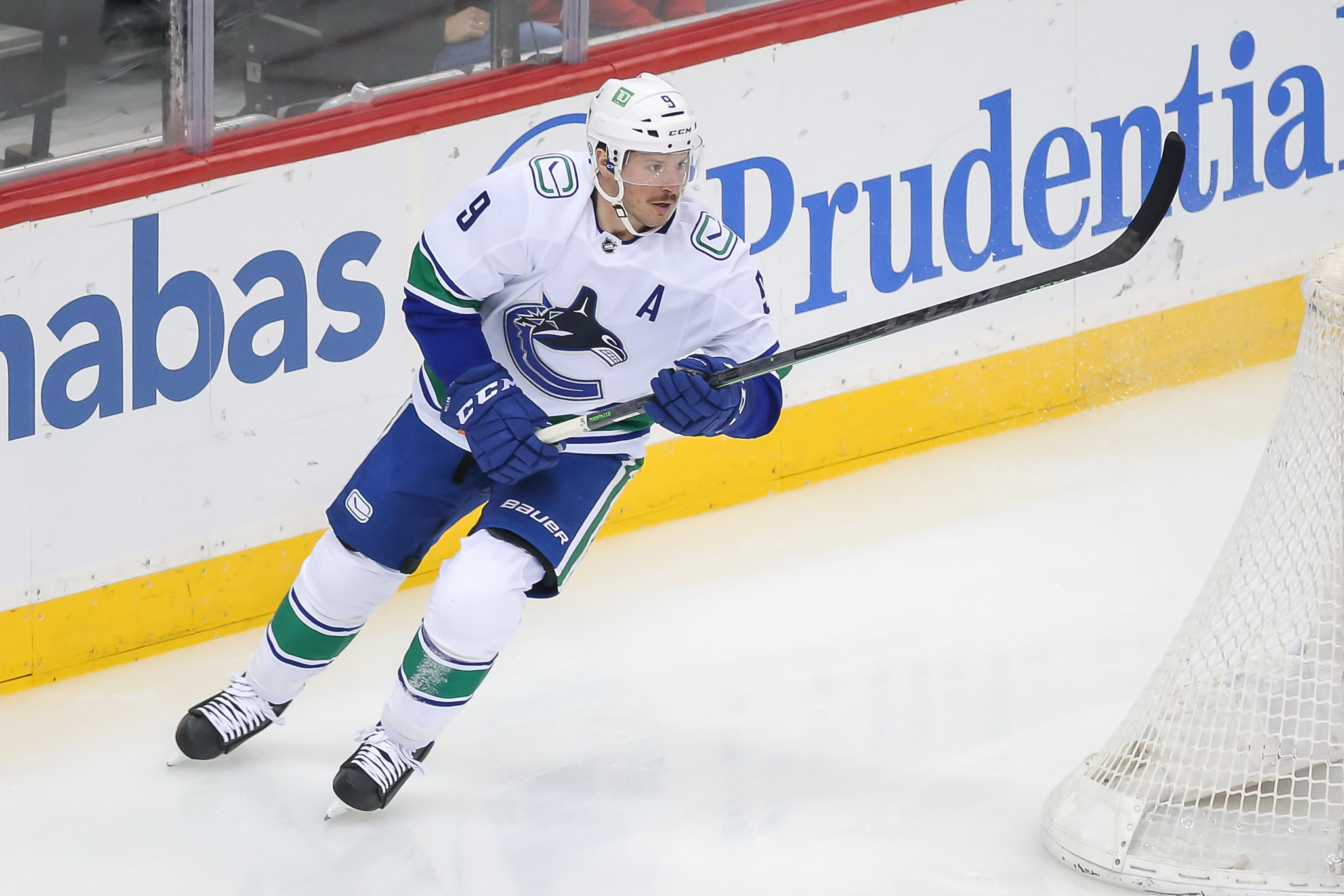 While the Kraken can boast three 20-goal scorers in McCann, Gourde and Eberle, they only can count two others that hit double-digits last season. Fortunately for them, Bjorkstrand brings a career-high 28 goals to the party and Burakovsky 22 goals of his own. If they can get monster seasons from Beniers and potentially Wright, they might actually have a chance at matching the Canucks in forward depth. But only time will tell on that. For now, the Canucks take this particular matchup.
Defence: Kraken
This is where it gets dicey for the Canucks as they are returning a defence that struggled at times to move the puck cleanly and efficiently out of their own zone. Yes, they were better under Bruce Boudreau when he took over, but they still gave up way too many high-danger chances and looked overwhelmed at times against teams with speedy forwards. With a new coach running the defence in Trent Cull or Mike Yeo, they will hopefully be more structured this season.
Related: Kraken & Hurricanes Can Help Each Other by Swapping Defensemen
As mentioned, the Kraken seemingly improved with the additions of Kempny and Schultz, but that's on paper. The unit includes six very capable NHL defencemen with a lot of past success with other franchises, so if they can finally come together as a cohesive group on the ice, they might actually be better than the Canucks. For that reason, I am giving the edge to the Kraken here.
Goaltending: Canucks
Goaltending clearly goes the way of the Canucks, especially if Thatcher Demko keeps improving on what was a great season for him in 2021-22. Even though the stats didn't scream Vezina Trophy, he was clearly the focal point of the Canucks' success whenever they had it. The 26-year-old is just entering his prime athletic years, so the sky is the limit for him. If new backup Spencer Martin can give him a reprieve now and then, the Canucks will be firmly in the playoff mix this year.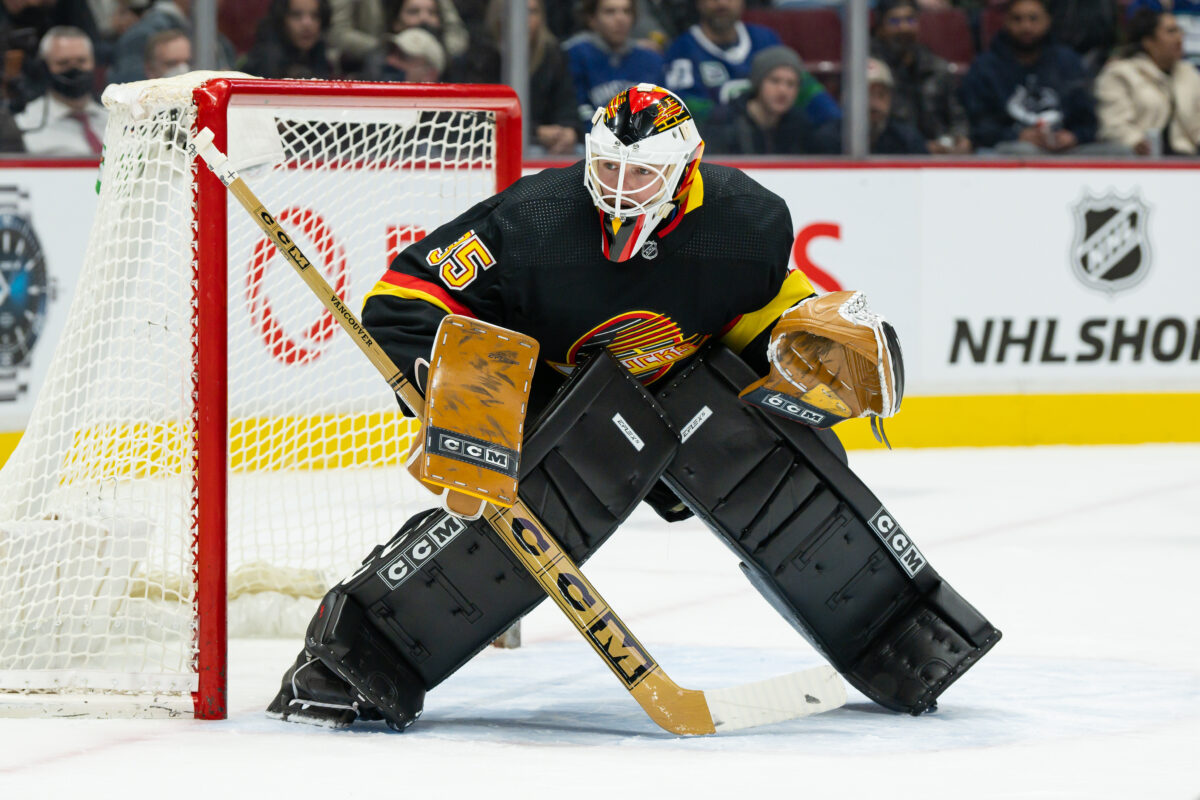 As for the Kraken, this matchup would have been a lot closer if Grubauer had himself a good season in 2021-22. As it is, Demko is the more confident goaltender going into 2022-23 and thrived even behind a defence that gave up a lot of chances. Grubauer, on the other hand, did not and looked miles away from the goalie that secured a Vezina nomination in 2022. As such, Demko and Martin get the nod over Grubauer and the rapidly declining Jones.
Schedule
Oct. 27 @ Kraken
Dec. 22 vs. Kraken
Jan. 25 @ Kraken
Apr. 4 vs. Kraken
2022-23 Season Prediction: 6th in Pacific
The Kraken appear to be a formidable team going into 2022-23. If their defence core hits its potential and the forward group can use the injection of youth and goalscoring that will be provided by Beniers, Bjorkstrand and Burakovsky to propel them forward offensively, this team will be difficult to beat all season long. Add in the fact that Grubauer has the talent to bounce back as a number one, and they might just have the makings of a playoff team. As such, I am putting them in the Western Conference wild-card race and above both the San Jose Sharks and Anaheim Ducks in the Pacific Division.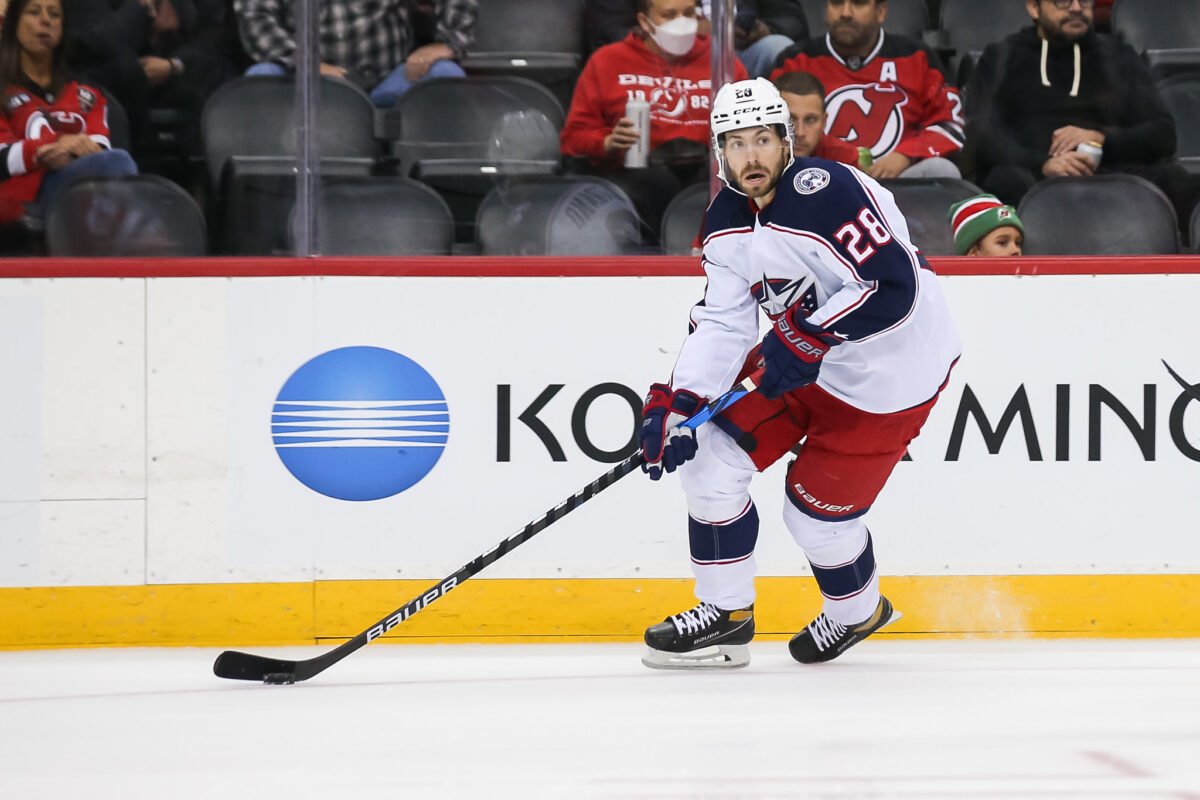 That's a wrap on the first Canucks opponent preview of the offseason. Next up, the Ducks, who, like the Kraken, will be adding a young impactful center to their lineup in 2022-23. That being the man who just put up four goals at the World Juniors, Mason McTavish.
What do you think about the Kraken's chances against the Canucks this season? Let us know in the comments!
---
---
Latest News & Highlight
---