If there was any question about whether or not the Tampa Bay Lightning were still Steven Stamkos' team, the answer was made very clear in Game 3 of the Stanley Cup Final. The Bolts may have a lot of depth and talent, but the team doesn't belong to anyone else. It is not Brayden Point's team, it is not Victor Hedman's team, it is not even Nikita Kucherov's team. They may be top players in the sport, but they are the other faces of the franchise.
Related: Kovalev and the Rangers: Eventful, Successful and Disappointing
The team belongs to Stamkos. He wears the 'C' and has been the symbol of the franchise since the days of Vincent Lecavalier and Martin St. Louis. He is still an NHL superstar and was able to finally make his mark on the 2020 Playoffs.
A Successful Return
It was over 200 days since Stamkos last played a hockey game. He dealt with a core muscle injury for a while and then had setbacks while healing from surgery for it back in March. It was unknown when he would return to game action.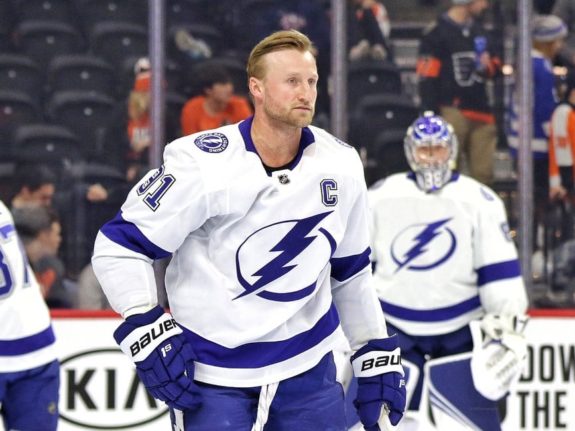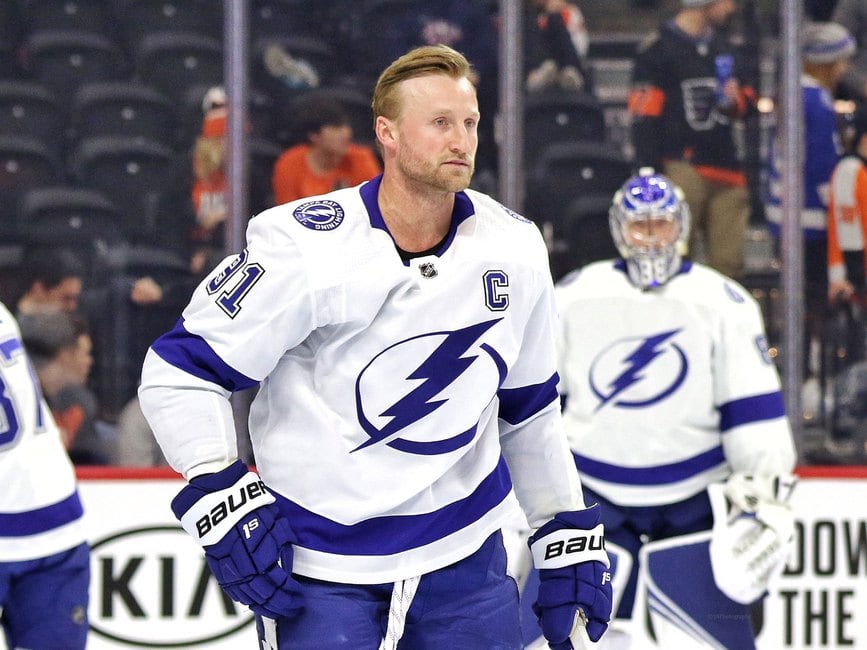 His teammates have carried the load in his absence. Thanks to contributions from throughout the roster, the Lightning are making their third Stanley Cup Final appearance in franchise history. Kucherov had seven goals and 23 assists in 22 playoff games this season. He always held his own when it came to carrying the offensive load. His consistent point production has carried into the postseason with 36 goals and 55 assists in 87 games.
Not far behind him is Point, who has 11 goals and 17 assists in 20 games this postseason; he missed two games due to injury, and his absence left a hole that was tough to fill.
No matter how well the team was doing, however, they still missed Stamkos and everything he brings to the team. He is a solid leader with gifted offensive abilities, and he is clutch. A star like that is hard to replace. He made the Bolts that much more dangerous.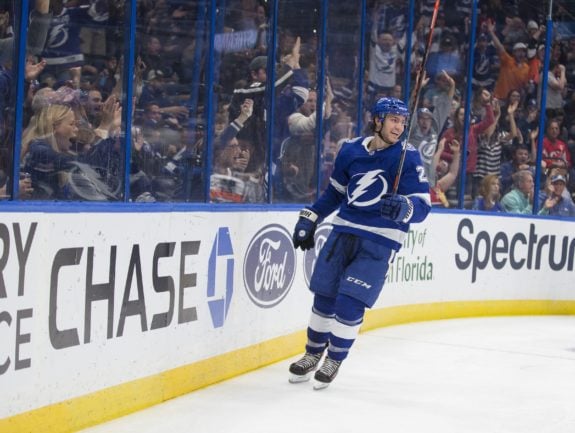 After a long recovery process, the day that Stamkos and the Lightning had both been waiting for arrived for Game 3 of the Stanley Cup Final against the Dallas Stars when he made his 2020 Playoff debut.
Stamkos didn't miss a beat. He looked to be in solid form despite how much time he had missed. However, he only played five shifts with a little under three minutes of ice time. While he did not play a lot, a superstar finds a way to shine even in the smallest openings. That's what Stamkos did in his return.
During the first period, Hedman grabbed the puck and sent a solid cross-ice pass to Stamkos who cruised toward the net and fired a laser past Stars goalie Anton Khudobin. Stamkos scored on his first shot to give the Lightning a 2-0 lead. Not only did the goal give the sniper some confidence after a long hiatus but also lit a fire under his team and inspired them to victory and a 2-1 lead in the series.
Making an Impact on the Group
Stamkos' goal brought a happy energy to the Bolts and they used it as motivation to get the job done. From that point, they took off offensively.
Related: Canadiens' 50-Goal Scorers
Dallas was not really able to counter the way Tampa was flying. They showed confidence with Stamkos back in the lineup. He brings out the best in his teammates, as good as they already are.
Stamkos' return played a role in the rest of the team clicking the way they did offensively. He was able to help them get on a roll that they were able to run with the rest of Game 3. Without him in the lineup, I don't think the Bolts would have been as dominant offensively (they put up 5 goals to Dallas' 2). As good as the Lightning is without him, they are that much better of a team with him, and his impact is not just on the ice.
Point said the following when he was interviewed after Game 3 (from Emily Kaplan's ESPN article), "He's worked extremely hard to get back to a spot where he could play. Just seeing him day in and day out — the positivity that he brings and the leadership that he brings — it's nice to see him work that hard to get back into the lineup. And then to score one? It's pretty inspirational for everyone." Stamkos leads by example, and the hard work he not only put on the ice, but also the dedication to get back into shape is contagious and motivational.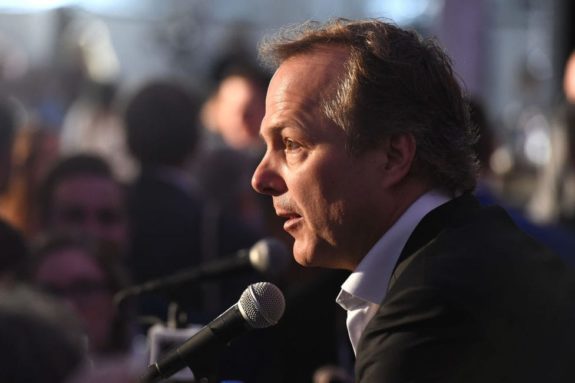 Tampa head coach Jon Cooper knows the value of Stamkos for the club as well, and the difference he makes just by being in the lineup with his teammates. He said following Game 3 (from Fox 13 Memphis), "Unexpected, but just the lift he gave us A) being able to dress and play and B) scoring, I don't think the guys were going to be denied." Stamkos' presence alone gave the players that much more of an energy boost to go out on the ice and lay it all out there. Captains lead by example, and Stamkos has done a stellar job being that captain for this fellow players.
Future Status in the Cup Final
Stamkos did not play in Game 4 Friday night. The Bolts eased him back into game action in Game 3, but he left after the first period apparently due to another setback with his injury.
Even though the Bolts still won Game 4, it was back and forth between both teams. Dallas gained the lead on multiple occasions, and at one point, had a 2-0 lead. Tampa still found a way thanks to Kevin Shattenkirk, who potted the winner in overtime. If the Stars had gotten that extra goal though, it would be an even series right now.
It was not the dominant performance the Lightning had put on when Stamkos was in the lineup in Game 3. It did not look like Tampa had that extra push they had before when Stamkos returned to the roster.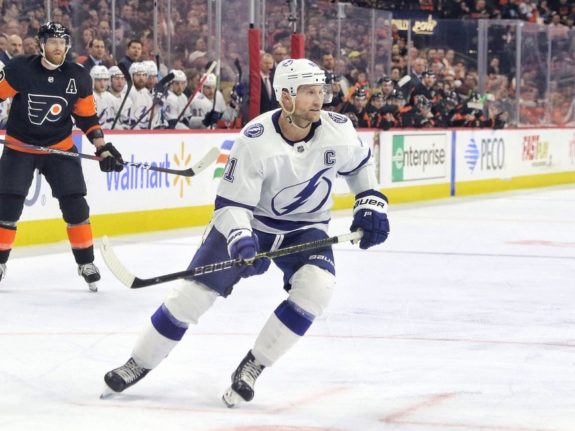 It seemed that Tampa was easier to play against for the Stars than they were in Game 3. The scores of both games show this themselves (Lightning won Game 3, 5-2 and Game 4, 5-4 in overtime). Dallas was able to keep up closer to Tampa without the Bolts having Stamkos in the lineup than when he was suiting up for them. This is the difference a superstar like Stamkos makes for a lineup. He is another top weapon opposing teams have to have a game plan for. Without him, things are a little easier for the Stars.
Going forward, it will be interesting to see how the Lightning staff handle his injury and his playing time. He very well could come back for another game in the Cup Final. Whatever happens, going forward though, Stamkos had a memorable playoff moment in 2020, and it was pretty sweet. Even with all of the other talent in Tampa, Stamkos is still a major piece of the hockey club.
---
---
I have been a hockey fan for most of my life, and have played the game myself for more than six years. I graduated from the State University of New York at Oswego in 2018, with a bachelor's in Broadcasting & Mass Communication. Previous positions held include being a Sports Analyst for Oswego's student-run TV station, WTOP-10; News/Sports Intern for WIVB-TV Channel 4; and Sports Beat Writer Intern for Pro Player Insiders.