The Tampa Bay Lightning have some interesting decisions to make. After winning the 2020 Stanley Cup, they are pressed against the salary cap. There were players who had to leave because the Lightning would not have room to pay all of the contracts for some of their talent. With a flat salary cap for next season, it made things harder to keep players heading into the upcoming 2020-21 season. Tampa currently has less than $3 million in cap space. They do not have a lot of wiggle room to work with.
Some Lightning players have left via free agency. Defenseman Kevin Shattenkirk signed with the Anaheim Ducks, forward Carter Verhaeghe joined the division-rival Florida Panthers, and defenseman Zach Bogosian inked with the Toronto Maple Leafs. But more moves still need to be made by general manager Julien BriseBois. There are other ways to remove salary on their cap, but this is where long-time Lightning forward Tyler Johnson comes into play.
The Waiver Attempt
Johnson has played for the Lightning since the lockout-shortened 2012-13 season. He was brought in as an undrafted free agent after spending four campaigns in the Western Hockey League (WHL) with the Spokane Chiefs. He arrived in Tampa and fit in perfectly with the Lightning offense. He teamed up with wingers Ondrej Palat and Nikita Kucherov to become the famous Triplets Line.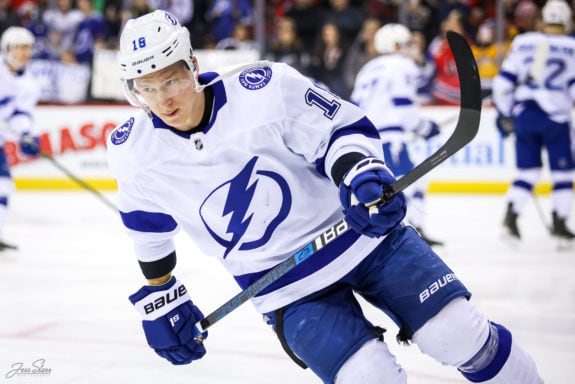 Here are his numbers during his time with the Lightning:
2012-13: 3 goals and 3 assists for 6 points in 14 games
2013-14: 24 goals and 26 assists for 50 points in 82 games
2014-15: 29 goals and 43 assists for 72 points in 77 games
2015-16: 14 goals and 24 assists for 38 points in 69 games
2016-17: 19 goals and 26 assists for 45 points in 66 games
2017-18: 21 goals and 29 assists for 50 points in 81 games
2018-19: 29 goals and 18 assists for 47 points in 80 games
2019-20: 14 goals and 17 assists for 31 points in 65 games
Johnson was mentioned as a possible trade option for the Bolts in order to free up cap space once the offseason began. When a deal could not be reached, management decided to make a move that shocked the hockey world, the Lightning placed Johnson on waivers.
Many wondered if an NHL team would jump at the opportunity to grab the 30-year-old veteran, but no one budged. He cleared waivers the next day. It was apparent that the other franchises were not going to help the Bolts get rid of his contract.
Circling Back to the Trade Front
Teams are supposedly not against dealing for Johnson. One of the biggest factors working against him is his contract. He is making $5 million a season until 2023-24, and teams aren't willing to take on that cap hit unless they get additional compensation.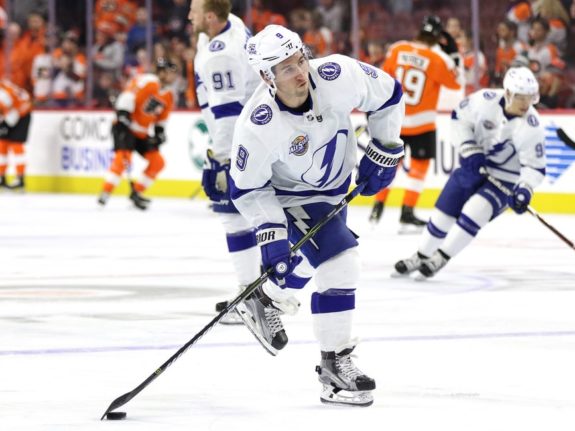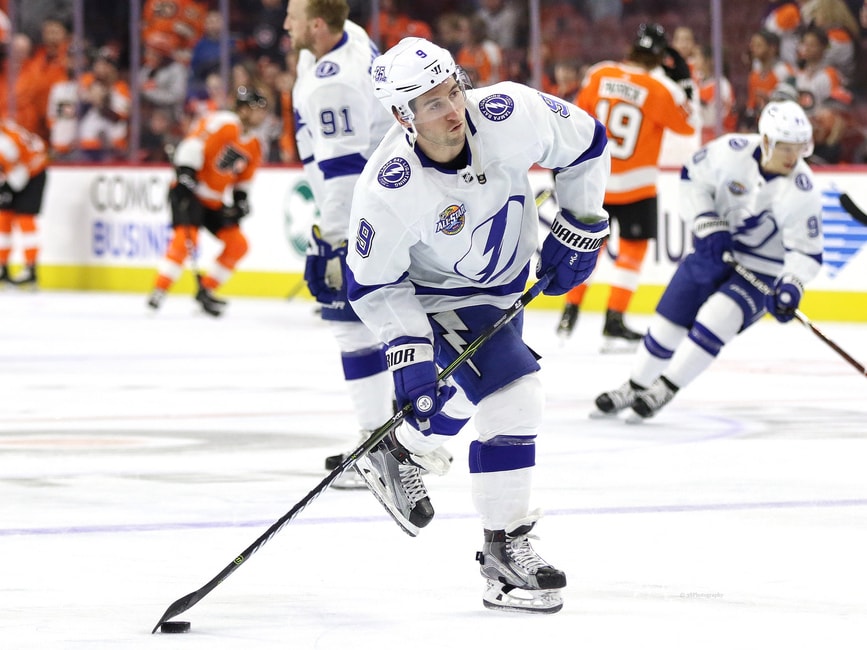 The Lightning might have to sweeten the deal for it to happen. I imagine BriseBois will not want to keep any of Johnson's contract on the books, which means the return for another team has to be higher. An early-round draft pick would need to be included. Other teams have the upper hand in trade negotiations with Tampa given that they know the Lightning need to shed salary. These teams do not need to help out; BriseBois has to make the offer interesting for them to take it.
Of course, Johnson has a full no-trade clause (NTC). However, the NTC did not cover waivers, so he could have been picked up by any NHL club. His NTC will become a modified no-trade clause (M-NTC) at the start of the 2021-22 season when Johnson can list 20 teams he is willing to be dealt to. If the Lightning finally find a team interested in trading for Johnson but they are not on his list of desirable clubs, the situation becomes that much tougher.
One team who I believe should reach out for a deal is the New York Rangers. They have a little under $11 million in cap space right now, and they need a number-two center behind Mika Zibanejad. I think he would fit in well with the core they have including Zibanejad, Artemi Panarin, Chris Kreider, and 2020 first overall pick Alexis Lafreniere. The only contracts Rangers GM Jeff Gorton must sign still this offseason are restricted free agents Ryan Strome and Brendan Lemieux. They should be able to fit Johnson's contract under their cap.
Johnson will be moved sometime soon. BriseBois has other work to do that will require more available space. He already re-signed Luke Schenn and Patrick Maroon but he has restricted free agents that need attention including forward Anthony Cirelli and defenseman Mikhail Sergachev. I do not think it is impossible to trade Johnson. There are suitors for him; BriseBois just has to give the right compensation back for that contract cap hit. If I was BriseBois, I would get the Rangers on the phone, because I think Johnson would be a good fit on the Blueshirts.
Regardless of who partners with the Lightning, I think we have seen Johnson's last game in Tampa.
---
---