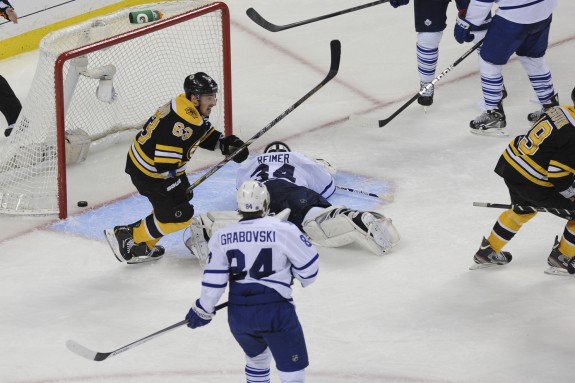 It is one of the NHL's worst kept secrets that no is 100 percent sure exists right now — yes, try to figure that one out: James Reimer will not be a Toronto Maple Leafs goalie come NHL training camp in September.
Everyone is expecting the Maple Leafs and Reimer to part ways this summer. He didn't have his best season in 2013-14 although that wasn't entirely his fault.
Jonathan Bernier came in and stole the spotlight during the regular season before the Leafs' second half collapse, granted no one played all too well during the team's long, seemingly endless stretch of losses. With Bernier's strong play came severely decreased minutes for Reimer and his frustration glared at various points through the schedule.
With the inevitable ready to happen at a moment's notice, the question must be asked: Just where will James Reimer play in 2014-15?
Philadelphia Flyers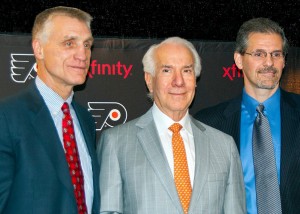 Had Paul Holmgren been booted from the Flyers organization rather than promoted to team president, Philadelphia wouldn't be mentioned anywhere in this article. But because the element of unpredictability is more than likely to remain in Philly, Reimer to the Flyers could very well become a reality.
Ray Emery is set to become an unrestricted free agent in July. He made $1.65 million in 2013-14 — a contract he was granted after a strong campaign the season before — but struggled to find his groove.
The Flyers are likely to be in search of someone to play behind Steve Mason in net. Mason played well in 2013-14 but the Flyers will no doubt want a strong two-punch tandem between the pipes going forward.
A Mason/Reimer combination would be similar to what the Maple Leafs had in Toronto. Reimer may not approve, but given that his upcoming free agent status is restricted, he won't have much choice as to where he winds up.
Buffalo Sabres
From Ryan Miller to Jhonas Enroth to Michal Neuvirth and many others, the 2013-14 season included a wide selection of goalies in the Buffalo Sabres' net. Enroth and Neuvirth are the only ones under contract going forward and even they don't have a guaranteed job past next season.
Buffalo could turn out to be Reimer's best place to shine and really build his NHL resume. The entire Sabres team had a rough go last season and 2014-15 doesn't look much more promising. Although that includes the defence corps, Buffalo is one city where Reimer would stand out the most.
The only problem is, would the Maple Leafs really want to trade Reimer to a division rival? Uh, no.
Calgary Flames
If Buffalo is a place where James Reimer could shine then Calgary is a city where he could make really make something special happen.
Despite what their 13th place finish in the Western Conference might suggest, the Calgary Flames were one of the hardest-working teams in the NHL this past season. Even against the NHL's best, they never failed to put on a show.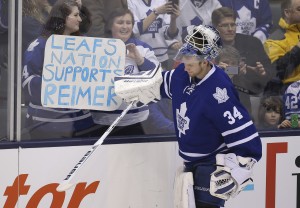 Under the coaching of Bob Hartley and playing behind the work ethic of the Calgary Flames, James Reimer could be a key piece of turning around a Flames franchise that has missed the playoffs — usually narrowly — on a regular basis for as long as many can remember.
But if the Flames are going to land Reimer they will need to push hard against a provincial rival.
Edmonton Oilers
Similar to the Buffalo Sabres, goalies played for the Oilers in 2013-14. They included former Maple Leaf Ben Scrivens, who also signed a new contract to stay in Edmonton for the next two seasons.
While Scrivens played well for both the Oilers and LA Kings last season, questions remain about his viability as a No. 1 goalie in the NHL. The same can be said for Viktor Fasth, who only appeared in seven games for the Oilers.
Bringing in James Reimer would provide some familiarity between teammates; chemistry in net is always key to keeping both goalies happy. Acquiring Reimer would also allow the Oilers to move Fasth to improve their blue line or he could be sent to Toronto in a trade for Reimer.
The Edmonton Oilers have long been thought to be in the mix for James Reimer but never as much as they are at this moment.
What we don't know is where James Reimer will play next season. What anyone can almost guarantee is that he won't play for the Toronto Maple Leafs, an organization he once seemed to be set on staying with for his entire career but now appears to want out of as soon as possible.
No matter where he ends up, the Toronto Maple Leafs won't let James Reimer go for free.
Lukas, a student at the University of Ottawa, covers the Toronto Maple Leafs on a part-time basis for The Hockey Writers. Contact Lukas at lukas.hardonk@gmail.com or follow him on Twitter, @LukasHardonk.