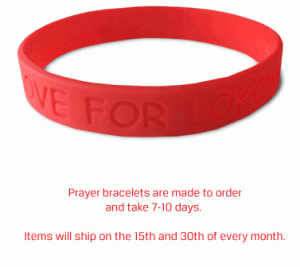 In early September hockey fans around the world were starting the count down to hockey season. Hockey in Europe starts before it does here in North America and fans there were eagerly awaiting the start of the KHL season when the tragic news of the team Lokomotiv plane crash sent shock waves around the hockey world.
It has been nearly a month since the tragic accident that saw all but one flight attendant parish; and the hockey world brought to its knees.
Many hockey wives from around not only the NHL but many of the European leagues and the AHL have come together to bring some type of support to these families that are now left without sons, husbands, and fathers.
Love For Lokomotiv is offering three bracelet options to purchase to show that you have no forgotten those that were lost on that day nor those that they left behind.
The money raised with the sale of the bracelets will be divided between the families.
Bracelets are made to order and take 7-10 days to create; items will ship on the 15th and 30th of every month.
A special thanks to Erica Lundmark (KHL/European Leagues), Kelly Willsie (AHL), Danielle Preissing (NLA), Brijet Whitney, Katerina Jokinen and Kodette LaBarbera (NHL) for setting up and running this movement.
You can follow the efforts of all involved on Twitter @Love4Lokomotiv