Follow Lukas on Twitter @LukasHardonk for more Leafs coverage.
This coming Thursday, the Philadelphia Flyers will face the Boston Bruins, the Pittsburgh Penguins will play the Vancouver Canucks, the Anaheim Ducks will taken on the Buffalo Sabres and the Toronto Maple Leafs will face off against the Montreal Canadiens. In other words, hockey is right around the corner.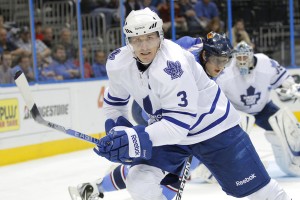 For the Maple Leafs, the 2011-2012 season will be one full of questions. That has been discussed multiple times before, so there is no need to touch on that subject again right now, but one has to wonder who will contribute to the Leafs' success the most this season.
It's obviously impossible to predict which players will be the biggest contributors, but it is possible to look at who may end up being most important to the Leafs' success.
Here are ten players who must perform well for the Maple Leafs this season if they plan on putting together a nice record:
10. Colby Armstrong
The Maple Leafs were clearly a much better team with Colby Armstrong last season, and for good reason.
While he may not be a big-time point producer or a shut-down defensive player, Armstrong plays a strong two-way game that is fit for any team's bottom-six forward group. He is also a very physical player who knows how to get under the skin of opposing players.
However, Armstrong is not known for taking things to far. A veteran of the league, the 28-year-old knows when to stop and what is right for his team. That mentality of a team player is what the Leafs need from every player this season and it may start with Colby Armstrong.
9. Luke Schenn
Everyone knows about the story of Luke Schenn: drafted fifth overall, made the Maple Leafs out of training camp in his first season, was one of the league's top rookies, became a shut-down defenceman, vastly improved and is now one of the Leafs' leaders despite not wearing a letter on his jersey.
Now Schenn is entering his fourth season. There's no more "he's just a rookie", "it's his sophomore season", or "he's still on his rookie contract." Schenn is now a young NHL veteran that is ready to become one of the league's best at his position.
There's no reason to believe that he won't be able to do that over the next few years. He has brought down his total penalty minutes in each of his three seasons in the NHL, continues to set career-highs and is now a strong defender.
On a team with a weak penalty killing unit and a young sophomore goalie, Schenn will need to have another career year.
8. John-Michael Liles
John-Michael Liles is just one player that the Leafs will need to play well in order to have good special teams this season. In Liles' case, it's the power play more specifically.
Many people would tell you that a power play success rate of just 16 percent is one reason the Leafs didn't get the eighth and final playoff spot in the East. Liles, who is more of an offensive defenceman than a defensive one, has shown what he has to contribute to the Leafs' power play during the preseason.
With six goals and 40 assists last season with the Colorado Avalanche, Liles comes to the Maple Leafs as their top offensive defenceman, aside from maybe Dion Phaneuf.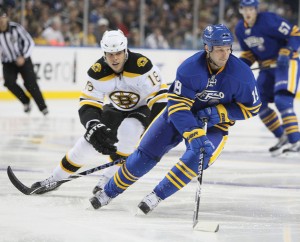 7. Tim Connolly
Like Liles, Tim Connolly will see some time on the point while on the man advantage. While with the Buffalo Sabres, Connolly was one of the team's power play quarterbacks when healthy. That's the question, though: Is Tim Connolly going to remain healthy?
The Maple Leafs certainly hope so.
When healthy, Connolly is almost a point per game player. During the 2009-2010 season (the only season that Connolly has played in 70+ games since the 2004-2005 lockout), he scored 65 points in 73 games. 48 of those 65 points were assists, showing that he is a talented play maker.
If he is able to remain healthy, Connolly will be a large part of whether Phil Kessel will reach the 40-goal plateau or be stuck at 30 once again.
6. Clarke MacArthur
Last season, Clarke MacArthur shocked the hockey world. With 21 goals, 41 assists and 62 points, he smashed his previous career highs in all three categories. MacArthur went from being a gritty third line winger to an energetic top-six scorer.
With that, the Leafs were able to place him on a line with Nikolai Kulemin and Mikhail Grabovski; they found instant chemistry. As theKulemin-Grabovski-MacArthur line became more of a force on the ice, the trio was dubbed the Leafs' first line.
MacArthur, perhaps the most unique player of the three, was new to the Maple Leafs. He didn't let that stop him, though, as he used his incredible hockey sense not only on offence, but to be a solid two-way forward as well.
Going into this season, many are questioning whether MacArthur will repeat his 62-point performance from last season, or if he will fall back down to his previous highs. On a middle-of-the-pack team, MacArthur is going to need to produce every point possible.
5. Nikolai Kulemin
Nikolai Kulemin, the other winger of the three, made great strides in his development last season. He scored 30 goals to become the second Leaf to reach that total in 2010-2011 and finished with 57 points to go along with a plus-7 rating. He also kept his penalty minutes down (26) and scored five game-winning goals.
People are now wondering if he will continue to grow, if he will remain a 30-goal scorer, or if he will drop off into the mid-20s.
There is no reason to believe, though, that he can't do it all over again. As mentioned earlier, Kulemin was one-third of the Leafs' offensively dominant second line; however, that was only for part of the season. He now gets the chance to be the Leafs' top goal-scorer and take control of the team's offence while possibly playing on the team's best line for all 82 games.
In order to be successful in 2011-2012, Kulemin will need to take advantage of his size and shot.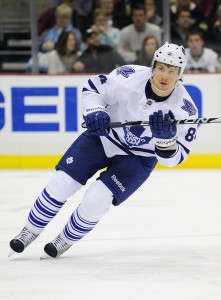 4. Mikhail Grabovski
It's widely believed that Mikhail Grabovski was one of the biggest surprises for the Leafs last season─at least not in net.
As a 29-goal scorer, Grabovski fell just one tally short of giving the Leafs three 30-goal players. One reason why the 27-year-old was able to score so much was that he learned how to use his teammates. In previous seasons, we all saw Grabovski trying to do everything himself and not playing with the team as much as he should have been.
As proven by his great numbers last season and the 'A' that he is wearing on his jersey during the 2011 preseason, Grabovski is a changed player, and certainly for the better.
3. Phil Kessel
Once again we enter a season full of uncertainty for Phil Kessel. Will he finally be able to score 40? Will he be able to avoid another massive scoring drought? Although the Leafs did sign a proven play maker in Connolly during the off-season, nothing is 100 percent sure to happen when it comes to those two questions.
This season, Kessel will again be playing on a line in which no one is sure how they will produce. His linemates, Joffrey Lupul and Connolly, are both solid offensive players. Injuries are a big problem when it comes to both players, however, and that is where the big question lays.
If Connolly can play in 70+ games this season, it's reasonable to think that Kessel will be able to score 40 or more. If Lupul can produce 20+ goals, that's great too.
This may be the biggest season yet for Kessel.
2. Dion Phaneuf
Dion Phaneuf struggled mightily during the first half of the 2010-2011 season. However, once Tomas Kaberle was shipped to the Bruins, Phaneuf officially took control of the Maple Leafs.
Although he has been the captain since 2010, Phaneuf finally enters a season as the Leafs' clear-cut leader. He obviously made it known last season that he is still the player he used to be during the latter half of last season when he didn't have Kaberle on his team, which is a dominant, hard-hitting, defensive force on the ice.
After scoring eight goals and 30 points in 66 games last season, it's time for Phaneuf to score the same numbers that he used to while with the Calgary Flames: 17-20 goals and 45-60 points.
If he can do that while utilizing his smarts and tremendous physicality, Phaneuf will be the Leafs' best defenceman this season.
1. James Reimer
It's difficult to know where to start on James Reimer. As a rookie during the 2010-2011 campaign, he went 20-10-5, had a GAA of 2.60 and a save percentage of .921, putting him up there with some of the best goalies in the league.
He almost led the Leafs to the playoffs single-handedly, getting as close as three points at one time. He is now the Leafs' official No. 1 goalie and has nobody making a strong case to take that away from him, unless, of course, Jonas Gustavsson puts together a very strong season.
The only two problems that everyone is wondering about, though, are if he will suffer a sophomore slump and if his glove side is any better. The good news is that he hasn't shown any signs of slowing down during the 2011 preseason, which is key to any shot the Leafs may have at the post-season.
Twitter: @LukasHardonk | Email: lukas.hardonk@gmail.com | Lukas' archive
For every Leafs article on THW, follow @THW_MapleLeafs on Twitter.