It's not secret Mark Scheifele has been a revelation for the Winnipeg Jets: his offensive awareness combined with his NHL caliber skating and hockey IQ have resulted in tremendous success through his four preseason games.  The talented center has managed to post an impressive 7 points to this point, while carrying the Jets offense and cashing in during the opportunities he's received. And on top of that, he's even showed his ability to adapt to numerous linemates' different styles of play.
However, despite all the positives coming out of Scheifele, there is still a debate as to whether or not Canada's seventh team should keep the budding pivot or not.
The case for is simple – he's exactly what the Jets need. Currently, Winnipeg's bottom six as is is severely lacking. Many will argue using Scheifele on the third line will be a waste of talent,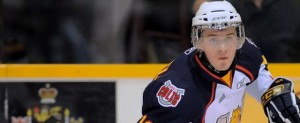 however I would beg to differ. Winnipeg's in no position right now to run a top six, bottom six system. Their talent level isn't high enough, in all aspects of their roster. Andrew Ladd is their only legitimate top line player, Bryan Little has fell fast the past two years, Blake Wheeler's a second/third line tweener, Nikolai Antropov's game has been deteriorating year after year, and Alex Burmistrov and Evander Kane are still developing.
Is there potential? Of course, Kane and Burmistrov are already well on their way to being yearly, solid NHL contributors and Ladd was Atlanta's own revelation last season and leads the team by example. Add Scheifele to the mix and all of a sudden, Winnipeg's team has a very solid forward core to build on moving forward.
However, Scheifele has a much larger meaning to Winnipeg over his on-ice demeanor and place in the Jets' future. He's a symbol to fans, a franchise face if you will – simply because he's the team's and fan's first draft pick. After a 15 year absence, he's the Winnipeg Jets first recognizable figure, and that's a very a lucrative and favorable position to be in. From the start, from the moment his name was called in Minnesota, Scheifele was a known, loved name in Winnipeg, he was the city's welcome back present if you will.
Yes, there are points against him staying, the most obvious one being Winnipeg's current state in terms of contending for a championship. They're at least 2-3 years  from being serious threats in the East (or West if the NHL chooses to swap them out), and putting a young player like Scheifele through the pressure of playing in a hockey-driven city on a mediocre team just isn't the most logical.
Nonetheless, there are many pressing examples you can look at that support the contrary to why many believe he should be returned to Barrie. The one I find most relevant, is Jeff Skinner's situation last year. He too was a seventh overall selection and he too was overly impressive during training camp, en route to cracking down on a third line spot with the Hurricanes. 82 games and 30+ goals later, he's considered one of the Canes' top contributors.
Mark Scheifele was a symbol to fans and the franchise from the start, and his fantastic play and place in Winnipeg's bright future all contribute to keeping him with the big club for at least the Jets' first ten games. The boy from Kitchener, Ontario deserves at least that.