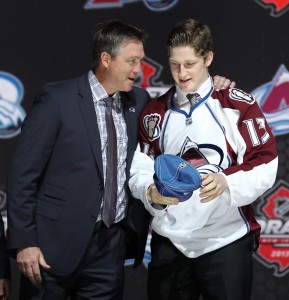 A ticket to see Nathan MacKinnon and his Colorado Avalanche teammates play these playoffs at home will, on average, cost $225 a seat to witness in person.
Yet for one individual, watching MacKinnon up close was just a free daily activity from August 2012- May 2013.
Current Queen's University goalie Chris Clarke had three of the best views in the house to watch MacKinnon last year- either as his friend, on the ice as his teammate in a practice or game, or on the bench as his backup goalie for the Memorial Cup Champion Halifax Mooseheads.
"I wouldn't say we were best friends or anything," said Clarke. "But you have your moments with every guy on the team when you spend as much time with them as you do. We train in the offseason with the same trainer (former Queen's player Alexi Pianosi) and I've kept in touch with him this year as well, I'd definitely still consider us good friends."
Clarke also noted MacKinnon's been willing to help promote an upcoming cancer fundraiser that Clarke is going to be involved in, reiterating the humble nature of the NHL star.
MacKinnon not immune to criticism
For as much praise and recognition as he's gotten through his rookie season, which will more than likely involve a Calder Trophy victory, Nate the Great wasn't always seen by all as the league's next big thing.
MacKinnon fell behind Seth Jones to #2 in the NHL Central scouting final draft ranking, after a season-long battle for the #1 spot. Being ranked second in the draft rankings is no easy task, but after witnessing what MacKinnon's been able to accomplish, it's likely that many scouts and hockey experts who doubted Nate are regretting that decision.
Many people also criticized Colorado's management for not taking a defenceman such as Jones (who was drafted 4th by Nashville) with the first overall pick, which they appeared to be lacking in. And while Colorado has by no means been a great defensive team this season, goaltender Semyon Varlamov has done his best Patrick Roy impersonation all season long to cover up Colorado's defensive deficiencies and the Avalanche have been the NHL's turnaround team of the season.
Big MacK is a Big Game Player
For those not yet sold on MacKinnon's talent, his first two career postseason games showcased his talent, as he registered a goal and six assists in two Avalanche victories. MacKinnon also made history, with one of the biggest splashes into a post-season career of all time.
MacKinnon tallied 3a in his #StanleyCup Playoff debut, becoming the 1st rookie to ever have 3a in his playoff debut. pic.twitter.com/3YkdQMV4ak

— Colorado Avalanche (@Avalanche) April 18, 2014
Much of the NHL world agreed that Mackinnon's breakout performance in the playoffs was his true coming out party, but for those who followed the Memorial Cup last year, Mackinnon's big-game shining moments came then. In just 4 games, Mackinnon scored 13 points, capped off with a hat-trick in the tournament final as he earned tournament MVP honors in an all time performance. While the third goal was into an empty net, it was by no means an easy goal, as Mackinnon outwilled his way to the puck and eventually fired it home.
Not one, but two future stars came through Halifax
Any story about the Halifax Mooseheads last season included the two wunderkinds in MacKinnon and Jonathan Drouin, who ended up going 3rd overall to Tampa Bay.
"There wasn't a game last year where they didn't do something mind-blowing," said Clarke of the two star players.
Drouin was named QMJHL & CHL  player of the year, as his 105 points in just 49 games was more than enough evidence of his talent. While MacKinnon put up 75 points in 44 games to Drouin's 109, Clarke offered some insight as to why MacKinnon edged him out in both the draft and the path to the NHL.
"I think it was the size, speed and strength of MacKinnon that gave him the slight edge over Drouin in the end," he said. "But they're two different players and they're tough to compare."
Clarke, like many others, believes Drouin's consistent junior success (he's currently put up 37 points in 13 playoff games this season) will transfer to the pro level just like MacKinnon.
"Drouin definitely could've played in the NHL this year," he said. "I think he'll follow in MacKinnon's footsteps and win the Calder trophy next season, there's no doubt in my mind."
Nate MacKinnon, future Emmy Winner?
In addition to being impressive to his teammates, one of Mackinnon's biggest and earliest celebrity fans comes in the form of Canadian comedian and hockey fan Gerry Dee.
The two formed a friendship when MacKinnon guest starred on his television show, Mr. D, where he plays a high school teacher.
The two clips below show MacKinnon's typical calm demeanour, but also characterize how he's simply a regular teenager with an irregular talent.
Despite the clean image MacKinnon publicly portrays, Clarke noted there's more to MacKinnon than what's on the surface, even if it's just a musical preference.
"Everyone sees MacKinnon and they think of classic, clean-cut, hockey player," he said. "But all the time he would the most play loud, hardcore rap music in the dressing room. It's not something a lot of people would expect from a guy like him, but he'd always be the one putting (that genre of music) on."
Not just a MacKinnon fan due to his NHL success, Dee also pointed out on Twitter a time when MacKinnon was doubted-  the 2013 World Junior championship, where despite their hype and talent Drouin and MacKinnon were often sitting on the bench behind older players, as they were both 17 at the time of the tourney.
Nathan MacKinnon has 18 goals in the NHL. Steve Spott played him on the 4th line at the World Juniors last year. Still pisses me off.

— Gerry Dee (@gerrydee) January 28, 2014
"We (the Mooseheads team) were all surprised that they were on the 4th line," said Clarke. "It was a shock, especially because of all the hype we'd seen them get. People saw it as a bad thing and maybe Nate could have taken it as one. But when he came back he was a better player because of it, all throughout the rest of the season and right through to the playoffs."
A Superstar, A "Pine-rider"
Clarke's story also provides a contrast to MacKinnon's- two players on a very successful junior team, but one often in the spotlight from a young age and one removed from it. Clarke's very aware and satisfied of his role as a backup goalie – evidenced by his twitter handle, @PineRider30.
Last year, Clarke was the clear Mooseheads #2 netminder, behind Montreal Canadiens draft pick and 2014 Canada World Junior goalie Zach Fucale.  This year, Clarke was part of a goalie tandem which included another star goaltender, albeit at a different level, former London Knights and Oshawa Generals goalie Kevin Bailie. Clarke and Bailie both put up identical .934 save percentage numbers throughout the season, but Bailie's 20 starts outnumbered Clarke's 8. Bailie was awarded the Ontario Top Goaltender Award and was honoured as the country's top rookie, but Clarke's not one to get jealous of his teammate's successes.
"The thing about that role is you have to accept it and you have to rock it," said Clarke. "I'd never wish another goalie does poorly so I get more playing time. Even when you're not playing  as much as the other guy, you have to still be there every game, every practice, ready to play and ready to support your team."
One of the clearest examples of Clarke's value of team over individual successes comes in the following video where he and Fucale examine the Memorial Cup on the plane ride home after winning it.  Clarke shows no signs of jealousy or anger towards Fucale, but appreciates the history and the honour that come with winning the Memorial Cup.
While people have been comparing phenoms to Wayne Gretzky for years (see Lindros, Eric), MacKinnon is perhaps the first big name to be seriously compared to Sidney Crosby, fellow native of Cole Harbour, Nova Scotia.
"It's a fair comparison, if only because I don't know who else you'd compare him to," Clarke said. "They're both role models, they're both from the same place, they both went first in the draft. Maybe MacKinnon's point totals don't quite match up yet with Sid's rookie numbers, but there's quite a lot else that they've got going in common. MacKinnon's still got tons of time to develop to that level."
The two also have trained together in the offseason at times, including in this video that went viral of the two shooting water bottles for target practice.
Whether MacKinnon is able to win another championship this year is still going to be a challenge, as his Avalanche squad is currently tied 2-2 in a first round series with the Minnesota Wild. But regardless of how this year turns out, many people now agree that MacKinnon is destined for a long and illustrious career, and most of his critics have been silenced, at least for now. While the sophomore jinx has eclipsed many young players, (Nail Yakupov and Jeff Skinner are two recent examples of players who dipped in production in their second year),  Clarke is confident that it's not going to happen to MacKinnon, and his rookie career is just the start of his friend's success.
"There's still so much more to come from him. He comes up big in every situation."