After two years of giving her blood, sweat, and tears to the New York Riveters and the NWHL Madison Packer retired from playing professional hockey this past spring. Unlike Kelley Steadman (who we wrote about in this space a few weeks back) Packer wasn't able to retire as a champion, but just like Steadman, her impact on the game will never be forgotten and her name will be forever etched into the history of women's hockey.
(This interview was conducted in late January and unfortunately didn't see the light of day until now.)
Packing a Punch
Packer's 20 career points (11g-9a) is good for 19th all-time in NWHL scoring and third all time in points and goals in Rivs franchise history. This past season the 25-year-old just about doubled her point total from season one when she racked up thirteen points (8g-5a) in helping guide the Riveters to the league's biggest turnaround. "I think I have a different role this year and I think we're a different team," said Packer. "Not to take anything away from the girls that I played with – they are all great people and good hockey players – it was a different team."
"A lot of people had been in retirement for a while (before the NWHL inaugural season), just a different makeup on the team. There's a lot of talent in our room this year, last year I had more of a defensive role and went out and worked hard every night. (We) had to earn everything we got. This year we have a little bit more talent, so it's up to me to up that side of my game."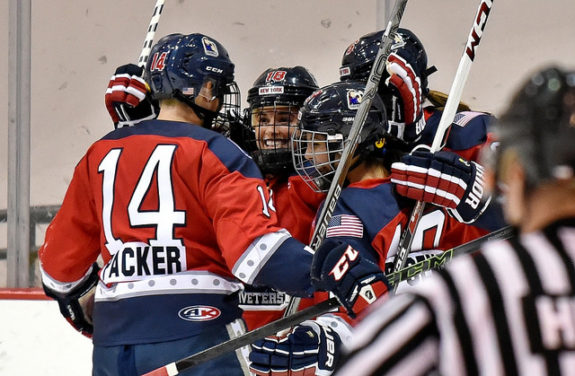 This past season the Rivs added a lot more speed and Packer was been part of a potent offensive line with rookies Rebecca Russo (16 points) and Alexa Gruschow (10 points). The trio was a crucial part of the Riveters being able to keep their heads above water while they waited for Amanda Kessel to return from injury.
"You look at Kessel, she looks like she's got rockets attached to the back of her skates; Russo the same thing. We have a lot of players on our team that have speed," she said one night following a practice in January. "When you're playing with people that are faster, it forces you to be faster, so I think it elevates everybody's game and with foot speed comes quicker decisions, quicker puck movement and things like that."
Top 5 plays, at #4: @NYRiveters @madison_packer_ with the rebound backhand goal (assisted by @AlexaGruschow and @russooo18) #BUFvsNYR pic.twitter.com/172N5urlJX

— bdz sports (@bdzsports) December 6, 2016
Sometimes coaches throw a line together and everything clicks, which is exactly what happened as the three linemates didn't have much history with each other or much knowledge of one another. Earlier this season both Russo and Gruschow admitted they really only talked for the first time when they both were at an NWHL tryout camp in June; a camp that they both impressed coach/GM Chad Wiseman enough to earn contracts shortly after.
"I didn't know Lex, I don't think we ever played against each other," said Packer. "I had an interesting meeting with Russo at a tournament in Colorado that we joke back-and-forth about. So I knew her, kind of, but not really until we got here. But now she's one of my best friends on the team and we sit by each other in the locker room, my linemate obviously. (I'm) definitely glad I've gotten to know her and she'll be a friend of mine for a long time."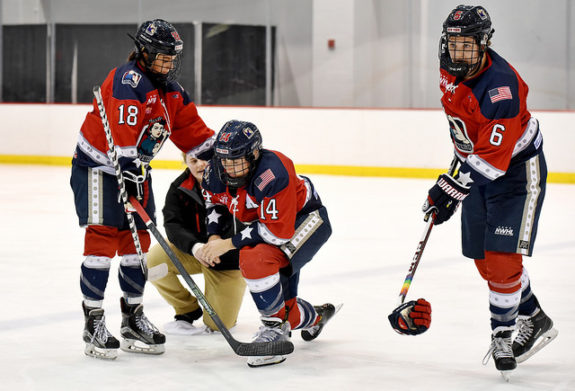 All-Star
For the second consecutive season Packer played in the NWHL All-Star Game, and both times she was the people's choice by winning the fan vote. It wasn't even close in year two as the Riveters forward was the runaway leader when the votes were all finally tallied.
"Oh really?" Packer said while grinning when informed of the details of her landslide win. "I've got a pretty big family. I think I got twice as many votes as anyone last year. They're awesome and super supportive; my dad is one of four kids, I have four siblings, my mom has a brother and he has four kids. We're far and wide, my whole family sent out emails to people and my grandpa had everybody in his community in Florida, his golf buddies were all voting. It has a lot to do with my family."
Grow the Game
Packer was her team's You Can Play representative and when she's not practicing or playing with the Rivs, the 2011 NCAA Champion (Wisconsin Badgers) can often be found on the ice, coaching a younger generation of players and giving back to the game which she enjoys so much.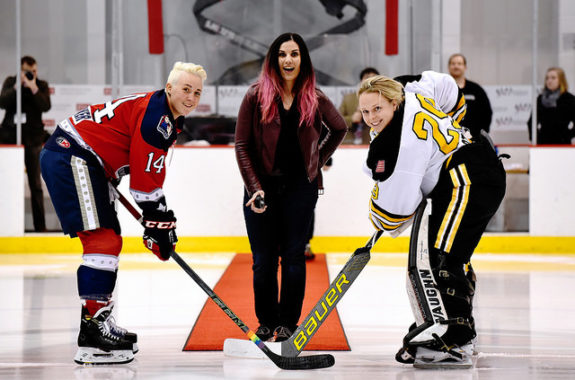 "This is my first year I guess seriously coaching. I coached a couple of spring teams in Wisconsin, u14. This year I'm coaching an u16 team, the New Jersey Rockets – they're a good team, a good group of kids," Packer said proudly. "I don't think that enough players really, that have gotten to where they want to get to as far as hockey, go back and help out. Someone helped me get to where I am, it's good for those kids to have a role model and someone to look at."
If you are unfamiliar with the Rockets' program look no further than two of her teammates — Miye D'Oench and Lauren Wash — both products of that team when they were younger.
Following her official retirement announcement, Packer accepted an expanded role with the Rockets: she will serve as both u16 and u19 head coach, as well as the GM of the entire girl's program. Packer will construct both on and off ice programs for all teams from u8-u19, as well as design practices, focused skills, and development for kids of all ages.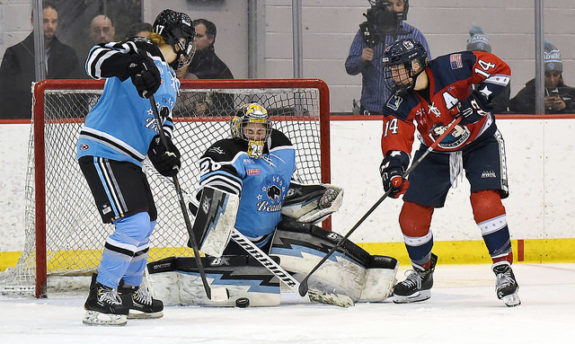 "Instead of looking at a guy and saying I want to be like him, they can look at someone like myself and say I want to be that person. It's been fun, but a very humbling experience for me and definitely something I'd like to continue doing." Like most hockey players Packer is a rink rat, but you can tell in talking with her for just a few minutes how passionate she is about the game as well as her impact as a role model.
"We (the Rockets) practice Mondays and Wednesdays; with that team, we're on the ice twice on Wednesdays and once on Mondays and obviously (I'm) here (with the Riveters) Tuesdays and Thursdays; so I'm on the ice almost every day. We're pretty fortunate that the New Jersey Devils and the Barnabas Health Hockey House have given us ice and are willing to work with us, not all of the other teams have access to that kind of stuff."
Trash Day! @madison_packer_ picks up that garbage for the score!!! @Rivs_Fans pic.twitter.com/puS74vXC8h

— 😷 ᗪ爪丨ㄒ尺ㄚ😷 (@MightyD88) January 29, 2017
There's a reason that the past two seasons Packer has been chosen as an alternate captain for the Rivs – she's not just a leader on and off the ice – but she's also the perfect role model for young players who want to be successful.
Whether it's her sly smile, her never-say-die attitude on the ice, her hat trick against Connecticut in a wild 8-6 win or her posing for pictures with countless, thankful fans for hours after NWHL games, the lasting impressions of Madison Packer's contributions to the sport and league will always be a part of the history of the game. Best of luck in the next stage of your hockey life Madison, and thanks for all of the memories.