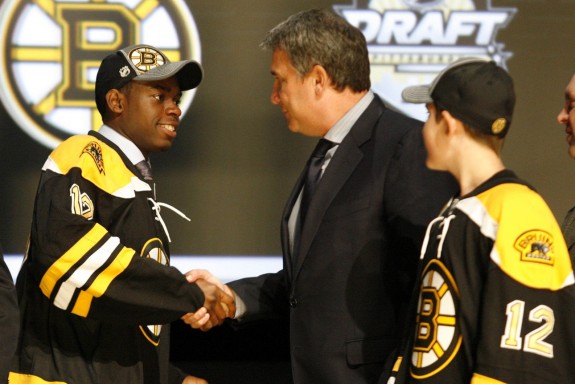 When Malcolm Subban was drafted in the first round by the Boston Bruins in 2012, the team envisioned that he would be the goaltender of the future for the B's. He had some great stats with the Belleville Bulls and has a ton of talent, even though he started playing the position late at age 12.
Everything was going according to plan, until today.
The Boston Bruins signed the incumbent netminder Tuukka Rask to an eight year, $56 million contract extension. Just like that the young Subban's future in Boston is in serious doubt. How can Boston keep their top goaltending prospect when he doesn't really have much of a chance with Rask in town?
Subban is only 19 and will be playing with the Bruins' AHL team, the Providence Bruins, next season. He most likely won't be ready for a few seasons, so, the Bruins bought a little time there. However, when Subban is ready to play in the NHL, Rask will be in the middle of his eight year deal and that creates an awkward situation for the Bruins.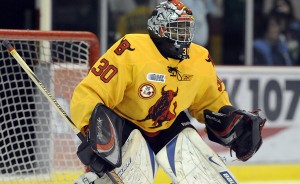 The Bruins could basically mimic the Vancouver Canucks old plan of a two-headed goaltending monster. That situation is a lose-lose for everyone involved. It certainly hurts the development of Subban and it hurts Rask by him getting less ice time. It would hurt the team as a whole as well, just look at how the Canucks' experiment worked out, a fired coach and numerous early playoff exits. Let's hope it doesn't come to that.
The most logical solution is to trade Subban while he still has some value. Calgary was interested in acquiring Subban last season during the whole Jarome Iginla debacle (not that he would have been traded anyway even if Boston were willing to part with him).
Malcolm Subban had a very good season last year with the Belleville Bulls of the Ontario Hockey League. He went 29-11-4, 2.14 GAA, and a save percentage of .934, so, basically he was one of the best goaltenders in the OHL, a league filled with rising young stars. With Subban's numbers, some team would be willing to take a shot on him. Maybe the Bruins can use Subban as a chip to get some draft picks or a veteran to help push the team over the top.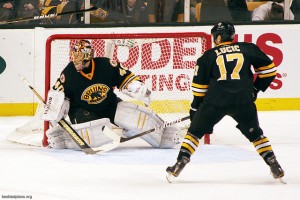 The Bruins front office has said numerous times that they do not intend on trading Malcolm Subban, but if they do, they have to while he can still get a lot of value in return.
Of course though, we are only day one into a eight year contract with Rask, a lot of things can happen in eight years. What if Rask gets hurt and doesn't come back to his normal self, like Rick DiPietro, or what if he starts struggling and the price for Rask is just too much compared to his play?
Then you have Subban waiting in the wings ready to take over and try to be the next Bruins star. Only time will tell.
This also could be a blessing in disguise as well for Subban. The Bruins don't need to rush his development along with the goaltending solidified and the Bruins can take their time to develop Subban into a top notch goaltender.
Patience is a virtue and Subban will have to be very patient with Boston, if management plans on keeping him for the long haul.
What do you think happens to Malcolm Subban's future in  Boston? Comment below or sent me a Tweet, @MarkWGraham
Mark Wallace Graham has been a writer for TheHockeyWriters.com since March 2013. Growing up in New England, Boston Bruins hockey was in my blood. Follow me on Twitter, @MarkWGraham