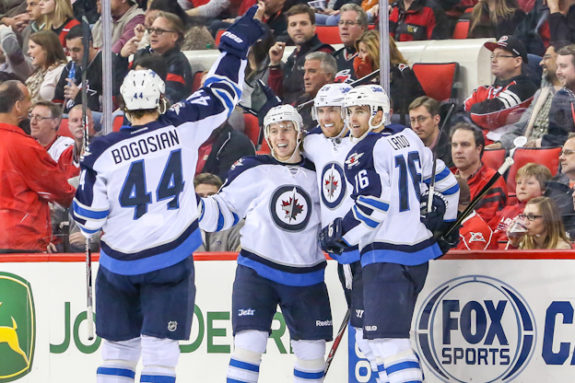 Arbitration is a word heard often following the initial National Hockey League offseason free agent frenzy. 2013's offseason is no exception.
Late Wednesday afternoon on July 10, the National Hockey League Player's Association announced 21 players league-wide have filed for salary arbitration. Five of the 21 players are Winnipeg Jets property and the list includes: Zach Bogosian, Paul Postma, Bryan Little, Blake Wheeler and Eric Tangradi.
Three of the five Jets heading to Toronto for arbitration later this month have been with the franchise since their entry into the National Hockey League. Little, Postma, Bogosian have all been apart of the Thrashers/Jets franchise since their respective entrances into the league when they were drafted in the 2006, 2007, and 2008 amateur drafts, respectively.
Wheeler has been with the franchise since he was traded from Boston to Atlanta in February of 2011 in a four player trade. Tangradi, the newest Jet of the arbitration bunch was acquired via trade as well. This past February, Winnipeg sent a seventh-round pick in last month's draft to the Pittsburgh Penguins for the veteran centre.
Depending on the outcome of each player's arbitration, of these five players the Jets could lose up to three of them if they choose to use any of their "walk-aways" after the arbitrations are awarded to each player. Per, the current edition of the NHL and NHLPA Collective Bargaining agreement (the one that was just ratified a few months ago) each team is given a certain amount of "walk-aways" i.e. they can choose to withdraw the contract automatically given to a player following arbitration, per number of arbitration cases a team has in a given offseason. According to the CBA, the Jets have up to three "walk-aways" available since they have five players heading to arbitration.
The  Jets and the other 16 players who filed for arbitration will have their hearings between July 22 and August 6 in Toronto at a location to be determined between the NHL and the NHLPA and each player's respective representatives.