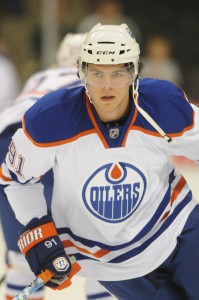 When looking at trades as they happen, it's rare that you see a deal that is even from the start.
Although some would argue, the Blues and Oilers made a swap that makes sense for both sides on Wednesday. The St. Louis Blues traded David Perron, 25, to the Edmonton Oilers in exchange for forward Magnus Paajarvi, 22, and a 2014 second-round pick.
Perron was a staple in the Blues' offense through the team's rebuild. He was placed on the roster the season after being drafted and instantly became a fan-favorite with his speed and maneuverability with the puck. He netted 84 goals and 114 points while posting a plus-45 in 340 games for the Blues.
There was no greater moment in the past decade for the Blues than when Perron scored in his third shift of a 5-2 loss to the Chicago Blackhawks on December 3, 2011. It was Perron's first match in 97 games, returning from a career-threatening concussion that occurred the season prior.
The exchange gives the Blues Paajarvi, who was drafted 10th overall in the 2009 NHL Entry Draft by the Oilers. The 22-year old left-winger has posted 26 goals and 58 points in 163 career NHL games.
Paajarvi is known for his slick hands, which went on display on December 28, 2011 as a member of the Oklahoma City Barons, the Oilers' AHL affiliate. This move was well documented in Edmonton, as well as across the NHL, due to his ability to convert on some big moves.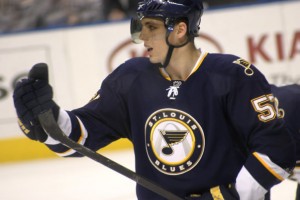 Oilers Acquire Potential 30-Goal Man
Paajarvi was a highly touted draft pick that never really found his game in Edmonton. After spending the full 2010-11 season as a rookie with the Oilers, he split time between the NHL and AHL in each of the next two seasons.  He was a falling prospect on a team that needs to start winning the big games.
Perron will add to the Oilers what they truly need; a star player that has the potential to put up 30 goals in a season. At 25, the Oilers know what they are going to get out of him. He's a veteran of six NHL seasons who is believed to be in the prime of his career. His slippery hands and hard wrist shot are what earned him two 20-goal seasons. Now with the chance to play with Ryan Nugent-Hopkins or Taylor Hall, Perron will find more open space that will translate to key scoring chances.
Blues Obtain Cap Room, Growing Player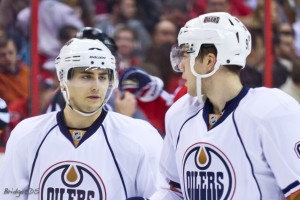 With this deal, the Blues were able to free up about $2.29 million in cap-space. In addition, the team will be paying about $2.01 million less in real dollars. This allows the Blues to focus solely on RFAs Alex Pietrangelo, Chris Stewart and Jake Allen. With about $12.97 million in cap-space now available, signing the three vital pieces should be an attainable goal. Just a few days ago, that seemed like a pipedream.
The Blues are also getting a steady young forward who has something to prove. He has had success in the international level with the Elitserien, or the Swedish Hockey League. He is yet to see his game translate to the NHL but a change of scenery could do wonders for the 6'3" 208 lb. forward.
Paajarvi will find a familiar face in St. Louis as well, as he and Patrik Berglund were linemates during the 2011 World Championships in Slovakia. The Swedes finished second in the tournament and Berglund was the team's best surprise with eight goals and 10 points. Paajarvi posted two goals and seven points in the tournament.
Paajarvi has not accomplished as much as Perron, but that could change. He plays a similar game to the now-former Blue but adds size to his skill with the puck. Paajarvi's  contract is currently expired, making him an RFA, but his recent lack of production will likely earn him a similar contract that he signed in 2010 (3 years, $5.75 million).
I am a former NHL media member and reporter for the St. Louis Blues, working for various media outlets. Currently, I am an NHL News Writer and Editor for The Hockey Writers. I live in St. Louis and work as a freelance copywriter in numerous industries.