This is different. Is this thing still on? Coming soon will be our fantasy takes on the free agent frenzy when it fully ends but in the meantime, there were all those interviews to transcribe from the 2013 NHL Draft. It was a lot of work and with only so many helpers, it became a lot more work. Needless to say, we scaled this down into a draft recap and a bit of a look at how free agency played out based on what was seen during the draft. Again, these are from the files of yours truly on a special Sunday at the end of June. Here is the story.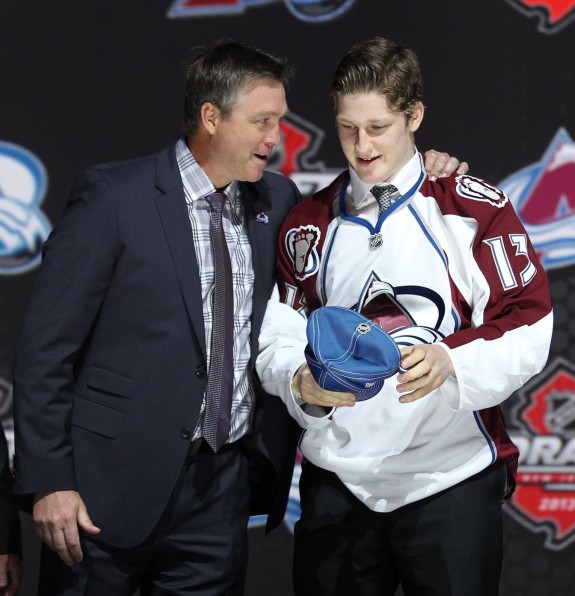 All in all, the events of June 30th would shape how free agency played out but first, let's go over that day. Honestly, this was the only way to do this piece.
2013 NHL Draft Daycap
11 am — Here we go to Newark again….
Did you ever have that feeling like this was done before? As I boarded the train (a double decker New Jersey Transit train), it was nice to see quite a few Devils fans. It was even nicer to see the Prudential Center area all decked out. The reality sunk in as I pulled into Penn Station in Newark. It was time to get ready. This would truly be a day.
Noon — Headed To Hobby's
Yes every good reporter needs to eat. Sometimes when you look at a menu (even with other media), you just want to drool. This was one of those moments. Literally the menu as we previously mentioned really is just that awesome to witness. Again to emphasize Hobby's does not look like much from the outside but the portions are huge and the prices are extremely reasonable. After the appetizer, it just felt right to go big and head for the triple decker sandwiches. It felt like there was about five pounds of lunch meat on this monstrosity. Naturally we have a little proof that this existed.
Mmmmm Hobby's Deli….. pic.twitter.com/1d22T0hp96

— Chris Wassel (@ChrisWasselDFS) June 30, 2013
Now that is a sandwich. Then there was the dessert. The pie alone was so filling that I could barely walk. On a day that was truly hot and humid, it was a lunch that truly hit the spot. After that, with media friends in tow, it was back to the Prudential Center.
1 pm — Gauging the crowd, Marty, and roaming media…
Yes there would be a lot of chaos on this day. First off, the ISS Draft Guide was an absolute godsend. It is always great to have information at the ready. That was a huge asset when researching. The NHL 2014 cover went to Martin Brodeur and he was kind enough to answer all of our questions during the media scrum. The "yeah I knew this for several weeks" was one of those quintessential Marty moments. It was truly an enjoyable 25-30 minutes for this writer.
By the way, the crowd was enjoying the FanFest outside and the memorabilia show inside. There were some initial issues with the crowd being allowed access but after 30-45 minutes, it really was a moot point. It was not hard to spot the media either. They were everywhere! It felt like being in a fraternity once I headed into the media rooms and then up to the press level. The even better feeling of being introduced to so many in the business and then surprise appearances by people I had not expected to be there was worth any experience times ten. It would only be the beginning…….
3 pm — The 2013 NHL Draft begins……
Yes! The moment was finally here and then they booed and kept booing. It did answer the age old question of whether booing could shake an arena. As the video suggests, yes would be correct. That being said the draft clock was set at three minutes and teams did have the option of using five timeouts (five minutes in duration) at any time. People wonder why first rounds take so long. Think about it for a second. It is all that walk up and walk down time. At a glance, you may laugh but it is really true. Now the number one pick was pretty well known but the Colorado Avalanche are the Avalanche. That being said, they did draft Nathan MacKinnon as more or less promised. The draft floor was spaced in such a way that it made it easier to see who was being drafted. The usual pomp and circumstance for first round picks still was there.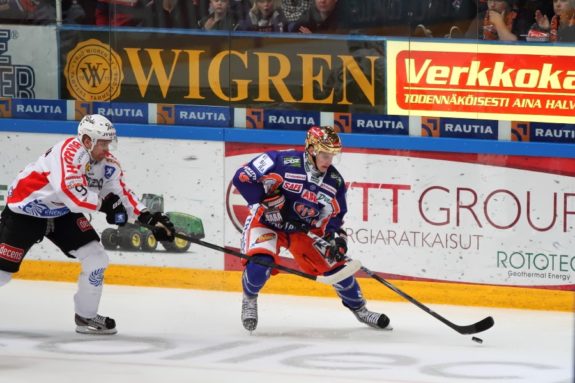 All the mock drafts in the world would be thrown a bit of a curve by what would happen next. Florida was very much expected to take Seth Jones from the Portland Winterhawks. Aleksander Barkov had shoulder issues that many thought would keep him out of the top three. Then it happened……
Florida picked Barkov at number two which drew a lot of gasps out of the crowd at the Prudential Center. The prospect had top three talent but injury concerns are always a concern. It was not a secret that Barkov was a possibility but so few thought it could become a reality. Yet the Panthers shocked many. As the number two pick said later. "This was quite the surprise and yes I WILL be ready for training camp".
Jonathan Drouin was a lock at number three to Tampa Bay and then you almost had to know that Seth Jones would be taken at four by Nashville. Sure enough, the draft had gone back to being a bit predictable again. Carolina did surprise Calgary a bit by taking Elias Lindholm but Calgary's Plan B clearly involved Sean Monahan. Then Darnell Nurse and Edmonton were a match made in heaven at seven.
3:45 pm — The Draft Stands Still….
It would become the shocker of the draft and one we had to run out to the draft floor for. This was something I personally had been following on and off for almost two years. There were rumblings of a deal being on the way at the number nine slot (New Jersey's pick). Rasmus Ristolainen would be picked by Buffalo and yet almost no one really noticed. You could hear the TSN guys scrambling. You could see Lou Lamoriello smiling. Something was up. It was about to happen. Off the record was about to become front and central. Even NHL Network was on the prowl. There were quite a few people asking me questions on the floor. All I could do was say just watch.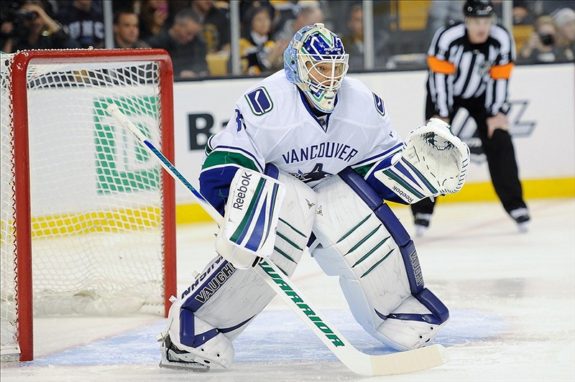 Gary Bettman walked on to the stage and yes the crowd booed but you could hear the muttering of "hey New Jersey, you are going to like this". When the words I have a trade to announce came down, I admittedly mistakenly said this is for Cory Schneider. There were quite a few media who heard me and sure enough Schneider was coming to New Jersey for the 9th overall pick. That was it. Two long years came down to a brief moment but that moment sent everyone into a stillness I had not seen in a draft for a long time. Sometimes rumors are just a load of bull but every so often, they come to fruition even after a few slight delays.
By the way, Vancouver would take playoff and Memorial Cup standout Bo Horvat with the ninth pick. Meanwhile, New Jersey looked like the cat who ate the canary and their fans could not believe what just happened. The Devils found their franchise goalie and all it took was one first round pick. That was it. That was it. Think about it! The 2013 NHL Draft was truly at least for a little while caught up in the trade as picks were being made. As the first round rolled along and passed the three hour mark, it was clear that the buzz still resonated with what New Jersey pulled out a little before 4:00 EDT.
The Running Media……and the unsung….
Covering the draft is not for the faint of heart and most importantly, make sure your shoes are in good working order. The people in the elevators put forth an unbelievable effort in not only keeping their cool but getting us press from the upstairs to down at the floor with a smile on their face no matter the circumstance. It would not have been possible for me to cover the draft without the help of the employees of the Prudential Center, the folks from the NHL, and of course the people that coordinated the interview podiums. All of those transcribed interviews and experiences do not occur if not for them. Please always remember to appreciate those who are doing their best to make sure you are able to do what you have to do. This one day draft would test the patience of many and Newark held up rather well.
The Draft moved along at breakneck speed
Once the first round ended, the rest of the draft lasted a hair less than four hours as it is hard to believe. While the interviews were going on, minor trades were happening on the floor along with rumors that were floating around for as far away as the free agent frenzy. It was a pleasure to talk to the draftees but what took some of my attention away a bit was running into New Jersey Devils GM Lou Lamoriello. It was even better to chat briefly about what he had in mind when pulling the trigger on the Schneider trade. Simply what Johan Hedberg talked about possibly becoming a reality as far as a big Lou move.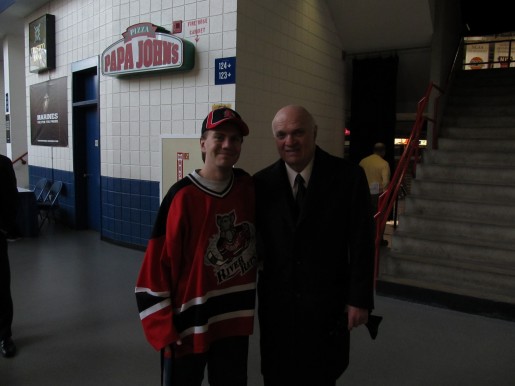 When I asked Lou, what was next? That was when the conversation spiced up so to speak. "I expect the Schneider trade to be a springboard to an active free agency period followed by some trade corrections". He would not elaborate on what those would be but hinted one or more of New Jersey's defensive corps could be elsewhere. There was the inevitable question about David Clarkson and that was simply met with a shrug and no comment. Honestly that no comment was far more worthwhile than any potent quotable at that point. It was a sign that #23 was all but out the door. He also hinted that this could be a frenzy that trumped last year's frenzy in the neighborhood of 400-500 million spent. He was not far off at all. Others would ask questions but in reality it was time to move on to the rest of the draft.
After the first round was done, it really just became a question of finding who to interview and who to skip. There were lots of chatter and rumor exchanging as free agency would loom ahead. Stay tuned for that at the end. There were radio appearances from TSN to internet radio and even a brief appearance on TV. It was nice to chat with local beat reporters and local media. One of the more entertaining interviews was Ryan Hartman, the Chicago native. He was refreshing, honest, and could not be happier to be a Blackhawk. He was by far one of the most friendly prospects to talk to and just chat hockey, life, etc. Steve Santini, the Devils second round pick was another entertaining highlight as we helped Devils radio personality Sherry Ross get a little closer to record his time at the podium. Santini amusingly turned and paused to give her a bit more time as the questions came his way.
Regrets there may have been a few……
I was asked if there was a way to play some of my interviews and sadly the iPod records in a m4a format and not MP3 or wav formats so I do apologize there. Also, the pure chaos of a seven round, seven hour one day draft took a toll on everybody. Hopefully at some point during the summer, they will be converted so the interviews can air on THW Live. Furthermore, there were so many people to meet and talk to that I probably missed just as many. That is where the two day draft is different. There is more time to digest, plan, and move ahead. This draft was a test of sprint endurance. Finally, constantly working WIFI would have made deadlines easier. The challenges of writing articles with inconsistent internet strength is a challenge of challenges. I now fully understand what it is like when the post is due and the signal is not there. Ultimately, everything would be done even with a few trips down to the media workstations.
Looking Ahead…..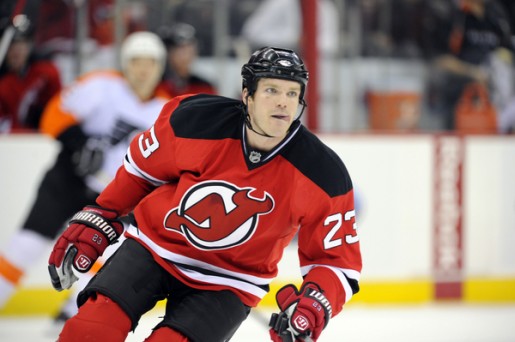 So the preview for the free agent frenzy made it clear that David Clarkson would be the most sought after free agent. It was abundantly obvious he was testing and was going to leave for Toronto. We even had it at a 90-95 chance which is higher than any projection ever. In the end, Clarkson would sign 7 years, $36.75 million with the Leafs. The free agent frenzy in the first few days left GM's spending a combined $412.5 million with another 125 million in compliance buyouts. That did not even include the extensions and Restricted Free Agency signings. Every person I talked to at the draft indicated that GM's wanted to square things away quickly in this regard.
As the frenzy tapered down to a simmer, teams climbed closer and closer to salary cap purgatory. Trades that happened during the draft along with signings have left several teams with some very interesting decisions both short and long term. Will there be "trade corrections" as they have been coined? The answer is yes but when is the bigger question. This draft showed that NHL teams were looking ahead to all phases of the summer with a more keen eye than ever. It was a experience that I will never forget because it was in my backyard. See you next year in Philadelphia.
---
In closing, I wanted to thank so many people but most importantly Rachel Cena, her mom, everyone at The Hockey Writers, and everyone I finally got to meet at the draft plus the media events. Being a member of the media is a privilege that commands respect while asking us to be respectful. If anyone has any questions at all, tweet them or reply in the comments section. I will try to answer anything and everything. Thanks again and enjoy the rest of the summer. There is plenty more to come even in the off-season.
Simply a hockey writer who is a jack of all trades. No question is too big or too small and in fantasy hockey there is no such thing as a stupid question. Now a proud, accredited member of the FSWA. I am also a New Jersey Devils lead writer, prospects writer, humorist, and so much more. You can find me on Twitter at @ChrisWasselDFS