This is a touchy topic because it's so subjective, and of course, there are many outstanding players in the National Hockey League worthy of consideration as the best franchise player. The list I've made considers accomplishments, talent, promise, skill level, status, intangibles, and impact on the game. There is no point system or scale, rather, I try and look at the entire picture and list the ten players that I would want to start a franchise with. Each of the top 10 have proven over and over again that they are amazing, every year. You could make an argument for many others, and if you'd like, I encourage you to do just that in the comment section below. Here goes the list:
Number 10. Shea Weber.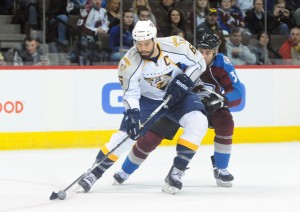 The Predators captain is one of a kind, although he may not get the credit he deserves because these days the widely accepted best defenceman in the NHL is typically reserved for the guy who scores the most points. Don't get me wrong, the Kris Letang, Mike Green and P. K. Subban types are superstars deserving of a the credit they receive. But none of those guys dominate in all aspects of the game like Shea Weber.
Shea Weber will probably never lead all defencemen in points, or get credit as the best defensive defenceman because he plays in Nashville, and let's face it, the rest of the hockey world isn't closely watching Nashville. Sorry Nashville. The world of hockey will luckily be reminded of how good Shea is during the 2014 Winter Olympics in Sochi.
All the offensive critiques aside, Shea Weber has scored 15 or more goals in each of the last four 82 game seasons. Something no other defenceman can claim.
Number 9. Erik Karlsson.
If there is one rover worth the acclaim it is this guy – Erik Karlsson is well on his way to becoming the most dominant offensive defenceman the NHL has seen in years. Where the other rovers are great taking regular shifts in highly offensive systems alongside the most talented forwards in the world, Karlsson is the opposite. He plays in a defensive system, and he is the main offensive catalyst for his team. Plus, he's only 23 years old.
Already with a Norris Trophy to his name, Karlsson has a great opportunity to win many more throughout his career. He has that Norris pedigree with a tremendous dedication to improving his game. The greatest players are never satisfied with a great season; they do everything possible to make the following year even greater. That's how Karlsson is if you are to believe the hype like I do.
Number 8.  Alexander Ovechkin.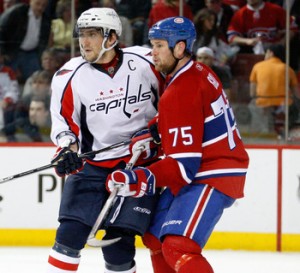 The Great 8 has done almost everything in his young career. He's twenty-seven years of age with 3 Hart Memorials' (2208, 2009, 2013), 3 Lester B. Pearsons' (2008, 2009, 2010), 1 Art Ross Trophy (2008) and 3 Rocket Richards' (2008, 2009, 2013). No other player in the league can showoff a trophy case like Ovie. Unfortunately, Ovechkin has had many opportunities to display his dominance in the playoffs, only to fall short. And believe me, I am open to the possibility that it's not Ovechkin's fault the team around him has never been good enough because perhaps that's all it is. At this point though, Alex is the man who wins all the trophies and makes all the money so he will receive much of the blame. That's just the way it is in professional sports.
Ovechkin's a young man, one Stanley Cup away from achieving that final goal, one which would be sweeter than any goal he's scored in the regular season. Until that day comes, Ovechkin is behind a few other guys as best franchise player in the NHL. I'd like to note, Ovechkin is the only winger on this list.
Number 7. Zdeno Chara.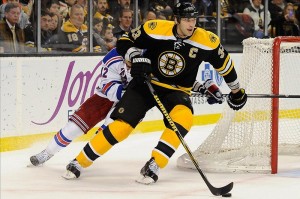 If he was younger I might say he's number 1 on my list. The crazy thing about Chara is, when he was as young as the other guy's on this list, he wasn't the dominant force he is today. At 36 years of age, Chara is an old man in NHL terms, but he's one of those rare breeds that may be able to play at the highest level until 38, 39 or even 40. He's entered into Nicklas Lidstrom, Chris Pronger territory – a fine wine of a defender.
When he's on, I can't think of anyone else in the league that can control a game like Big Z. There were many times in the playoffs when Chara literally took over a game and the puck never crossed the Bruins defensive side of centre ice again – it usually happened in the 3rd period. Sure, in the finals he showed some signs of the Bambi legs he was known for during his younger years, but at that point he must have been exhausted, and you have to give credit to the Hawks.
Chara played about 42 more total minutes than Blackhawks D Duncan Keith in 22 playoff games. And he averaged approximately 2 more minutes on ice per game than any other defenceman in the playoffs, not including the 5 game performance of Wild D Ryan Suter, who was eliminated quickly in the 1st round.
At this moment, Chara is the best defenceman in the NHL, dare I say it. If you were starting a franchise today and you knew you could only get three more good years out of Zdeno you'd still have to strongly consider choosing him as your lead man. The late bloomer has led his team to the Stanley Cup Finals in 2 of the last 3 seasons – something no other captain can say, not Crosby, Toews, Ovechkin or anyone else.
Number 6. Evgeni Malkin.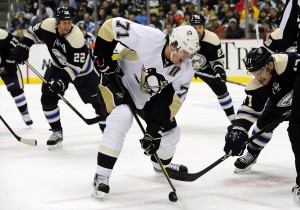 Believe it not, Malkin is the hardest player to evaluate as a franchise player because he plays on a team with Sidney Crosby. Sure, they don't play on the same line, nor do they seem to have great seasons in the same year. Nonetheless, as a member of the Penguins, Malkin has never really had to be the franchise player because that pressure has always fallen on Sidney Crosby.
Can Malkin lead a team? I have no doubts that he can, however, he never really has had to deal with all that comes with wearing the C and hoisting the weight of an entire organization on his back the way every other guy has. To be fair to Malkin though, when the Penguins won the Cup in 2009, it was Evgeni who won the Conn Smythe as playoff MVP.
Malkin is amazing and his track record speaks for itself. Aside from Ovechkin, no one has accomplished as much in the same timespan.
Malkin is a Conn Smythe Trophy winner, as mentioned above. Along with Martin St. Louis and Jaromir Jagr he is the only active player to win the Art Ross more than once. And Malkin has a Hart Trophy and Lester B. Pearson to go along with a Stanley Cup in which he led the playoffs in scoring. He's one of the best in the business.
Number 5. Jon Tavares.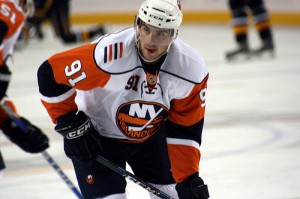 Something tells me JT's first Hart Trophy nomination (2013) is only the beginning of an incredible legacy we are about to observe over the next several years. Offensively, Tavares does it all. He's a smooth passer, deceptive stick handler, and lethal shooter. If Joe Sakic's shot and Pavel Bure's hands conceived a hockey child, it would be Jonathan Tavares.
You may be wondering why I ripped Ovechkin for not succeeding in the playoffs and now I have Tavares ahead of him on the list. The answer, because Ovechkin's had many chances to prove himself in the playoffs and continuously failed to meet expectations. Tavares is much younger and only beginning his playoff legacy.
The thing that stands out to me the most is that Jon Tavares is beginning to bring respectability back to the New York Islanders franchise. In the early 80's the Islanders did what no other professional hockey team has done by winning 16 consecutive playoff rounds to capture four straight Stanley Cups. There is history in Long Island, and pride. The last 25 years have been disastrous though. Tavares appears to be the player who is going to change that.
Number 4. Henrik Lundqvist.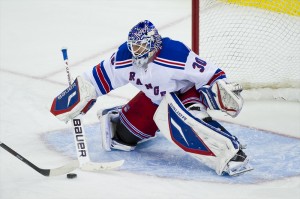 There are great NHL goalies, and then there is Henrik Lundqvist. What separates King Henrik from Carey Price, Pekka Rinne, Roberto Luongo and others is that he is always amazing, every single year. To no one's surprise he's been nominated for the Vezina 5 times over the last 8 seasons. Lundqvist won his first Vezina in 2012 posting a 1.97 GAA and .930 save percentage.
For many years, he made a less than stellar Rangers team look half decent, or better. In fact, as long as he's in his prime he'll make any product the Rangers put on the ice appear better than it is because Lundqvist eliminates defensive errors with jaw-dropping puck stopping.
The highest paid goalie in hockey is so for a reason. The Rangers got that signing right. One thing I always notice about Lundqvist is that when there are about twenty games left in the regular season and the Rangers need a push to get into the playoffs, Henrik Lundqvist simply stops letting in goals. He's great, he's clutch, he's consistent, and he's the best goaltender in the NHL.
Number 3. Steven Stamkos.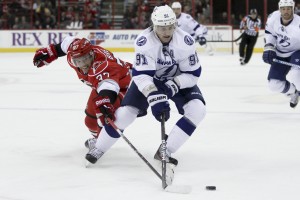 Stamkos has quickly become the best goal scorer in the National Hockey League. Over the last four seasons his totals of 51, 46, 60 and 29 leads all skaters in goals scored. He's either finished 1st or 2nd in goal scoring since his sophomore year, including a 60 goal season, in which the next closest shooter had ten less goals.
In his breakout second season he scored a lot of goals from the top of the circle on the power play and some suggested opposing teams would figure him out and he'd stop smashing em in. That didn't happen. Stammer scores from everywhere. He'll tap one in from the blue paint, snipe one on the rush, or sneak into scoring position somewhere in the high slot and bury with lightning speed. You can't stop Steven Stamkos from scoring, you can only hope that he misses the net or hits your goalie.
The smooth skating former 1st overall draft pick is one of the surest things in hockey to produce in the top 5-10 every season thanks to a deadly accurate and fast shot, combined with an innate ability to locate the right positioning required to score goals. Plus, his defensive game is coming around nicely.
Number 2. Jonathan Toews.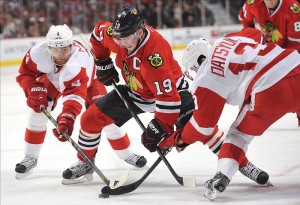 With his 2nd Stanley Cup now safely secured, Jonathan Toews has become the benchmark for what a 1st line centre should be in today's game. The Hawks captain plays a tough brand of two-way hockey while possessing a knack for scoring big goals and inspiring success. If not for Sidney Crosby, there would be no question about who the best centre in the NHL is right now, and some would argue they'd prefer Toews to Sid.
Who is the NHL's JT Money? Tough call, because it could be Joe Thornton, Jon Tavares or Jonathan Toews. If you're a little old school, maybe it's Jose Theodore for you. If I'm picking though, it's Jonathan Toews who gets my vote. Hockey's amazing because the best players in the game don't necessarily record the most impressive stats. So yeah, Toews probably won't outscore a lot of guys on this list but he'll do all the little things better, and doing the little things better equates to winning the big thing – the Stanley Cup. Toews has two at twenty-five, captaining both, with a Conn Smythe in there.
Number 1. Sidney Crosby.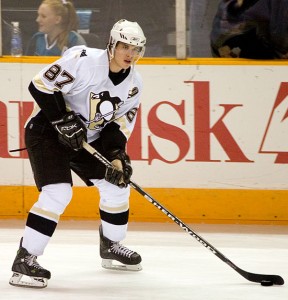 Sid the Kid is the best hockey player in the world – I can confidently say that while compiling such a subjective list. As the best hockey player it's hard to argue he's not the best franchise player as well. But definitely it can be argued. In hockey, the ultimate prize is the Stanley Cup, and in recent years, Crosby has been shockingly disappointing in the greatest tournament pro sports has to offer. But he's got a ring, so he's at least proved he can do it.
As an offensive player Crosby is noticeably ahead of the pack, including Stamkos, Tavares, Ovechkin and others. Sid's PPG this season was 1.56. The next closest was Stamkos with an impressive 1.25. The margin of .31 decimal spots between Sid and 2nd place Stamkos is an example of the gap between Crosby and the rest of the pack as an offensive player. Consider this: You have to go all the way down to 33rd in PPG to find a player Stamkos had a .31 decimal point advantage over.
Crosby's had some injury problems in recent years. The well documented and publicized concussions he's suffered have slowed down his progress substantially, and maybe even affected his performance in recent playoffs. But it's Sidney Crosby at the end of the day. The guy's the best player in the world. Best franchise player in the NHL.
Honourable Mention.
Patrick Kane, Patrice Bergeron, Carey Price, Drew Doughty, Jonathan Quick, Corey Perry, Eric Staal, Claude Giroux.
Featured Writer | Contributing Leafs Writer for TheHockeyWriters.com | Editor & Founder at TheHockeyDaily.com | FOX Sports affiliate | Yardbarker Network | Follow on Twitter @S_Ientile & @TheHockeyDaily for daily hockey featured stories and discussion.