The KHL All-Star Game is slated for the weekend of January 12-13 in Chelyabinsk, home of the KHL's Traktor.  The starting lineups for the annual event were selected via fan balloting, and the results are in.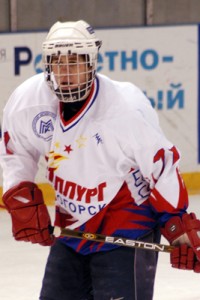 Metallurg Magnitogorsk forward Evgeni Malkin received the most votes (40,569).  He was followed by Pavel Datsyuk of CSKA Moscow (33,731), Alexander Ovechkin of Dynamo Moscow (31,935), and CSKA Moscow's Ilya Kovalchuk (31,709).
The goaltending battle was much tougher. In the east, hometown team Traktor's Michael Garnett beat out Karri Ramo of Avangard Omsk by a solid 3,000 votes.  Out West, Lokomotiv's Semyon Varlamov edged out Dinamo Minsk netminder Pekka Rinne by only 140 votes.
Of course, it's apparent that the voting process is little more than a popularity contest.  Magnitogorsk's Sergei Mozyakin leads the league in scoring (both goals and total points), followed by Alex Radulov of CSKA Moscow. Neither were voted into the starting lineups.   On the blueline, Zdeno Chara sits 52nd in scoring.  That's not a typo.  His nine points in 20 games have him fifty-second in scoring by defensemen.   Alexander Osipov, Viktor Antipin, and KHL all-time-leading-scorer-among-defensemen Kevin Dallman all have as many goals as Chara does points; all three missed the cut.  So did Renat Mamshev of Neftekhimik, whose 32 points lead all defensemen in scoring.
It's safe to say, though, that many of the players above will be included in the All Star festivities.  The media will select the second-team all stars with the full rosters to be announced on Christmas Eve.
Here's the KHL All Star Game starting lineup, with number of votes:
Eastern Conference 
Forwards
Evgeni Malkin (Metallurg Magnitogorsk – 40,569)
Evgeny Kuznetsov (Traktor Chelyabinsk – 30,248)
Sergei Kostitsyn (Avangard Omsk – 30,152)
Defense
Ilya Nikulin (Ak Bars Kazan – 30,090)
Sergei Gonchar (Metallurg Magnitogorsk – 28,699)
Goaltender
Michael Garnett (Traktor Chelyabinsk – 26,396)
Western Conference
Forwards
Pavel Datsyuk (CSKA Moscow – 33,731)
Alexander Ovechkin (Dynamo Moscow – 31,935)
Ilya Kovalchuk (SKA St. Petersburg – 31,709)
Defense
Zdeno Chara (Lev Prague – 29,073)
Alexander Ryazantsev (Severstal Cherepovets – 26,760)
Goaltender
Semyon Varlamov (Lokomotiv Yaroslavl – 26,344 votes)
Josh is a life-long hockey fan. He grew up as a fan of the New York Rangers, but thanks to their general mismanagement and years of mediocrity, has developed a great appreciation for every team across the league.
He's been writing about hockey on various sites since 1995. In addition to his work at The Hockey Writers, he also keeps tabs on the referees over at ScoutingTheRefs.com.