There is a ton of talk about who the Toronto Maple Leafs should be targeting to help finally propel them past the first round of the Stanley Cup Playoffs. 
Names like Ryan O'Reilly, Patrick Kane, and Timo Meier seem to be brought up daily. The problem with acquiring players of that ilk is the cost. Can the Maple Leafs win the bidding war for these players; and, even if they did, would the final price be an overpay for what they get?
Related: What Maple Leafs Fans Should Know About a Timo Meier Trade
As we were looking through the rosters of teams that are out of the playoff hunt and looking for players that might fill a specific role for the Maple Leafs (top-six scoring winger), one name jumped out at us that no one seems to be talking about. That player is Adam Henrique.
Adam Henrique's Career Shows Off His Scoring Abilities
Henrique has had an up-and-down career in the NHL. The just-turned-33-year-old was drafted 82nd overall in the third round of the 2008 NHL Entry Draft by the New Jersey Devils. He became a fan favorite in New Jersey in his first full season when he scored an overtime goal against the New York Rangers to send the Devils to the Stanley Cup Final.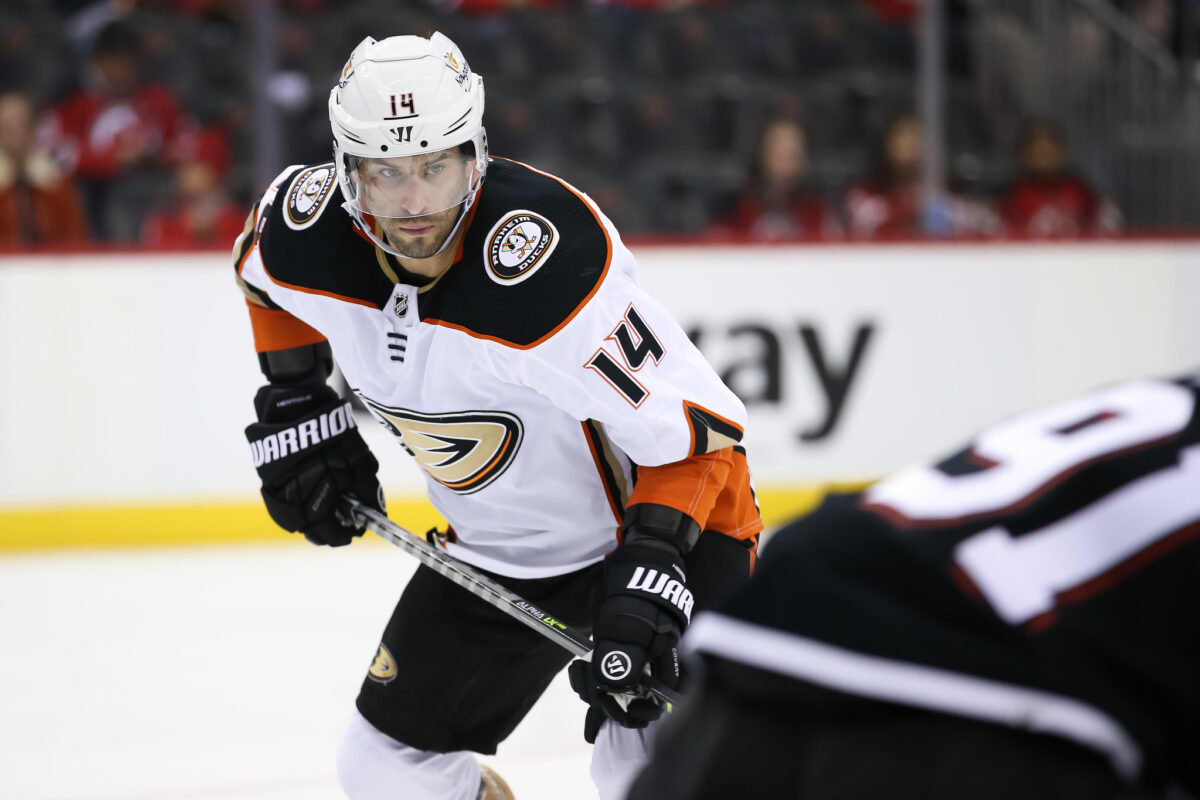 Henrique has scored 30 goals once in his career, in the 2015-16 season. Altogether he has 236 goals in 818 NHL games. That is an 82-game pace of 24 goals per season. After playing seven seasons with the Devils, he was traded to the Anaheim Ducks in Nov. 2017.
Henrique Eventually Placed on Waivers by the Ducks
After scoring 26 goals in the 2019-20 season for the Ducks, Henrique, who was 29 at the time, was rewarded with a five-year, $5.825 million average annual value (AAV) contract extension.
Related: Ranking NHL Teams By Goaltenders
However, after scoring just three goals in his first 16 games of the pandemic shortened 2021 season, Henrique was placed on waivers. He went unclaimed. Despite clearing, he remained with the big club and finished the 2020-21 season with 12 goals in 42 games.
In the two seasons since, Henrique has bounced back to score 38 goals in 108 games. He scored 19 goals in 58 games in 2021-22 and has 19 goals in 50 games this season. That is a 29-goal pace for 82 games over those two seasons.   
No Doubt, Henrique Is a Scorer
Even at the age of 33, Henrique can score goals. Watching his highlight videos, it appears he can score in a variety of ways. He has a good wrist shot and one-timer. He is also not afraid to go to the dirty areas in front of the net where he has the hand-eye coordination to get his stick on the puck for tips and rebounds. 
---
Latest News & Highlights
---
The lefthanded Henrique is a natural center and has a faceoff winning percentage of just under 50 percent in his career (49.7 percent). This season he has been playing on the left wing with young sensation Trevor Zegras. He is being used on the Ducks' powerplay and their penalty kill. He was also used on the penalty kill extensively by the Devils. That in itself shows that not only can he score, but he is also capable defensively. 
Related: Maple Leafs Commentary: Trade? No More If, But When and Who?
As an added bonus Henrique is a native of Brantford, Ontario, just a stone's throw from Toronto. 
Henrique Has Another Season on His Current Contract
Maple Leafs general manager Kyle Dubas has stated many times that he does not like to spend assets on rental players. Henrique still has one more year on his contract, and the rebuilding Ducks have tons of cap space both this season and next. They would have no problem retaining half of Henrique's salary leaving the Maple Leafs on the hook for just over $2.9 million of his salary-cap hit.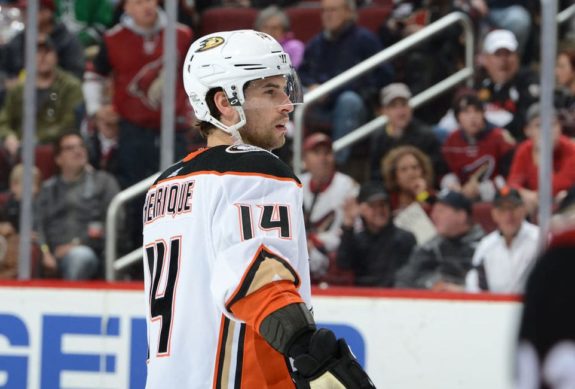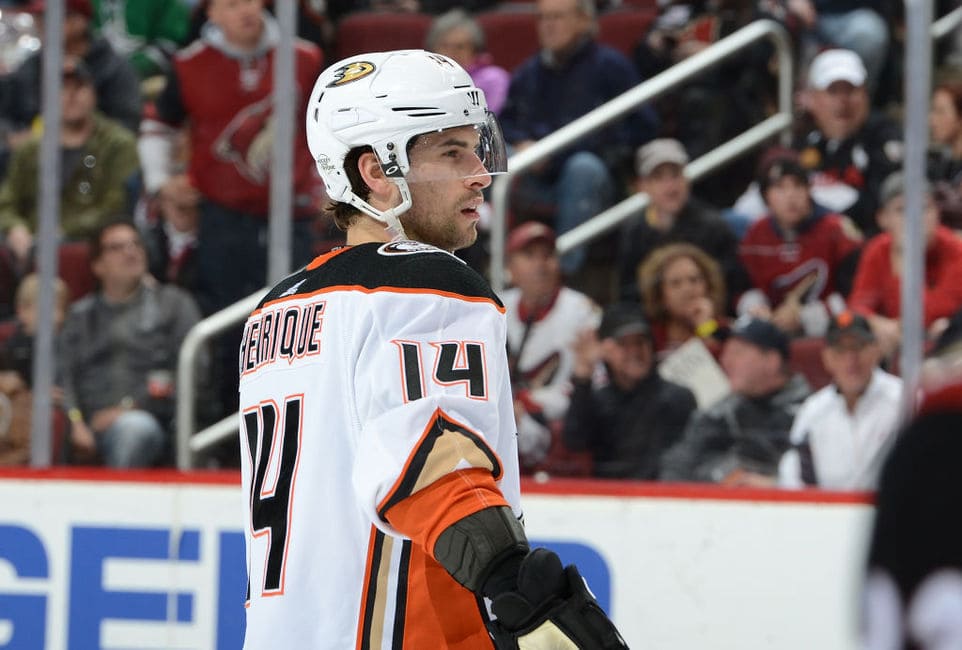 With the Ducks in rebuild mode we are sure they would be happy to move Henrique in return for draft picks or prospects. The cost should be nowhere near a first-round pick and an "A" prospect such as Matthew Knies or Topi Niemela that it might require to land one of the bigger fish. 
Henrique Could Add Scoring to the Maple Leafs Top Six
Although Henrique is likely nearing the end of his career, he's been a player who has become known for his offensive skills and two-way play. He's been a reliable goal scorer, with a good shot and a strong ability to find the back of the net in high-pressure situations. 
Related: The Ice Rink: A Brief History
In the past, his strong skating, combined with his speed and agility, allowed him to effectively forecheck and disrupt opposing teams. In addition, Henrique has strong defensive abilities and can win faceoffs. Even in his early 30s, could he become a valuable player at both ends of the ice for the Maple Leafs?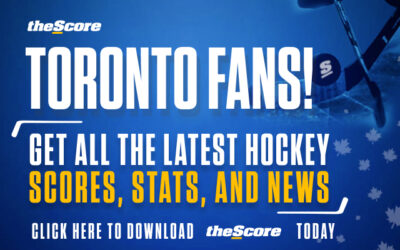 Henrique could be a good low-cost under-the-radar acquisition for the Maple Leafs. Might he be on the team's radar? 
[Note: I want to thank long-time Maple Leafs' fan Stan Smith for collaborating with me on this post. Stan's Facebook profile can be found here.]
---
---