The Toronto Maple Leafs have acquired forward Noel Acciari as well as Ryan O'Reilly from the St. Louis Blues in a three-team deal. The trade required a third-party broker, which the Minnesota Wild provided. In return, the Blues received Mikhail Abramov, Adam Gaudette, Toronto's first-round pick in 2023, Ottawa's third-round pick in 2023, and Toronto's second-round pick in 2024. This deal needed to be salary cap retention to make it work, the Blues retained 50 percent of O'Reilly's contract and Minnesota retained 25 percent. As a result of the Wild taking on 25 percent of the salary, they received a fourth-round pick in 2025 from Toronto, and sent back prospect Josh Pillar.
Acciari has eight years of NHL experience and has played for the Boston Bruins, Florida Panthers, and Blues. He now joins a team that wants to contend for the Stanley Cup. Acciari, who can play on the wing and in the middle, gives the Maple Leafs' lineup more depth. He had scored 95 points in his eight-year career (55 goals, 40 assists). He has also made the playoffs six times, three with Boston and three with Florida. In those 54 postseason games, he has seven points.
Related: Maple Leafs Have 3 Good Trade Options to Fix Their Forward Lines
---
Latest News & Highlights
---
Acciari signed with the Blues on July 13, 2023, his contract was a one-year deal worth $1.25 million. As a rental, the main focus for both him and the team is playoff success, before worrying about his contract status going into the offseason.
Acciari's Impact on the Maple Leafs
The Maple Leafs were in the market to add a depth piece, and with the acquisition of Acciari, that need was met. He brings an additional forward who can play multiple positions in the bottom six. He also brings the ability to win faceoffs, with a career-winning percentage of 50 percent. Adding another player who has the versatility that he does is important when preparing for a lengthy run at Lord Stanley's Mug.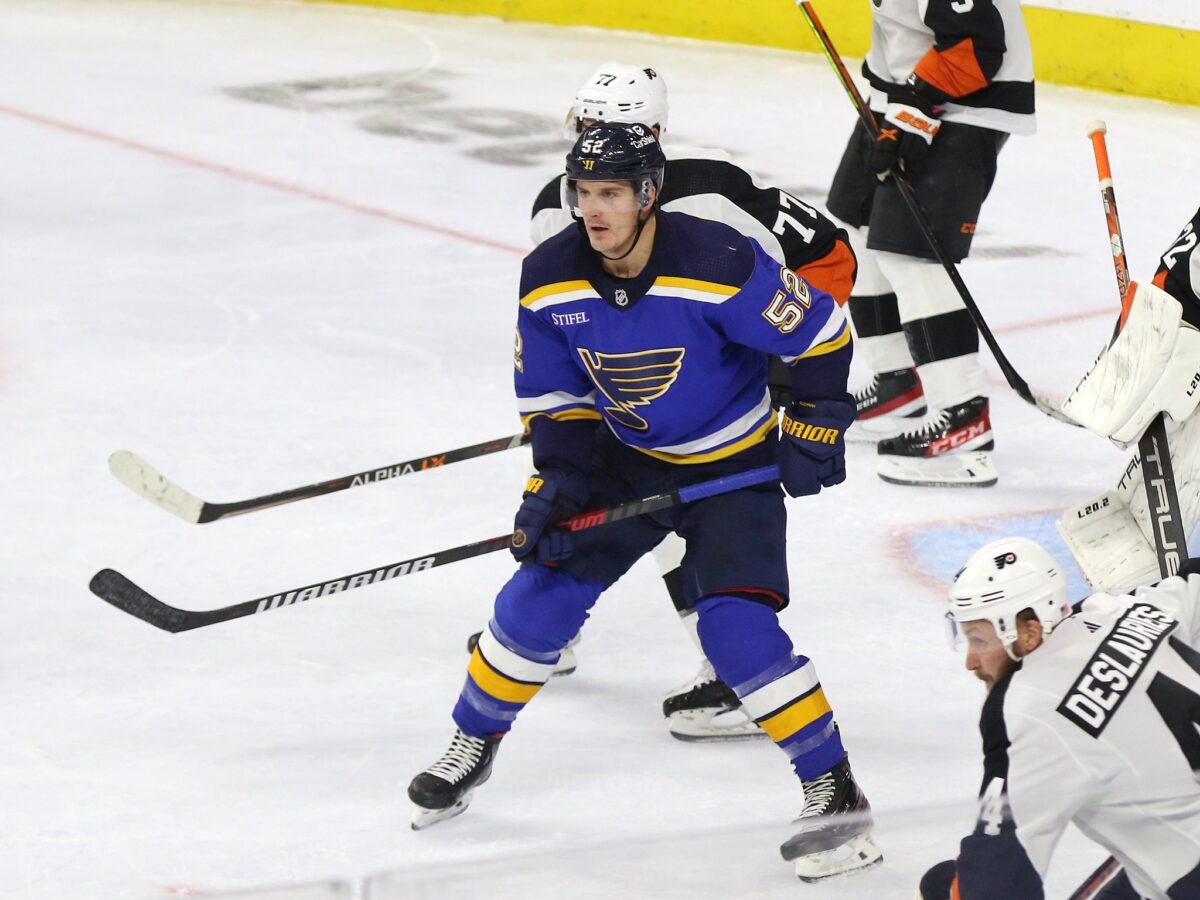 The Leafs are also getting a player who starts predominantly in the defensive zone. Acciari has a career defensive zone start percentage of 68.1 percent, which is an indication that he can be relied on by the Maple Leafs' head coach Sheldon Keefe.
The Return for the Blues
As previously mentioned, the Blues are getting Abramov, Gaudette, and three draft picks in return from the Maple Leafs for Acciari and O'Reilly. The return sets St. Louis up for a good draft in a year; they received a first and third pick in the 2023 Draft, which is said to be fairly deep. Although the first-round pick will be later in the round, it helps the Blues set up their rebuild around how they do with this year's draft. They also got Toronto's 2024 second-round selection, which allows them to have another year with extra draft capital. If they continue on this trajectory, they should be able to sell high on their rentals next season and build off of this year's strong draft.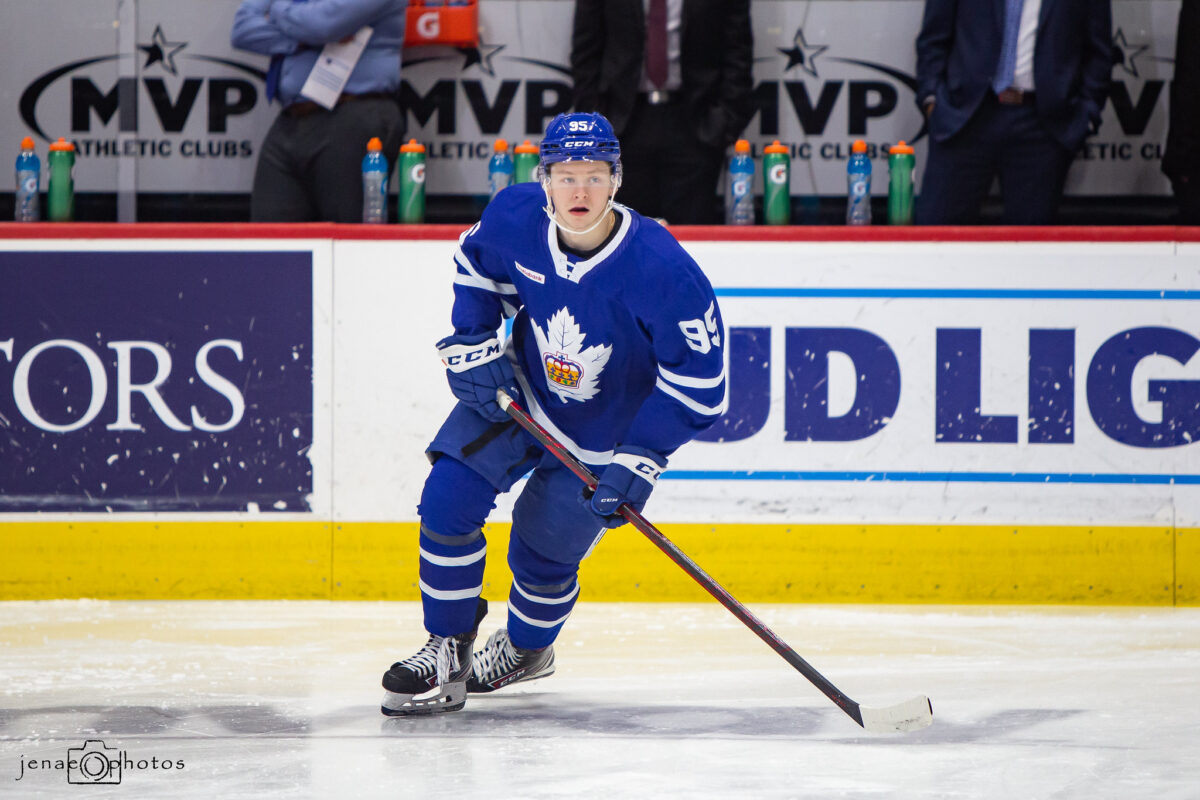 Both Gaudette and Abramov have spent the season in the American Hockey League (AHL) with the Maple Leafs' affiliate, the Toronto Marlies. Abramov, 21, is a piece that St. Louis could develop and he could become an everyday NHL player with the club. He has 16 points (six goals, 10 assist) in 34 AHL games. He has shown flashes of brilliance in the Quebec Major Junior Hockey League (QJMHL); he scored 160 points in 150 games, with 76 points being his career-high in 2019-20. Now into his second AHL season, he will need more seasoning with the Blues' AHL affiliate, the Springfield Thunderbirds, before potentially making the leap to the NHL. However, there is a chance that St. Louis gives him a look with their club, but the expectation is that he would report to the AHL for the remainder of the season.
Related: Maple Leafs & Blues Could Produce Deadline Blockbuster
Gaudette, 26, will most likely be the Blues' version of a rental, leaving him unsigned, and will become an unrestricted free agent (UFA), at the end of the season. So far this season, he has 34 points (20 goals, 14 assists) in 40 AHL games, and could take Acciari's roster spot in the bottom six for the remainder of the campaign. Gaudette signed with the Maple Leafs in the offseason in hopes of a fresh start. Unfortunately, he didn't get it. He could never catch the traction he needed to in training camp to make the Leafs' opening night roster, and since then has been overlooked by other Marlies players battling for a roster spot. This trade could finally do him well, and potentially give him some runway with an NHL team, so he can increase his chances of receiving another contract from a team this offseason.
Overall, this trade was a steal for Maple Leafs' general manager Kyle Dubas. He has shown that he isn't afraid to use a third team to get a deal done. He and his club has been a part of three of the six deals that have required a third party in the last four seasons. The last three deadline deals that he has made have also included the teams' captains, he traded for Nick Foligno from the Columbus Blue Jackets, Mark Giordano from the Seattle Kraken, and now O'Reilly from the Blues. Ultimately, being able to add Acciari and O'Reilly gives the Maple Leafs the size and style of play that they need, while they prepare for a lengthy playoff run, in hopes to hoist the Stanley Cup.
---
---