Toronto Maple Leafs head coach Sheldon Keefe told the truth when he suggested that his team should have blown the other team away during one amazing first period; however, they didn't (or couldn't) and the Montreal Canadiens gutted it out, held on, and then came back for two goals in the third period to take home a 2-1 win over the Maple Leafs.
Specifically, Keefe noted: "We didn't make good on the chances that we earned in the first. We had more than enough offense there in the first to blow this game wide open and didn't capitalize. Then our game was a mess from there."
Related: Tkachuk Shows His Ignorance Discussing Maple Leafs' Campbell Injury
The game was similar to the first game of the season, when the Maple Leafs held on and came back with an overtime victory over these same Canadiens. This time, turnaround. 
Maple Leafs' captain John Tavares agreed with Keefe about his team's poor game. He praised the Canadiens for hanging in there, noting: "They just kept competing hard. They were physical. We just weren't able to be as in sync as we'd like to be and find that other level to our game."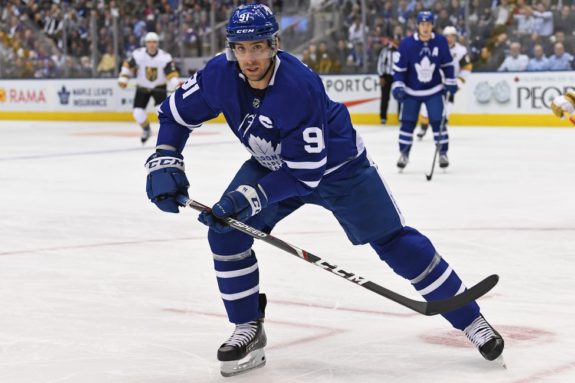 In this edition of Maple Leafs News & Rumors, I'll share some of the news from the game and comment on what it means for the Maple Leafs moving forward. As well, there were a number of roster moves as the organization gets ready for the AHL season to begin. I'll report some of those.
Item One: Frederik Andersen Suffers First Regulation Loss in Nearly a Month
Maple Leafs starting goalie Frederik Andersen entered the game with a 9-2-1 record, a goals-against-average of 2.59, and a save percentage of .908. He was looking to hit a five-game winning streak. Similar to his history, he had started the season poorly but had picked up his play recently.
It was Andersen's eighth-straight start, and he'd been solid since backup goalie Jack Campbell had gone out with his leg injury after the Calgary Flames' game. During his prior seven starts, Andersen's save percentage was a decent .915 to go along with his 6-0-1. He's often at his best when he's more of a workhorse goalie. 
Andersen's begun to really pull his game together. He's only given up six goals in his last four games. The jury remains out on his ability to carry the team during the postseason, but for right now his production level is high.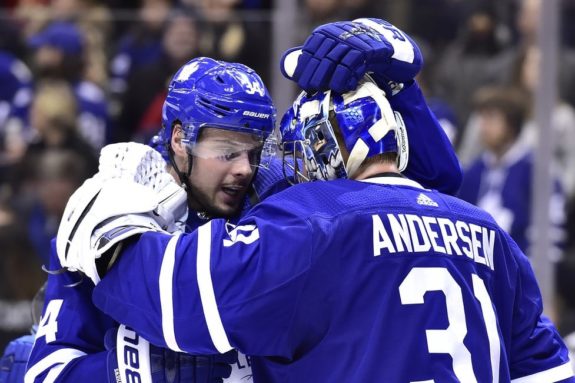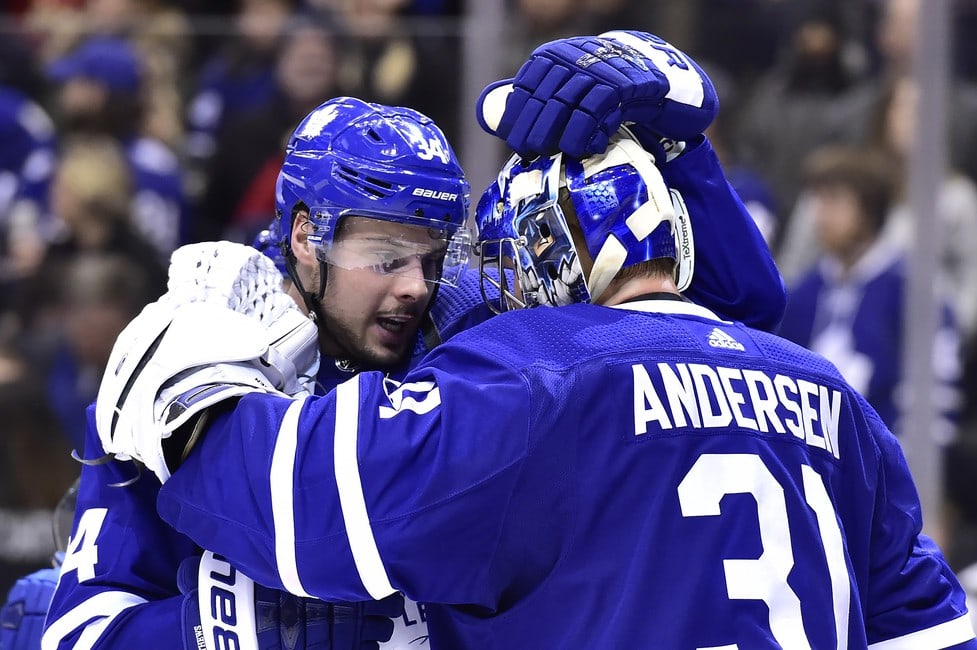 In Montreal, Andersen was facing one of the North Division's offensive heavyweights. The Canadiens had averaged 3.57 goals-a-game. Although they didn't live up to their record, on this night two goals proved enough. 
Ironically, Andersen improved both his goals-against-average (to 2.55) and his save percentage (to .909). In short, he wasn't the problem. His team simply didn't give him enough offense. Andersen hung in there until six minutes into the third period when the surprisingly strong Tyler Toffoli scored his 10th goal of the season. Then, with about three minutes remaining, Brendan Gallagher kept the game from heading into overtime.
In truth, Andersen hasn't had to be great recently because his team has played so well. Last night's game proves that, in this season's North Division, a single strong period isn't usually enough for a team to win.  
Item Two: Mitch Marner Starts a New Scoring Streak
Mitch Marner's seventh goal of the season came quickly – at 3:36 into the game. But it was all the Maple Leafs could score against the Canadiens' great goalie Carey Price. Price shut down the Maple Leafs' offense the rest of the way, and his Canadiens took home a 2-1 road victory.
Related: Penguins Will See Success With Hextall and Burke in Organization
Marner didn't register a point during Wednesday's game in Montreal, which stopped his eight-game point-scoring streak. But, it didn't take long for him to begin another streak. We'll see if he can build on that streak during a three-game series against the Ottawa Senators, who'll be in town starting Monday.
Item Three: Auston Matthews Extends His Point-Scoring Streak to 12 Games
While Marner began a new point-scoring streak, Auston Matthews scored an assist on Marner's goal to extend his own streak to 12 games. During that streak, Matthews has scored 11 goals and five assists (for 16 points).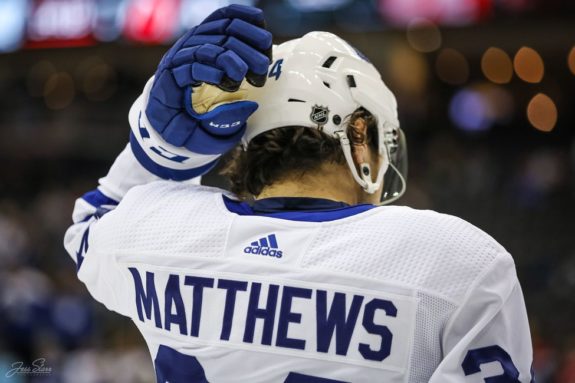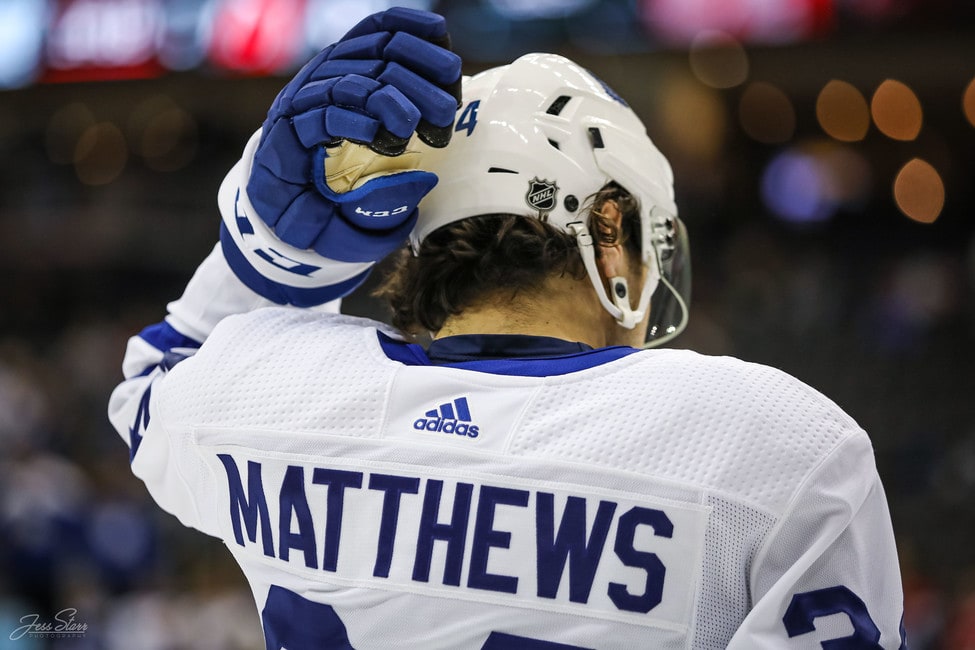 On the Marner goal, Matthews drew about half of the Canadiens who were on the ice to him and then passed to a wide-open Marner who scored. We're used to Marner setting up Matthews, but this season it seems to also work the other way. Both players are on top of their games.
However, Matthews has clearly jumped to a new level. He was good before, but this season he seems much faster and we know his offseason exercise routine has helped him become much fitter as well. It's showing. 
Related: Toronto Maple Leafs' Auston Matthews Is Undergoing a Transformation
I know it's way too early to prognosticate such things, but is it possible that Matthews might be in the running for at least three awards this season? The Rocket Richard, the Selke, and even the Hart?
Item Four: Rasmus Sandin and Nick Robertson Are Moved to the AHL
This has to be a disappointing development in these two young players' season. Both Rasmus Sandin and Nick Robertson were moved to the Maple Leafs' AHL affiliate the Toronto Marlies on Saturday before the game. 
Sandin played only five minutes of a single game with the Maple Leafs this season. Robertson only played about two minutes before he was injured. Both youngsters look to be a regular part of the Maple Leafs' lineup in the future, but it's likely that their future won't start with the 2020-21 season.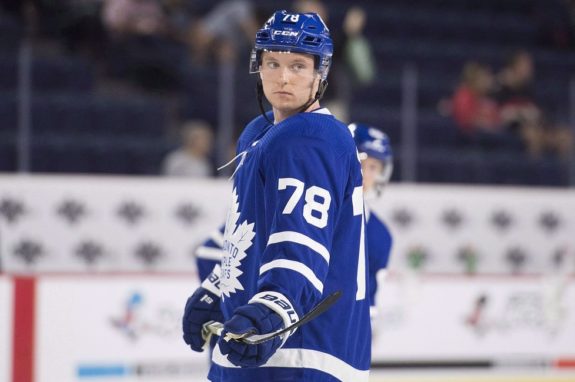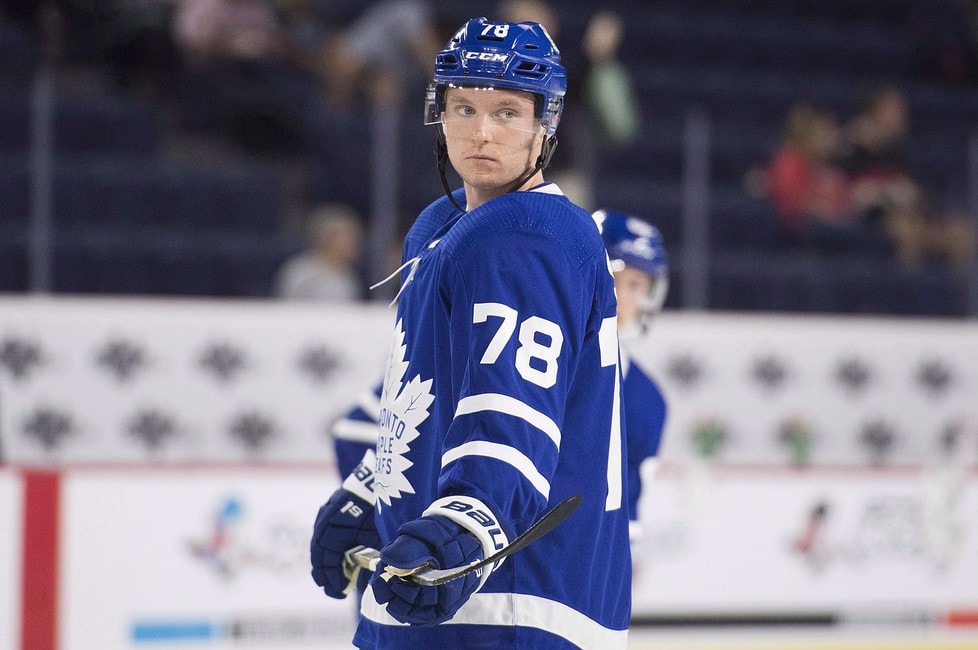 Sandin, who was the Maple Leafs first-round choice of the 2018 NHL Entry Draft (28th overall), will continue to hone his game by playing big AHL minutes this season. Depending upon what happens with the Maple Leafs' defense after the season, I look for him to start his journey to become a top-four NHL defender as early as next season. If Justin Holl is an example of what might happen to Sandin, there's a place for him on the team.
Robertson, who suffered a knee injury, was assigned to the Marlies after he was activated from long-term injured reserve. The 19-year-old, 5-foot-9, 164-pound forward had an impressive season with the OHL's Peterborough Petes in 2019-20, when he scored 55 goals and 31 assists (for 86 points) in 46 games. It will be interesting to see if he can continue that scoring pace with the Marlies.
What's Next for the Maple Leafs?
The Maple Leafs loss last night to the Canadiens was their first in regulation since Jan. 20. That's a long time, actually. With the loss, the Maple Leafs' record is now 11-3-1. They continue to lead the NHL's North Division; however, that lead has now shrunk to three points over the Habs. 
Related: Top 3 All-Time Flames Goalies
The team plays its first of a three-game series against the visiting Senators, who won in the last second last night against the Winnipeg Jets. The Senators have already given the Maple Leafs one of their three losses on the season.
---
---
The Old Prof (Jim Parsons, Sr.) taught for more than 40 years in the Faculty of Education at the University of Alberta. He's a Canadian boy, who has two degrees from the University of Kentucky and a doctorate from the University of Texas. He is now retired on Vancouver Island, where he lives with his family. His hobbies include playing with his hockey cards and simply being a sports fan – hockey, the Toronto Raptors, and CFL football (thinks Ricky Ray personifies how a professional athlete should act).
If you wonder why he doesn't use his real name, it's because his son – who's also Jim Parsons – wrote for The Hockey Writers first and asked Jim Sr. to use another name so readers wouldn't confuse their work.
Because Jim Sr. had worked in China, he adopted the Mandarin word for teacher (老師). The first character lǎo (老) means "old," and the second character shī (師) means "teacher." The literal translation of lǎoshī is "old teacher." That became his pen name. Today, other than writing for The Hockey Writers, he teaches graduate students research design at several Canadian universities.
He looks forward to sharing his insights about the Toronto Maple Leafs and about how sports engages life more fully. His Twitter address is https://twitter.com/TheOldProf