After a bit of a delay, the Maple Leafs by the Numbers Series returns. This time, we look at the second and final number the Toronto Maple Leafs have retired. However, this time it's not the player the number was retired for that is the best.
Irvine Bailey, better known as "Ace", was the player the number was retired for. In fact, Bailey was the first NHL player to have his number retired. Bailey played eight seasons with the Leafs but his career was ended in 1933 when Eddie Shore from behind. Bailey fell head first, fracturing his skull.
The Maple Leafs eventually decided to retire the number and made the rule that only if a player's career was ended by injury during his tenure with the Leafs would his number get retired. Of course, Bill Barilko's number 6 was retired after his death as well. Other than that, numbers are honored but can still be worn, even though most aren't touched.
Bailey wasn't the only player to wear the number however.
Other Notable No. 6's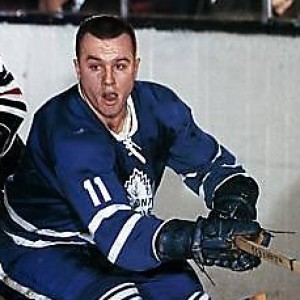 Charlie Conacher, Babe Dye
The best player to wear No. 6 was the player that Bailey himself wanted to wear the number after him, Ron Ellis. Bailey asked the Leafs to let Ellis wear the number and Ellis switched from his No. 8 and wore No. 6 for the rest of his career.
Ellis began his career with the Leafs after playing junior with the Toronto Marlboros. He played 11 seasons in Toronto before retiring in 1975. During that tenure, he would be part of Team Canada at the 1972 Summit Series. He registered three assists in the eight games. He also was a member of the last Cup-winning Leafs team in 1967.
Ellis would come out of retirement to play with Canada again, this time at the 1997 World Hockey Championship. He then decided to rejoin the Leafs for the 1977-78 season He would play for another three and a half seasons before running into trouble with new coach Mike Nykoluk, who pretty much forced him to retire in the middle of the 1980-81 season.
In all, Ellis played 1,034 games with the Leafs, recording 332 goals and 308 assists for a total of 340 points. He played in four All-Star Games during his career. The No. 6 was re-retired after Ellis' second retirement.
Ellis works at the Hockey Hall of Fame, in different positions since 1993. He currently works as the Program Director of their Development Association.
Complete Series – Maple Leafs by the Numbers
Toronto Maple Leafs Writer At The Hockey Writers.