On June 23, 2012, Connor Brown's life changed forever.
As the 110th ranked North American skater heading into the 2012 NHL Entry Draft, exactly when and by who Brown would be chosen was anything but certain. A determined winger whose lack of size and unique skating abilities were well documented, Brown's -72 plus/minus rating with the Erie Otters in 2011-12 had done little to improve his value as a prospect.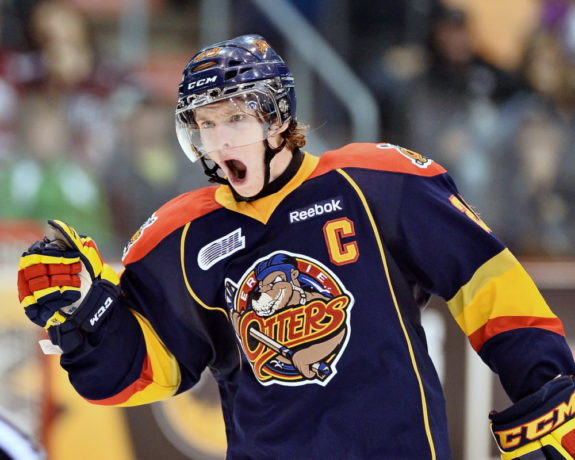 Yet, by this point, facing and overcoming adversity had simply become commonplace for Brown, who had been tasked with overcoming difficult odds from a young age.
So, when the Toronto Maple Leafs announced Brown as their sixth-round selection, 156th overall, in the 2012 event, it only presented the Etobicoke, Ontario, native with a new challenge to confront and conquer en-route to achieving his NHL dream.
Overcoming the Odds
Brown was considered a long shot to reach the NHL, even from a young age.
A product of the Toronto Marlboros of the Greater Toronto Hockey League, Brown netted 25 goals and 44 assists during his Minor Midget season – or, in other words, the year of his potential selection by an Ontario Hockey League franchise in the annual OHL Priority Selection. Ultimately, the Erie Otters came calling, selecting Brown in the 13th Round, 251st overall.
An incredibly talented offensive player, Brown's low selection by the Otters had a great deal to do with his lack of size at the time. Standing just 5'7″ tall and weighing roughly 125 pounds, Brown paled in comparison to those selected earlier in the Draft such as first-overall pick Alex Galchenyuk, who stood an impressive 6'1″ and 180 pounds.
The Road to the Show
Despite the difficult road ahead, Brown put his head down and went straight to work.
Unable to crack the Otters' roster in 2010-11, Brown played one season with the St. Michaels Buzzers of the Ontario Junior Hockey League where he was once again noticeably successful, notching 39 points in 49 contests.
So, when the 2011-12 OHL season reared its head, Brown was ready to prove his critics wrong. As a rookie, Brown would tally 25 goals and 53 points with Erie – a total good for the most on the Otters as well as the second most amongst all league rookies. However, despite his impressive season, Brown's game was clearly in need of improvement, as his poor defensive play garnered a number of nightmarish totals.
Here's a fun fact, Connor Brown was a -72 his rookie season in the OHL and still put up 53 points https://t.co/EQTnDI25Jh

— Duke (@CanadianDukeYT) January 8, 2017
In the following two seasons, Brown's game began to mature and flourish.
Named as the team captain of the Otters, Brown led Erie in points in 2012-13 – potting 28 goals and a career-high 69 points. In the following campaign of 2013-14, Brown truly established himself as a consistent and elite offensive threat of substantial potential. Scoring 45 goals and 128 points, Brown led the OHL in offence by a wide margin, while his presence off of the ice made him not only a quality player but an even better teammate.
Seeing what Connor Brown is doing with the Leafs, not surprising. Remember who @ErieOtters captain was pre-McDavid? Yep, it was Brown.

— Mark Scheig (@markscheig) October 16, 2017
A recipient of the Red Tilson Trophy as the OHL's Most Outstanding Player, Brown transitioned from a major-junior long shot to an elite star player over the course of three seasons. Casting his doubters aside, Brown proved himself time and time again as a remarkably dynamic player whose persistence and determination were perhaps the most valuable aspects of his overall skill-set.
Soaring to New Heights
Although he had enjoyed immense success at the OHL-level, Brown entered the professional ranks in 2014-15 as a long shot to crack the Leafs' lineup in the immediate future.
With a three-year entry-level contract in hand, Brown had certainly earned the right to skate with the Toronto Marlies of the American Hockey League, yet it was clear that he would need to illustrate his incredible abilities against much stiffer competition if he wished to achieve his NHL dream.
Seizing Opportunity
Fortunately for both Brown and the Leafs, the driven youngster did not disappoint.
In his first AHL campaign, Brown potted 21 goals and added 40 assists – good for a total of 61 points and the greatest amount of any rookie to grace the ice that season. Certainly worthy of AHL Rookie of the Year honours, Brown lost the distinction to a goaltender by the name of Matt Murray who, not surprisingly, was also sensational in 2014-15.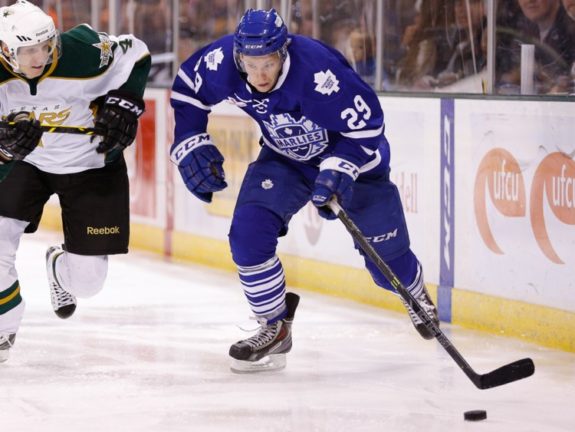 Brown had once again defied the odds.
While many major-junior players excel at lower ranks yet stumble come the professional level, Brown's sheer determination and will to succeed carried him to new heights. A pleasant surprise for the Leafs, the youngster had proven himself worthy of a legitimate opportunity to crack Toronto's 2015-16 opening night roster and achieve his lifelong dream.
Related – Maple Leafs News: Roster Changes, Brown Seizing Opportunity
Connor Brown – Achieving the Dream
Despite making a significant push to open the 2015-16 NHL season on the Leafs' roster, such did not materialize for Brown, as Toronto found itself overwhelmed with depth amongst its bottom two lines. As a result, Brown was returned to the AHL for further development, where he would tally another 11 goals and 29 assists in 34 games played.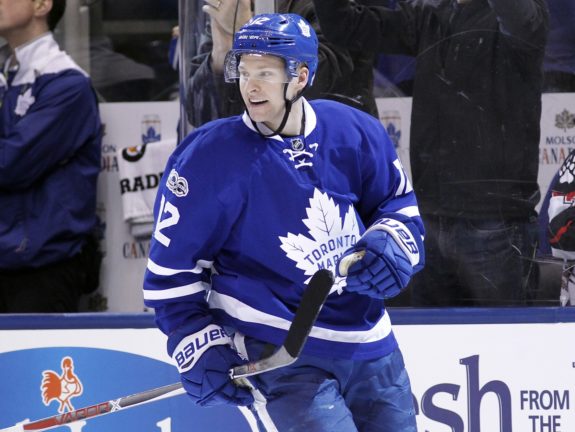 Patiently awaiting an opportunity, Brown was provided with a shot at the NHL-level late in the season when he was called up to Toronto in mid-March of 2016. A few days later – on Mar. 17th, 2016, to be exact – Brown made his debut with the Leafs against the Florida Panthers. A mere week later, Brown would collect his first NHL goal late in a high-scoring affair versus the Anaheim Ducks.
Finally, Brown had done it.
Long Shot Status: Shattered
Long considered as a long shot to become a quality player given his lack of size, Connor Brown shattered any doubts revolving his NHL potential over the course of roughly four seasons. A dynamic threat at the OHL-level, Brown's immediate success with the Marlies and ability adapt to increasingly difficult competition allowed for his surprisingly smooth transition to the NHL-level.
Now, just two years later, Brown has skated in over 100 games with the Leafs and has become an integral member of the team's success. Signed to a three-year contract extension in the offseason of 2017 following a 20-goal rookie campaign, Brown's versatility and consistent ability to produce at both ends of the ice have combined to make him a highly valuable commodity.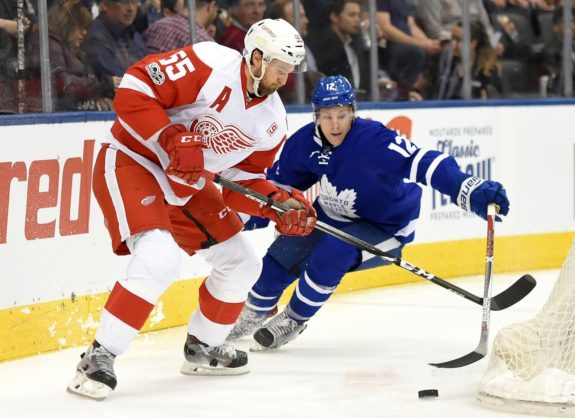 Ever present on the penalty-kill and forcing his way up Toronto's depth chart as a result of his tireless work ethic, Brown's unwavering determination to overcome hardship and trying times has allowed him to become an established and respected NHL player. No longer is Brown's place in the team's lineup in doubt, as the composed youngster has become a critical cog in the machine which is Mike Babcock's Leafs.
Brett Slawson is a four-year veteran of The Hockey Writers who covers the Toronto Maple Leafs, NHL prospects, and the OHL's Mississauga Steelheads.
Contact Brett on Twitter @brettslawson92, or by email at brett_slawson@hotmail.com.