In his first season with the New Jersey Devils Taylor Hall was expected to be a savior for a franchise that had missed the playoffs for four straight seasons, as he easily became their most explosive weapon since the departures in consecutive summers of Ilya Kovalchuk and Zach Parise. But he couldn't do it all himself, and more often than not the team struggled to find more offense than they did a season prior.
Still, Hall finished with 20 goals/53 points in his first 72 games with his new squad and was easily the team's most consistent scoring threat. Now in a new season, with an infusion of youth and speed throughout New Jersey's lineup Hall is not only racking up points but he's also elevating the play of his teammates – and vice versa. Through an eighth of the season, the Devils are off to their best start since 1993-94 at 8-2-0 and their superstar left winger has a shot on goal in every game (31 total) and 13 points (3g-10a).
The @NJDevils earned 8 wins through their first 10 games of a season for the second time in franchise history (8-2-0 in 1993-94). #NHLStats pic.twitter.com/oQHAcuegQI

— NHL Public Relations (@PR_NHL) October 29, 2017
Hall Aboard
The coaching staff has experimented with a few combinations with Hall on the top line, and over the past five games alongside Nico Hischier and Drew Stafford he has amassed nine points (2g-7a) — including a superb four-assist game in Ottawa on October 19. His precision passing on the power play most recently with rookie Jesper Bratt has been impressive, even if it wasn't for a Devils power play that has been mostly pedestrian the past few seasons. The duo each had three points in New Jersey's most-recent win – a wild, back and forth contest with the scrappy Arizona Coyotes.
Despite the Devils hot start, there is still much to work on, and sometimes more can be learned from victory than defeat. The night before the win over Arizona they fell behind 2-0 to the Ottawa Senators before rallying for four consecutive goals, only to surrender two goals late with the Senators having their goalie pulled. New Jersey then rallied back in the shootout with two straight tallies with their proverbial backs to the wall.
"Those last two minutes we have to find a way to either ice the game with an empty-netter, get the puck out and live to fight another day," Hall said after the 5-4 win over Ottawa. "There's lots of stuff that, if we can keep improving on through the season – that's what it's about. It's about gaining steam as the season goes on and fixing things that you can do better. Certainly those last two minutes, I think we have to clamp it down a little bit (more)."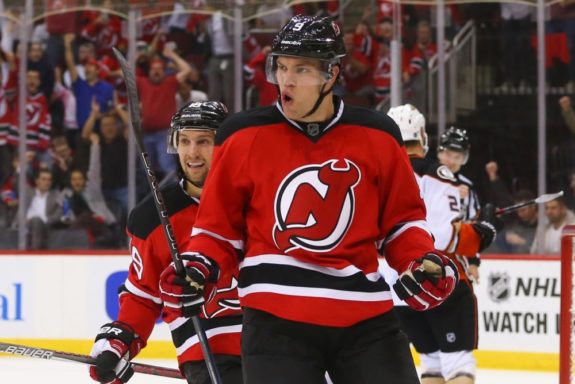 That was a game that last season this team would have lost, but again, this season's team isn't last season's team. "I was just saying to the guys, sometimes last season at the end of the year we were finding ways to lose. It's just that extra inch. That extra play. Staff (Drew Stafford), we were dead in the water in the shootout and then he scores a big goal for us that keeps us alive and then Keith (Kinkaid) shut the door."
Taylor the Passer
Most of us think of Taylor Hall as a dynamic goal scorer, but one aspect of his game that is underrated by many is his passing ability. Of everyone on the Devils, his passes are always the crispest, the most on-point, and most often tape-to-tape; over his 463-game NHL career Hall has 84 more assists (239) than goals (155).
"I feel good. I wish I was scoring a bit more but I think there are some other things in my game that I can work on. Being on for that 6-on-5 goal at the end, I had a couple of chances to get it out and I didn't," he said following the win against Ottawa. The next night he scored two goals by the way. "Like our team, for myself, there are still things to work on but it's nice to contribute to the win."
Taylor ripping one from the slot may be the scariest thing to see if your a goaltender this HALLoween. #ARIvsNJD pic.twitter.com/XoJ6oT8oYr

— New Jersey Devils (@NJDevils) October 29, 2017
"You look at the season as a whole, you go through nine or ten game stretches where pucks aren't going in, and you're finding ways to create offense other ways," Hall said of his hot start in the assist category. "Right now I guess that's playmaking for me, but I'd like to see my plus/minus be a little bit better. I think I'm even right now, but I want to see that in the positive area."
When asked about Bratt, who scored the game-deciding shootout goal, Hall admitted the rookie, who has created a little buzz during the NHL's first month, has had and will continue to have an influence on him. "He's got such silky hands and he makes it look effortless," the 25-year-old said of the 19-year-old who already has ten points this season, "I think I could take a couple of cues from a guy like that. I spoke to it early in camp, a guy like him has brought a lot of energy to our team. A young guy that plays with a lot of energy and a lot of spunk. It's fun to see him go out there with the game on the line and make a move like that."
Deep Devils
The Devils depth is one of their biggest assets this season with 15 different players having scored a goal already, 20 of 21 skaters with at least one point, and three players averaging a point per game through the first ten games: Hall (13), Will Butcher (11), Bratt (10).
"We're finding a lot of (scoring) depth and that's a huge thing for any good teams, they find ways to get contributions (from everyone)," said Hall. "It's huge if you can get contributions from different lines on a nightly basis. In training camp we started with the identity of being a fast team, a team that's hard to play against."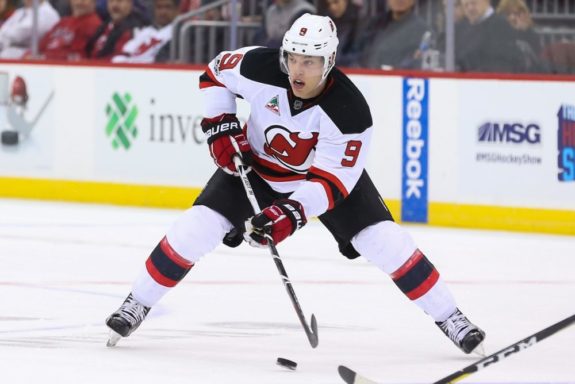 "It's easy to say that, but it's more about going out and doing it. It's playing with speed. It's letting the puck do the work. It's putting their D and their forwards under a lot of pressure when we don't have the puck," Hall explained. "That's why we've been able to create offense, it's nice to see."
If Hall continues this pace and finishes with about 80 points this season, it's safe to say the Devils could find themselves in contention for a playoff spot come March and April. "He's been great for us all year, just creating chances and it's great to see some finally start going in for him because he's had some good looks and some good chances," said New Jersey's Cory Schneider. 'He's just had some bad luck I think."
"Even when he wasn't scoring though he was making plays, distributing, and setting guys up for easy goals. I was saying earlier we've been getting contributions from our depth and some of our top guys haven't really lit it up yet. Taylor has been on fire lately and we're a tough team to stop when he's playing that way."
Dan Rice is in his 9th year of reporting for THW & has covered NJ Devils home games for 15+ years at various websites. He began his journey working for legendary broadcaster/writer Stan Fischler from 2002-04 & completed an internship at the ECHL; he also has been writing features for the NWHL (nwhl.zone) website since 2016.