Earlier this week, the Toronto Maple Leafs announced they had re-signed goaltender Kasimir Kaskisuo to a two-year, two-way contract, keeping him in a blue and white uniform until at least the end of 2019-20.
With Kaskisuo's spot on the crowded Maple Leafs' goaltending depth chart apparently secure, Toronto, assuming restricted free agent Calvin Pickard is also re-signed, is set up to have the same three quality American Hockey League goaltenders (Kaskisuo, Pickard and Garret Sparks) competing for time in the Toronto Marlies' crease next season.
Of course, in 2017-18, the Leafs lucked out and were able to loan Kaskisuo to the injury-plagued Vegas Golden Knights to bolster the AHL's Chicago Wolves, but that's likely not a viable solution for next season.
Thus, with some tough decisions to make, where does the Maple Leafs' goaltending go from here?
Maple Leafs' Best Option is to Promote Sparks
If one thing was made crystal-clear this season, it's that Sparks is far, far too good for the AHL.
He went 31-9-2 in 43 regular-season appearances, leading the league in save percentage (.936) and coming second in shutouts (six). He was awarded the Aldege "Baz" Bastien Memorial Award as the AHL's best goalie and was named to the AHL's First All-Star Team, while also taking home the Harry "Hap" Holmes Memorial Award (allowing the fewest goals per game) with Marlies batterymate Pickard.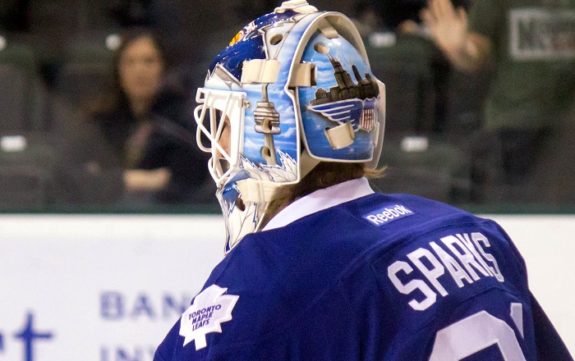 Player prognostication is a murky business, with the prediction of goaltending success in particular being one of the toughest gigs in pro sports. However, Sparks is as safe a bet as you can find to succeed in the National Hockey League. A strong Calder Cup run with the Marlies has no doubt only helped his cause.
He got a taste of the NHL in 2015-16 – even recording a shutout in his debut, though a depressingly awful Maple Leafs team, combined with injury and subpar play on Sparks' part, relegated him to AHL duty for two further seasons.
However, Sparks has shown remarkable development the past couple years, and has done everything possible to earn a second, more permanent look with the Maple Leafs.
Maple Leafs Need Another Workhorse
Toronto's starting goaltender, Frederik Andersen, has started 66 games in each of the past two seasons. Though that might not seem like a lot, those 132 starts rank second in the NHL, behind only Cam Talbot of the Edmonton Oilers. Not exactly a recipe for success, then.
Backup Curtis McElhinney has been more than adequate, with a .925 SV% and four shutouts over his 32 appearances with the Maple Leafs the past two seasons, 25 of which have been starts.
McElhinney is playing the best hockey of his life. That said, he's 35 years of age and has started more than 16 games only twice in his career. Plus, even with his recent success, his career SV% is still only .909. This fact, combined with his…adventurous style of play leaves one wondering if he'll regress.
Related – Maple Leafs & Dubas: Surprising but Right Choice
Yes, it's possible he's just a (really) late bloomer. Plus, it can be argued that real-world results are all that matter. However, as unfair as it might be to McElhinney, Sparks is probably the better option for the Maple Leafs at backup.
It's clear Andersen needs to play fewer games to optimise his effectiveness down the stretch – and especially come playoff time, and this iteration of the Maple Leafs is more than capable of scoring enough to let an NHL neophyte find his game. If Sparks can translate the potential he's shown at every other level to success in the NHL, the Maple Leafs should be able to rest Andersen on a more regular basis this upcoming season.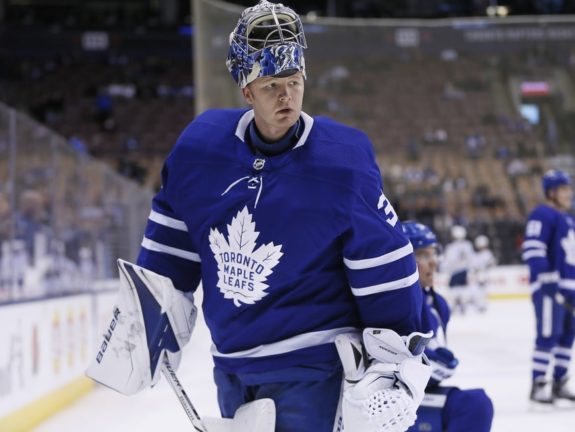 Ideally, this will keep Andersen somewhere in the neighbourhood of 50 to 55 starts, while allowing Sparks to grow into an NHL role, perhaps even to the point where he can take over as the starter once Andersen's contract expires at the end of 2020-21.
But before we get ahead of ourselves, the immediate need is for a netminder capable of starting regularly – and for extended stretches, if needed. Such a goalie would take the pressure off Andersen and provide a contingency plan if Andersen gets injured, or hits a rough patch and needs some time to rediscover his game.
It's also worth pointing out sharing a crease does not seem to faze Andersen, having done so first with Jonas Hiller and then with John Gibson during his time with the Anaheim Ducks, putting up numbers very similar to those he's posted with the Maple Leafs.
McElhinney's Mastery Means Good News for Trade Talks
The good news for McElhinney is that his career-best stats make him an attractive commodity on the trade market, hopefully netting him a steady job where he can fill a niche, as he's done perfectly the past two seasons in Toronto.
Even if a transaction doesn't occur before the start of the season, no doubt one or two goaltenders around the league will go down to injury, and others won't be able to fulfill their potential. There's always a need for quality goaltending in the NHL, and the Maple Leafs hold a very capable backup option in McElhinney.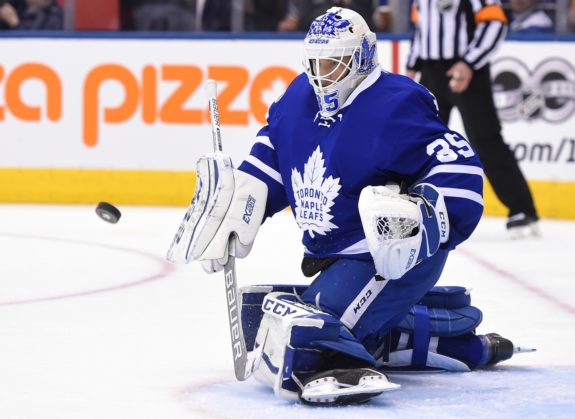 Yes, other teams will no doubt take note of the Leafs' logjam in net, and attempt to lowball Toronto for his services.
On the other hand, McElhinney makes only $850,000 this coming season and, should he continue his strong play, would be one of the best values in the NHL.
McElhinney won't be commanding a first-round pick anytime soon but, considering the Maple Leafs got him off waivers, and considering the value he's provided in Toronto, getting anything in return would be a net win, and "anything" might just turn into "something" if the Leafs are able to sell high enough.
Maple Leafs' Goaltending Depth Chart
As for the rest of the goaltenders in the Maple Leafs' system, the only other one that could potentially muddy the NHL picture in the immediate future is Pickard.
As mentioned, Pickard is an RFA this summer. He also has NHL experience, serving admirably in a backup role to Semyon Varlamov in 2014-15 (.932 SV% in 16 games) and 2015-16 (.922 in 20 games) on the Colorado Avalanche, before starting in place of an injured Varlamov during the Avs' historically bad 2016-17 campaign, playing 50 games (registering a dreadful .904 in the process).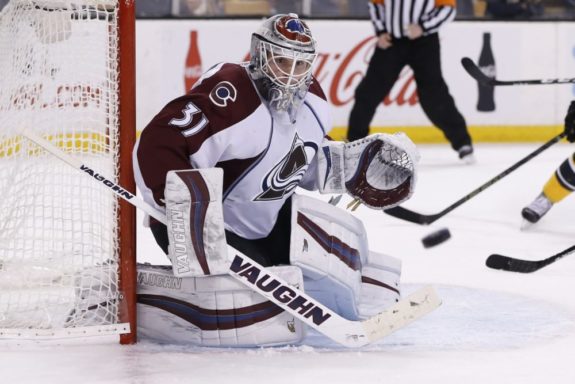 With a good chunk of Pickard's poor numbers in 2016-17 being able to be explained away by that thoroughly dysfunctional Avalanche team, his solid 21-9-2 record in 33 AHL games this season (.918 SV%) didn't exactly come as a surprise.
That said, as mentioned, it's problematic to compare the AHL to the NHL; apples to oranges, and all that. It's also worth noting the Marlies were a tremendously powerful team this season, finishing first in the league by a country mile.
Still, assuming the Maple Leafs are able to re-sign the 26-year-old, Pickard will give Toronto some NHL-ready depth at the position, should Sparks falter, or one of Andersen or Sparks get injured.
Assuming the Maple Leafs are able to get a deal done with Pickard (and, let's be honest, they can afford to pay more than enough to keep him happy), he and Kaskisuo will likely play the lion's share of games for the Marlies in 2018-19, should Sparks indeed be promoted to the big club.
Maple Leafs in Enviable Position
For a team that struggled so much for so long at the goaltending position, it's refreshing to see they finally seem to have their house in order.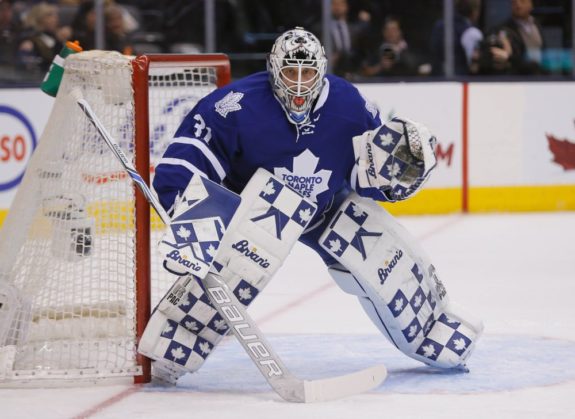 The Maple Leafs have had quality goaltending the entirety of the past two seasons, excluding some shakiness on Andersen's part to start each season and the short-lived Jhonas Enroth experiment. They could very well roll out a tandem of Andersen and McElhinney once again come the fall, and they'd very likely do just fine.
Related: Worst Toronto Maple Leafs Trades
Ultimately though, the best thing the Maple Leafs can do is get Andersen some help. Whether that's increasing McElhinney's workload, hitting the trade or free-agent markets, or, the most logical solution, unleashing Sparks on the NHL, change is sure to come sooner rather than later.
Never a dull moment in Leafs Nation.