As one of the more storied franchises in the National Hockey League, there are often questions, comments and (always) opinions floating around social media regarding the Toronto Maple Leafs.
Sometimes they're warranted. Often they're the starting points of long, drawn out conversations. But here at The Hockey Writers, we're going to attempt to answer your questions, reply to your comments and open your minds to the opinions of others – with attempt being the operative word there.
To do so, we'll take weekly questions and comments sent to @AndrewGForbes (on Twitter) or andrew@thehockeywriters.com and discuss the topics at hand.
This Week in the Mailbag
With this mail route just officially opening, it was a rather quiet week. That being said, we did get a particularly interesting question from the Twitter world.
Is it true Babcock didn't want to draft Marner? That's why he doesn't play him on the first line with Matthews? (@matttheinsider on Twitter)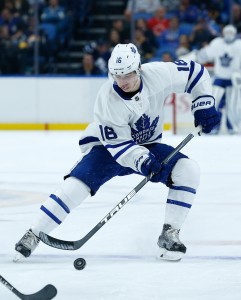 For starters, there isn't anything that points to Mike Babcock not wanting to draft Mitch Marner back in 2015. Even if the question was asked to the Leafs' head coach, you'll never get the answer you're looking for.
If the Arizona Coyotes hadn't taken Dylan Strome with the third overall pick, is there a chance the Leafs would've grabbed him? Possibly. However, at the time, there was a London Knights connection with the Leafs organization. There still is. And Mark Hunter knew what Marner had going into the draft – likely contributing to the Leafs decision to take the small forward.
That being said, I wouldn't say that Marner has been punished in any way by playing with Tyler Bozak and James van Riemsdyk. Let's not forget that when Phil Kessel was with the Leafs, those were his line mates. If they're good enough for Kessel, why aren't they considered a privilege to play with for a guy like Marner? After all, Bozak and van Riemsdyk are two of the more experienced players on the Leafs' roster. That, to me, is a compliment to the development of a young player like Marner.
On top of that, it's not like any one line is getting more ice time than another in Toronto when you're talking about the top three lines. Auston Matthews is averaging 17:44 of ice time this season while Marner is averaging under a minute less (at 16:51). To call the Matthews' line the Leafs' top line isn't exactly accurate.
Still, I believe Babcock's goal is to spread the offence throughout the lineup. You've got Marner, Matthews and William Nylander all on separate lines. All three of them are among the top five in team scoring with Marner (48) and Matthews (46) leading the way.
2016-17 Leafs points (82-game pace):
Marner: 70
Matthews: 67
JvR: 66
Kadri: 64
Bozak/Nylander: 57

2015-16 Leafs leading scorer: 45 points.

— Scott Wheeler (@scottcwheeler) February 16, 2017
Marner's presence on a line with van Reimsdyk and Bozak has JVR on pace for a career year. Currently sitting at 44 points in 56 games, he has the potential to eclipse his career-high 61 points that came back in 2013-14. Bozak is also on pace for a career-high 55 points which would knock of his previous high of 49 set in 2013-14 and again in 2014-15.
Marner, on the other hand, averages 3.55 points per game at 5-on-5 in close situations (according to stats.hockeyanalysis.com). That's tops among players who've played at least 50 minutes this season. On top of that, Marner has 31 points at 5-on-5 this season which has him tied for 12th in the league and tops among NHL rookies.
So while it may seem silly not to have him on a line with Matthews, I have a feeling that playing him alongside Bozak and van Riemsdyk might be the way to go – and not a message from Babcock that he never wanted the young forward.
While this edition of the Maple Leafs Mailbag was short, we'll be looking for more questions and comments regarding the storied Toronto franchise for next week. Be sure to get your thoughts in before the deadline on Twitter at @AndrewGForbes or via email.