Prospects Update is a bi-weekly feature that will check in on a few of the Leafs top performing prospects. This edition takes a closer look at Carter Ashton of the Marlies as well as College junior Eric Knodel. Last edition looked at 1st round pick Frederik Gauthier and Swedish winger Andreas Johnson, and can be found here. The 3rd edition featured Brennan and Herzog, the 2nd featured Finn and Abbott, and the 1st featured Verhaeghe and Brown.
Carter Ashton – LW Toronto Marlies (AHL)
Many Leaf fans are probably already familiar with Ashton. A former 1st-round pick by the Tampa Bay Lightning, he was acquired by then GM Brian Burke in February of 2012 in exchange for towering blueliner Keith Aulie. Both players had failed to live up to expectations in their respective organizations but each team had enough faith in the player they were acquiring to believe a change of scenery could help them blossom.
Yet none of them did.
Ashton as a Maple Leaf
The abridged history of Ashton as a Maple Leaf goes as follows:
Ashton was 20 when he was acquired and his game appeared to be ready for the NHL. Yet when the Leafs called him up in March and April of 2012 he registered zero points in 15 games and was a minus-10. And so he was sent back down, where the following year he only managed 19 points in 53 games for the Marlies. Zero call-ups to the big club in the lockout year. However, due to a lack of other available options, Ashton found himself on the Leafs opening day roster at the beginning of this season, the final one of his entry-level deal. Did he impress this time? Well…no, not really. Not unless you call one point in 18 games a success.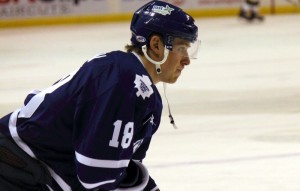 Ashton as a Marlie
Since being sent down to the Marlies in mid-December of this season, Ashton has been a goal-scoring machine. Wait, a WHAT NOW?!?! Yup, that's right, he has seven goals in the 10 games since being demoted, and 10 points. And two of those were shorthanded! He appears to be firing on all cylinders (for once) and the hope is that the power forward can showcase this scoring ability on a regular basis . First at the AHL level, and then at the NHL level consistency will be the test for him. This is the first time in his pro career that he has posted these kinds of offensive numbers.
Ultimately the question is this: if Ashton can't be a top-six winger at the NHL level (which at this point is doubtful), can he be an effective third-line checker who can still chip in? (A la Nikolai Kulemin?)
Here's one of the shorties from Ashton:
Eric Knodel – D University of New Hampshire (NCAA)
https://twitter.com/NHLBlinn/status/419276226638143488
Knodel was a fifth-round pick by the Leafs back in 2009. Drafted out of a low tier American junior league (AYHL), Knodel then went on to play one year in the USHL before committing to the University of New Hampshire (UNH). He didn't dress at all in his freshmen season, instead being used as an extra defenseman but this at least allowed him to avoid wasting a year of eligibility. So even though he is a senior as a student, he is only in his 3rd year of eligibility as a player and could return for another season in 2014-15.
Knodel the Captain of UNH
Right now however that seems doubtful as Knodel is making a statement with almost point-per-game stats while captaining UNH (for College D-men that's VERY good). He has 18 points in 23 games, including six in his last four and 11 in his last 11. His team isn't finding the same level of success as he is (a record of 12-10-1), but UNH only has one other NHL draftee (Brett Pesce) on its roster, and so his team isn't a powerhouse.
Although Knodel is a towering 6-foot-6, he isn't overly physical and prefers to use stick checks and positioning to defend. He is a smart player in all three zones who prefers to keep it safe instead of taking risks. Accordingly, the player he looked up to while growing up was Nicklas Lidstrom (he wears number 5 for the Wildcats).
Can Knodel Pull a Justin Schultz?
It is likely that Knodel has the ability to turn pro at the end of the 2013-14 season, but he is still without an entry-level NHL contract. This perhaps seems similar to the Justin Schultz situation when he left Wisconsin back in 2012. No, Knodel will certainly not demand the same level of attention that Schultz did but if he finishes the season near a point-per-game there is little doubt he will attract some interest.
The question is how long do the Leafs retain his rights? Schultz was drafted in 2008 and by May 2012 still did not have an NHL contract from the team that drafted him: the Ducks. June 1st of 2012 marked the "fourth June 1st following his selection in the entry draft". This 4-year mark typically is the latest date at which an NHL team holds rights to a player but in Schultz's case he left school on May 25, 2012 and so the Ducks still had a 30-day period after May 25th to attempt a last minute effort to sign him. They failed to do so and 30 days later, on June 24, 2012, Schultz became an NHL free agent.
Everything that applied to Schultz, applies to Knodel, except one thing: a new CBA.
Four years HAVE passed since Knodel was drafted and he is also currently in his junior year of eligibility, just like Schultz. But under the new CBA teams still hold a players rights until August 15th "following the date which he ceases to become a bona fide College student" (remember this is all if Knodel chooses to leave school).
So Knodel can't pull a Schultz and become a free agent before July 1st. He CAN become a free agent after August 15th of this year though if he chooses to leave school. With the Leafs low on cap space, it will be interesting to see if they give Knodel an offer.
Learn more about Knodel in the profile below:
*Notes and Updates:
– Andreas Johnson won a silver medal at the World Juniors and played well, chipping in six points in seven games.
– Gauthier played a VERY limited role for Canada and had one assist in seven games.
– Herzog had three goals in five games at the World Juniors for Switzerland.
– Leafs goalie prospect Antoine Bibeau was traded last week from Charlottetown to Val d'Or. He goes from a team in the bottom-third of the QMJHL to one in the top-5. His first two games unfortunately didn't go as planned as he let in a combined nine goals and lost both starts but he will be their go-to-guy come playoff time.
– Connor Brown has just a one point lead in the OHL scoring race over teammate Dane Fox. Brown has 76 points in 40 games. Verhaeghe has 51 points in 36 games (13th).
– Matt Finn is 3rd in OHL D-scoring with 33 points in 38 games.
– Brennan still leads AHL D-men in scoring, now with 32 points in 33 games. Meanwhile Spencer Abbott's 25 assists are 2nd in the AHL