Prospects Update will be a bi-weekly feature that will check in on a few of the Leafs top performing prospects. This week we look at one OHL defenseman and an undrafted winger who is off to a great start for the Marlies.
Matt Finn – D Guelph Storm (OHL)
Toronto drafted Matt Finn early in the 2nd round in 2012 but the Leafs felt they grabbed a first-rounder. Dave Morrison, the Leafs director of Amateur Scouting, praised his puck movement, compete level and size at the time, and today all three remain his biggest assets. He is now 6-foot-1, 204 pounds and has over 115 points in his OHL career.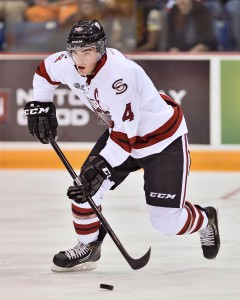 Finn has links to the Leafs, as not only did he grow up in Etobicoke (Western Toronto), but his second cousin also happens to be former Leafs defenseman Carlo Colaiacovo. As a kid Finn cheered on the Leafs and had posters of Sundin and Gilmour in his room.
This season has seen Finn take major strides in his game. In March 2013, he was the victim of a dangerous knee-on-knee collision that sidelined him indefinitely and forced him to miss the OHL playoffs. But he was motivated to come back quickly and was able to rehab in time for Leafs prospect camp. He impressed there, but with the Leafs jam on the blueline, management felt it was best to return him to Guelph for his second season as team captain.
The results? 17 points in 16 games to date; third in the OHL among defencemen. He has recorded a point in 14 of 16 games this season, and also carries an incredible plus-17 rating, which is fifth in the OHL. He has guided the Storm to an OHL best 15-3-0 record.
His early season success has earned him "Defenceman of the Month" honours as well as a spot on Team OHL for the 2013 Super Series against Russia in November. He was also named to the World Juniors summer camp roster and has a very good shot at making the squad in December.
Spencer Abbott – RW Toronto Marlies (AHL)
Abbott actually dressed in a regular season game early this year for the Maple Leafs (December 5th against Ottawa) but was clearly only there because of the absences of McLaren, Clarkson and Ashton. He played a little over five minutes and was a minus-2 but had two shots on goal.
The positive here is what Abbott has done since the AHL season started one day later. In eight games for him this year, he has 11 points, but even better is his consistency, as he's registered a point in every single game so far for an eight-game point streak. He's known for his play-making skills but can also find the back of the net, as is evidence from this well-placed wrister:
Abbott is one of the older Leaf prospects at 25 years old, but that's mostly because he spent four full seasons at College. It wasn't until his senior year that an NHL team decided to bite, and the Leafs have Brian Burke to thank for that. Abbott teared up the NCAA in his senior year, scoring 62 points in 39 games for the University of Maine, which led to the contract offer.
The Hamilton, Ontario native will always been criticized for his size (5-foot-9, 165 pounds), but his production this year cannot be ignored, especially if it continues. He has been playing with Josh Leivo, a Marlie who has already been called up multiple times this year, so you figure Abbott will likely get in a game or two at some point this season. With Bolland and Bozak out, things would look much better if he could play center…
*Note: Connor Brown, the focus of our last prospects update, has kept up his torrid pace for the Otters. When we looked at him in mid-October he had 24 points in his first 11 games. Since then, he has added another 12 points in six games for a season total of 36 in just 17 games to lead the entire OHL.
sProspect Update will be a bi-weekly feature that will check in on a few of the Leafs top performing prospects. – See more at: https://thehockeywriters.com/maple-leafs-prospect-update/#sthash.qrRaG0Ju.dpuf
sProspect Update will be a bi-weekly feature that will check in on a few of the Leafs top performing prospects. – See more at: https://thehockeywriters.com/maple-leafs-prospect-update/#sthash.qrRaG0Ju.dpuf