Prospects Update will be a bi-weekly feature that will check in on a few of the Leafs top performing prospects. The third edition looks at a Marlie leading all D-men in the AHL in scoring as well as a winger from Switzerland finding success in his 1st season in North America.

T.J. Brennan – D Toronto Marlies (AHL)
Brennan was on fire to start the AHL campaign but went "cold" at the end of October and early Novemeber; right about the time I was going to do another prospects update. Because he was in the midst of a four-game pointless streak, I chose to go with Spencer Abbott over him in the last Prospects Update. Now he has padded his point total to a point where I can no longer ignore him.
How good has he been? Try 10 goals in 15 games, and he's a defenseman! Add another nine assists for 19 points and you get someone who leads all 'D' in the AHL in scoring. He's even seventh in the whole league (including forwards) in points. One of the reasons he scores so much is simply because he shoots the puck a lot. And I mean A LOT. Last season in the AHL for Rochester he had 35 points in 36 games, and fired 132 shots on goal in those 36 games, which is almost four per game. That is ludicrous for a blueliner. This year the shots have continued, as he has 56 through 15 games, for a similar average to last year. His 56 shots on goal so far this season rank third in the entire AHL.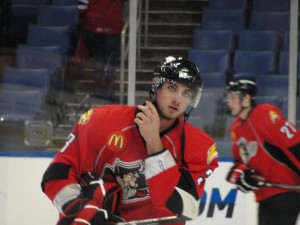 So where did he come from? Well, he's 24 years old and was drafted by the Sabres back in 2007. After spending a couple years in the QMJHL, he moved on to the AHL where he did well once again, at least enough to impress for a call up to the Sabres in 2011-12. He played 11 games for the Sabres that year and then last season teared it up for Rochester before failing to make a lasting impression in another 10-game NHL stint. And so he was shipped to Florida where defencemen where dropping like flies and he made the most of his opportunity with nine points in 19 games. This off-season though he was shipped again, this time to Nashville, who didn't even want anything to do with him and so they let him walk and Toronto scooped him up.
The constant movement is clearly attributed to teams feeling Brennan is too "one-dimensional", in that his offensive game is fine but his defensive game is seriously lacking. And to an extent, this is true. But other NHL defensemen have been called "one-dimensional" before and have gone on to do quite well. Brennan has good size and a booming shot, and will have to continue to work out his defensive kinks before he gets a chance on the Leaf blueline (either that or lots of injuries). Morgan Rielly and Jake Gardiner are two reasons Brennan hasn't had a chance; their high draft status has allowed them to be kept up in the NHL while they work on their own defensive inefficiencies. Brennan must work on his in the American league, at least for now.
Fabrice Herzog – RW Quebec Remparts (QMJHL)
Herzog was drafted by the Leafs this past June in the fifth round. He is a big Swiss winger who played part of last year in the National League A (NLA), which is the top league in Switzerland. He had four points in 20 games as an 18 year-old playing against men. He also has played internationally for his country at both the U-18 and U-19 Junior Championships.
Nonis knew right away that he wanted to pull Herzog over to North America and so far he has looked very good, scoring 14 goals in his first 26 games, 14th in the QMJHL and 2nd on his team. He is still below a point-per-game at 23 in 26 games, but it's his first in North America on the smaller rinks and so these totals are very positive. Herzog had 10 goals in 12 October games.
He is certainly still very raw, but Toronto sees the potential for him to be a top-six power forward. When he was drafted he was rather slim (6-foot-2, 176 pounds) but since then has bulked up to 194 pounds, at least according to the QMJHL website (that's a lot of weight rather quickly). These numbers aren't always exact but the point is he has already added some weight and is very aware that he needs to keep getting bigger.
Not too much is known at this point about how Herzog will pan out, but it's a good sign that he's doing well so early on.
*Connor Brown and Carter Verhaeghe currently sit 1st and 4th in the OHL in scoring (43 and 38 points respectively). They were the focus of the first prospects update.
** Peter Holland came over from Anaheim last week in a deal that sent Jesse Blacker out West. Though Holland was certainly acquired due to the Leafs dire situation at center, he was essentially still a prospect before coming to Toronto and I want to give a little bit of background on him because I really like the trade.
Holland was a first round pick in 2009 but at 22, still has plenty of upside. He's big, strong, and can finish, though his skating could improve. In a way, he reminds me of Joe Colborne, but a year younger, though Holland had slightly better AHL numbers and still has time to pan out. However without a doubt now is the time for Holland to make an impact (and he clearly has an opportunity) because he is in the last year of his entry-level deal and has proved he is ready for bigger things than the AHL. An example of his finish is seen below, on his first career NHL goal. With the logjam on 'D' and the need for a center, this move was very logical but even better is the fact that Holland has top-six upside and not a lot was given up to get him.
http://www.youtube.com/watch?v=NYf6Q9Dwhgo
Nathan Kanter covers the Vancouver Canucks and Toronto Maple Leafs for The Hockey Writers. He received his master's in journalism from Western University in May of 2015 before serving as the first ever Digital Managing Editor at Western's university newspaper, The Western Gazette, in 2015-16. From 2016-18, he served as the radio play-by-play voice of the Battlefords North Stars in the SJHL. His work has been published in The Hockey News, at Sportsnet.ca and at Dobber Prospects.