Goaltender is by far the most volatile position in today's NHL. Teams  ride or die with the man between the pipes, and often have no problem dumping their starting goalie for a back up with the proverbial "hot hand".
Look back at the last 10 seasons, including the young 2013-14 campaign: Only Tim Thomas has led the NHL in save percentage twice in this stretch. One year removed from setting the record (at the time) for single season save percentage, Thomas fell to number 10 in the league. After his year of soul-searching and Obama snubbing, he now sits at 29th.
[Click Here  FREE to Enter, Single Day Draft – $500 in Prizes]
The rapid rise and fall of goalies is quite an anomaly. One net minder who has been the topic of much discussion this season is Josh Harding. Last season's Bill Masterton Memorial Trophy Winner is looking to turn his comeback into an extended stay at the top of all goalie rankings this season.
Harding is the #1 player in standard ESPN fantasy hockey leagues, and is #2 in Yahoo! leagues behind Alexander Ovechkin. Harding is 12-2-2 with a 1.25 GAA and a sizzling .945 save percentage to compliment his two shutouts. His most important accolade is without a doubt his role as the first place "Ice, Ice Bergy's" starting goaltender. Regrettably, that is my fantasy hockey team's name.
Haven't gotten a chance to catch Harding in action yet? Here's what you're missing.
http://www.youtube.com/watch?v=R1Xgptw5vmo
How Did Josh Harding Get Here?
Josh Harding was not afraid to answer the bell when Minnesota's pre-season starting goalie Niklas Backstrom was the injury ninja's latest victim. However, Harding's journey is much more complex than a simple slide up the depth chart.
Harding began his NHL career with the Minnesota Wild in 2006 after journeyman goaltender Dwayne Roloson was shipped off to the Oilers. Through his first 7 seasons, Harding appeared in only 122 games.
When it appeared that Harding was ready for a break-out season, he tore both his MCL and ACL in a 2010 preseason game. Despite suffering what is often a career-ending injury, Harding continued to rehabilitate and  prepare for is shot at stardom.
After completely recovering from his devastating injury, Harding returned to his spot behind Backstrom on the depth chart for the 2011-12 season. Unfortunately for Josh, his friends and family, and the Minnesota Wild organization, this adversity would prove to be minuscule in comparison to Harding's next challenge.
On November 28, 2012, the NHLPA and the owners were still mired in debate over the lockout. On this day, hockey was the last thing on Josh Harding's mind. Despite the best efforts of privacy, it was reported that Harding had been diagnosed with multiple sclerosis.  MS is a chronic disease that attacks the Central Nervous System and causes brain, nerve and spinal chord damage.
This diagnosis appeared to be the final nail in the coffin of a tumultuous career. However, Harding returned to the ice after the lockout and earned a shutout in his first start since receiving the terrifying news.
At this point it was unclear how much, if any, hockey was left in the tank for Harding. Staying true to his humble and persistent attitude, Harding stayed with the Wild. When Backstrom suffered a freak injury in warm-ups of Minnesota's first playoff game vs. the Blackhawks in 2013, Harding once again stepped up. He delivered 35 saves in a 2-1 over time loss.
Behind the Numbers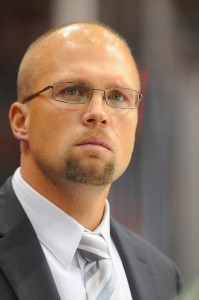 When Harding once again got a chance to shine this season, he grabbed the reigns and has not let go. This hot start has a lot more to do with Harding's on-ice attributes than what he brings to the table as a person.
The Minnesota Wild have been revered as a strong defensive team that loves to possess the puck. When Minnesota plays 5 on 5 hockey in close game scenarios, they have a Corsi Percentage of 55.8%. This means that out of all shot attempts (SOG, missed shots and blocked shots), Minnesota tried 55.8% of them.
This ranks 4th in the NHL behind Chicago, St. Louis and Los Angeles. In this situation, the Wild have scored 21 goals and conceded only 10, by far the best in the league.
Corsi is one of the few ways metrics available that accurately quantify puck possession. In theory, if a team is attempting 55% of all shots in a game, they are likely in control of the puck for more than the majority of the game. Generally speaking you are more likely to score than be scored on when you possess the puck. Unless of course you are Jonathan Quick.
All a strong defensive team that posses the puck needs to succeed is a strong positional goalie. Enter Josh Harding. Harding's quick glove and butterfly style have kept out all but 20 shots fired in his direction this season. Hockey fans everywhere are joining in on one of the NHL's best stories. This historic success could not happen to a better guy.
We here at The Hockey Writers support Josh on his journey. If you would like to as well, click here.